---
May 29, 2014 1:27 PM
Google
,
Jetsons
"Just imagine: You can take a trip downtown at lunchtime without a 20-minute buffer to find parking. Seniors can keep their freedom even if they can't keep their car keys. And drunk and distracted driving?...
May 15, 2014 1:27 PM
Google
,
Lexus
Google's self-driving cars may be ideal for those never stray of well-worn routes, but useless to anyone with a spirit of adventure.
While the vehicles are able to take passengers on any pre-programmed route - although they perform like newly-licensed...
---
March 25, 2014 4:00 PM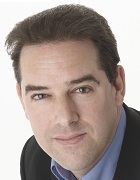 Profile: Bryan Glick
Glass
,
Glasses
,
Google
,
Oakley
It had to happen. In the wake of Google's Glass internet-enabled spectacles getting rave reviews from tech geeks (not a great thing for fashion-wear) and noses turned up from fashion geeks (not a great thing for geek-wear), the web giant has teamed up with the company that makes Ray Ban and Oakley...
---
February 14, 2014 10:08 AM
Android
,
Coffee
,
Google
,
table
Walk into any coffee shop today and you will be surrounded by mustached hipsters, sipping their extra shot lattés and tapping away on their tablet of choice.
---
January 2, 2014 2:11 PM
Google
,
London
,
Patent
,
social network
Over the past few years Google has filed some ground-breaking patents, and now after almost four years the tech firm has finally been granted a patent for creating
comic...
---
February 14, 2013 11:30 AM
BBC
,
Facebook
,
Fiverr
,
Google
Move over Romeo and Juliet, there is a new love story in town.
Forget wasting £5, or even £15, on an oversized novelty stuffed teddy this Valentine's Day, even if it sings Unchained Melody when you push its paw.
Dave...
---
December 6, 2012 11:08 AM
Africa
,
Asia
,
Google
,
Nepal
,
Poaching
,
Rhino
,
WWF
---
November 9, 2012 2:40 PM
augmented reality
,
California
,
Glasses
,
Google
,
Search engines
,
Searching
IT directors of a certain age, some beginning to wear reading glasses, others, half-blind nerds from an early age, will be eagerly anticipating the
---