---
May 28, 2015 10:25 AM
app
,
consumer
,
photos and images
,
pictures
A Swedish start-up has set out to help recruiters streamline the way they source potential new recruits by replacing paper-based CVs and tiresome application forms with video pitches. To apply for work through SelfieJobs (give us strength) all you have to...
March 14, 2014 10:36 AM
consumer
Charity What About the Children is warning about the risks of giving young children smartphones, the BBC has reported.It's down to mother's ignoring their infants. Here in the busy Downtime office, there's always a risk giving our corespondents another smartphone to look at. Let me see...shiny...
---
July 11, 2011 12:53 PM
consumer
A bloke in Paris called Marco has become the second man in history to have a QR code tattoo. We've been reliably informed that the first QR man was, in fact, English (http://2d-code.co.uk/qr-code-tattoo/). But this one links to Facebook....
---
September 23, 2010 10:17 AM
consumer
Amazon's Kindle eBook reader offers a way for users to highlight quotes and sections of text they like. This info is then posted on Amazon's site.
Nicholas Carr's The Shallows: What the Internet Is Doing to Our Brains had the most highlights in the Tech category, with...
---
March 10, 2010 1:28 PM
consumer
Gartner fellow, Brian Gammage believes PCs and socks have a lot in common. "I only buy new socks when my old ones have holes and are worn out, This is how we'll buy PCs," he says. Since people don't buy socks on new features, Gammage believes people will buy new PCs their big toe starts...
---
February 24, 2010 1:59 PM
Apple
,
consumer
,
iPhone
David Angwin, director of marketing at Wyse Technology is a happy man. So far the Wyse PocketCloud App for iPhone, has had 10,000 downloads - not bad for a product which costs $17.99 from Apple AppStore and is used to provide boring things like corporate intranet access. So naturally he...
---
November 30, 2009 3:12 PM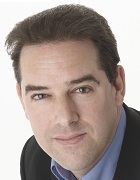 Profile: Bryan Glick
cartoon or comic
,
consumer
,
gadgets
,
health
,
iPhone
,
Social networking
In these troubled times, time itself is clearly at a premium for the busy health-conscious IT professional. But worry no more, for now you no longer need to waste precious seconds glancing down at your scales to find out how much you weigh.
Thanks to the
---
March 9, 2009 9:39 AM
Apple
,
consumer
Bill Gates' children have a rough time of it. This week it was revealed that his three children - Jennifer, 13, Phoebe, seven, and Rory, 10 - are not allowed to own Apple technology because of their father's monopolistic leanings.

Downtime was shocked and appalled to hear the news from...
---
---