---
February 2, 2017 10:29 AM
Broadband
Because apparently, 77% of Brits are more likely to dump their partner than their broadband provider. At least, this was the main finding of a survey of 2,000 UK consumers conducted by broadband comparison site Cable.co.uk. Cable's team of crack statisticians...
September 14, 2016 10:51 AM
Broadband
Frustrated at the slow state of broadband in their area, a family of newts has moved house to take advantage of the opportunities provided by superfast fibre. A BT Openreach engineer found the newts getting comfortable among the telephone cables down a manhole in Coldingham in Scotland. Steve...
---
August 13, 2015 3:00 PM
Broadband
,
BT
,
FTTP
,
Ofcom
Ofcom CEO Sharon White has discovered the secret of time travel, or so it would appear from a consultation document released on 13 August by the telecoms regulator.

The revelation that Ofcom has access to technology that baffles modern-day science was tucked away in a dense and lengthy...
---
May 31, 2013 10:59 AM
Badger
,
Broadband
,
BT
,
Easingwold
,
Yorkshire
---
March 7, 2011 3:24 PM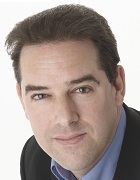 Profile: Bryan Glick
Broadband
,
BT
,
fibre
,
Infinity
,
ISP
,
telecoms
The Telegraph website has revealed a true scoop on the state of UK broadband. Either that, or it has made a tantalisingly insightful typo.
In a story stating that
---
October 7, 2010 2:40 PM
Broadband
,
Infinity
One of the curious side effects of BT's current campaign to get us to reveal our pent-up desire for super-fast broadband, otherwise known as BT Infinity, is that we now know that Infinity stops at 1000.
That's the minimum...
---