---
April 11, 2018 10:08 AM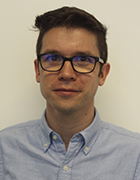 Profile: Alex Scroxton
Artificial intelligence
It's the week of the 2018 London Book Fair at Olympia, and the worrying news has reached Downtime that our jobs are indeed under threat from the rise of the robots, with the publication of the first new Brothers Grimm fairytale in 200 years, written...
December 11, 2017 3:21 PM
Artificial intelligence
,
robot
Robots should be ideal at home or in the workplace, right? These fully co-operative, obedient and reliable machines should make all our lives easier, right? They can't think for themselves, they can't make decisions for themselves, they can't take out the human race, right?! Whether or not...
---
October 20, 2017 3:16 PM
Artificial intelligence
,
Automation
,
Robotics
You: "You alright?" Boss: "Good morning Joe, I trust you slept well and the commute was satisfactory." This could be a regular welcome if we start to work for robot bosses, and new research has shown that almost a third of British employees would be happy to do just...
---
September 7, 2017 9:21 AM
Artificial intelligence
,
ECHO
"Let me tell you about your first match. Ooh la la! She lives five miles away!" You probably wouldn't think Alexa would say something like that but now it can, thanks to some creative intervention from the love gurus at online dating site eharmony. As a result of their tinkering,...
---
March 30, 2017 4:35 PM
ai
,
Artificial intelligence
,
Automation
,
Machine learning
,
Robotics
As all tech experts know, it is only a matter of time before artificial intelligence (AI) takes over the world, eliminates all our jobs, creates Skynet and the terminator, and enslaves us all in the Matrix. We can't wait to read the terms and conditions page. For those who see this as...
---
March 24, 2016 6:15 PM
Artificial intelligence
,
Google
,
IBM
,
Microsoft
,
twitter
Artificial intelligence (AI) is going to take over the world, steal all our jobs and ultimately subjugate us all - or so we are told.

We've seen IBM's AI system, Watson, beat humans on the US game show, Jeopardy. Recently, Google's British DeepMind team created an AI system that...
---
June 15, 2015 1:31 PM
Artificial intelligence
,
Porn
The Turing Test is a famous challenge to computer scientists to create an artificial intelligence machine that is so convincing people believe they are talking to a real human being.
---