---
June 22, 2015 12:06 PM
advertising
,
Security
Heinz went red in the face recently as one of its consumers pointed out a


RSS Feed

Email a friend
April 23, 2015 1:24 PM
advertising
,
Cloud Computing
,
datacentre
,
travel
There's no getting away from the fact that the quaint Berkshire town of Slough has an image problem, with the general perception being that it's an ugly place with a funny smell.
That's not us being mean, by the way. Slough was named
---
September 28, 2010 12:02 PM
advertising
Apparently, job vacanices posted on PeoplePerHour.com for 'Twitter consultants' have jumped more than 300% this year.

"We're seeing increasing demand for social media experts to oversee the Twitter feeds and Facebook pages of a very wide variety of companies," said...
---
May 26, 2010 1:22 PM
advertising
It seems the bods at Salesforce.com are taking the idea of cloud to new heignts. This week the company announced that Virgin Galactic will be using the service as part of its Astronaunt Relations Programme. These astronauts must be going soft...Arthur Dent got by with a dress gown and a talking...
---
December 14, 2009 9:26 AM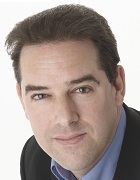 Profile: Bryan Glick
advertising
,
Google
,
Metro
,
Web
Imagine if you can, for a moment, that you are Google.
You have revolutionised the advertising industry. Billions of marketing dollars now flow your way. Traditional outlets for ads, such as newspapers and magazines, are facing disaster and many have already shut down. You are under...
---
December 2, 2009 3:15 PM
advertising
Joe Brockmeier from Novell has one of the toughest jobs in IT - to convince the masses that they should use Linux rather than Microsoft software. Let's face it Microsoft spends more money getting people to say "I'm a PC" and run their own Windows 7 launch...
---
March 20, 2009 4:34 PM
advertising
,
online
UK film star Ewan McGregor is threatening to take legal action against those responsible for bogus entries in his name on Twitter.

Almost 200,000 people have been following what they thought were regular updates by McGregor, but a spokesman has confirmed that the Twitter postings,...
---
February 10, 2009 10:59 AM
advertising
Viewer of last week's Merseyside derby were probably already feeling disgruntled as a spectacularly boring football match stretched into extra time towards the seemingly inevitable spectacle of penalties, but then ITV really stuck the boot in.

Viewers who had endured almost two hours of...
---
December 5, 2008 3:50 PM
advertising
,
Apple
Apple has run into more trouble over its iPhone adverts. The company had claimed that users could access all parts of the internet on the iPhone. Not true, said The Advertising Standards Authority.
Now The Advertising Standards Authority has banned an advert that seems to imply that...
---
October 10, 2008 4:42 PM
advertising
Microsoft seems to be allotting a surprising amount of revenue to providing Downtime with material.

After showering Jerry Seinfeld with money for a couple of bewilderingly awful adverts, it has released a fresh advert for Windows 7 which delivers at least comparable measures of...
---