Jun 29 2016 11:31AM GMT
Tags:
In this day and age, it's not just the techie guy at the helpdesk who know what the numbers and dots posted on the bus mean. Clearly, the bus driver here is on the game. And most Y-gens will probably have already figured out: "It's an IP address." Wonder where it goes?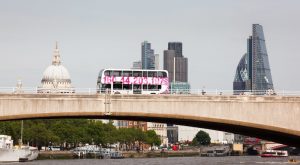 It's from T-Systems, urging you to hand over some personal details in order get to call from them for some sound security advise, which is highly likely to be fee-based.  Sounds suspiciously like a social engineering scam, eh? You know, when someone warn you that your computer is risk…you know the script. And don't try calling it – 160-44-203-197 is definitely not a phone number.