---
February 7, 2019 2:02 PM
For years now, Twitter CEO Jack Dorsey has been hounded to add a feature that allows users to amend their typo-laden tweets, but do we really need more ways to take the platform so seriously?
Take the latest instalment of liberal folk (the good guys) tearing each other apart online: David Baddiel versus Owen Jones. Never in our lifetime did we expect to be siding against a national treasure like Baddiel, a man who has embodied our pain throughout decades of footballing heartache. But here we saw a comedian being got at by a quite socially awkward and, when pushed, snarky political commentator because he couldn't back up his argument.
He finished the useless exchange by saying he had a killer comeback for Jones, but refused to use it. We've all had moments like that before. You're in over your head with someone who actually knows what they're talking about, so you tell them you have the tools to absolutely destroy them but have chosen to take the zen route and walk away. Later on, you come up with a combination of words that would've allowed you to sleep easy, but it's too late.
With the option to edit tweets, this could all be rewritten. Second and third editions of this pointless guff between public figures who usually seem lovely would be released like books, with semantic tweaks on both sides. No thanks. Just delete all of it.
January 31, 2019 2:37 PM
Gay dating app Scruff has had to ban pictures of users in their underwear because Google Play kept suspending it.
This is welcome news for those of us who eat pizza every single day and can't be bothered to do any exercise whatsoever. Finally, a level playing field has emerged – except it's not a level playing field, is it? Because that would suggest these sexy guys with abs of steel could ever match our excellent banter. Without their muscles to show off, all they have left is a misapprehension that an interest in astrology and gin constitutes a personality, whereas Downtime is the funniest weekly technology blog in the world.
The January sales were extremely tough on us, as we trawled through pages upon pages of discounted Urban Outfitters tat modelled by all the men who at various points in 2018 saw us Super Like them and rightly laughed in our face. These sites are like Generation Game conveyor belts of what we could've won if we weren't absolutely obsessed with Ristorantes.
Not with this new policy, though. These models might have more time for our sardonic take on James Dyson if the competition's gym bodies were concealed. We're not on the beach anymore. We're in the all-inclusive hotel restaurant, and you're not allowed in unless you pop a top on. We can literally have our cake and eat it.
---
January 23, 2019 4:39 PM
There's no getting around the fact James Dyson has revolutionised pub bogs up and down the country with his hand dryers. Rumours they store up and shoot out poo particles everywhere aside, the Airblade is a modern signifier of an establishment that looks after those of its belching, farting, urinating and sometimes even defecating patrons who might wish to dry their hands fast.
And who can forget his vacuum cleaner? A noughties icon that once doubled as a broomstick on which you could transcend class barriers; its creator vouchsafing us incrementally improved versions over the years while the famously stoic Henry ate its dust.
But what will billionaire Brexiter Dyson be known for by the next generation? Could he, perhaps, engineer some new kind of amphibious craft, capable of safely transporting rats from sinking ships; complete with tiny, automatic, retracting ladders? No, that's unfair.
His company is actually off to Singapore to make cars, but chief executive Jim Rowan worries some cynics are bound take that the wrong way: "Because [Dyson's] roots are in Britain and its founder has been a vocal supporter of Brexit, the decision to move its headquarters to Singapore is likely to make political waves."
Don't be paranoid, Jim! All the best for Singapore, which – did you know – recently signed a free trade agreement with the EU?!
---
January 16, 2019 4:09 PM
Mobile phone recycling comparison site Recyclezone has put together the findings of a survey that asked which household tasks Brits were most keen to palm off on smart technology, and you don't need to ask us twice to play Vernon Kay with the results.
The survey said a laundry folding robot (32%) is the fifth most popular wish, which is where we pirouette towards our imaginary All-Star Family Fortunes studio audience in disbelief that nobody can fold their own underwear, before alienating them by shouting, "Just hire a maid!"
In at number four are kitchen appliances that connect to a voice assistant (34%). We feel Vernon would breeze past this one due to his limited ability to come up with a funny joke about efficient toasters on the spot – or, in our case, just before lunch.
Third place is occupied by a fridge that suggests recipes based on [we pause to bury our head in our hands – the audience are back onside and can't breathe for laughter at this point] what's already in it (37%). "We keep insulin for the diabetic cat in ours," we quip in our fake Bolton accent. "You wouldn't want that in your omelette!"
The second-highest answer is a smart vacuum cleaner (40%), which should obviously have come first ahead of a smart thermostat (46%), something that's just objectively very easy to keep on top of yourself. What a stupid country this is. [Audience boos.]
---
January 15, 2019 2:17 PM
Uncategorized
Our new CISO has just issued a warning across the company. He's going to blame staff for any blunders. And he's going to make sure they NEVER do it again…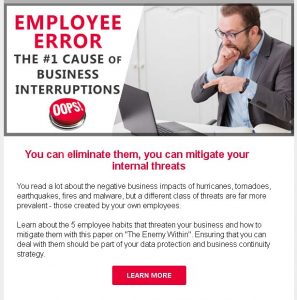 ---
January 9, 2019 4:38 PM
This year's CES organisers have succeeded in preserving every male tech nerd stereotype by crumbling over a small reminder that real vaginas exist.
The Osé personal massager's upcoming innovation award at the event has been reversed after it was deemed indecent, which would look a lot less like blatant sexism if CES hadn't showcased a robotic sex doll only the year before.
Company founder Lora Haddock, who sidestepped a marketing mistake when she didn't name the product after herself, said: "You cannot pretend to be unbiased if you allow a sex robot for men but not a vagina-focused robotic massager for blended orgasm." Downtime isn't sure what a blended orgasm is, but it doesn't sound like something you'd ever try to stand in the way of.
It's clear the Osé, ordinarily a resounding stranger to anything of the sort, has found itself subject to a major anticlimax here, and its creators might now have to see a drone snatch the award from under its big, blue, Gonzo nose. "What's a drone snatch?" you quip. You're part of the problem.
If a drone wins this honour, in spite of the havoc they've wreaked on our airways – at the expense of a dildo that's done nothing wrong, no less – we're taking this scandal to HBO ourselves.
---
January 3, 2019 3:18 PM
A new year begins, and the search continues for whoever was behind the Gatwick drones fiasco that grounded hundreds of flights over the Christmas period.
Our first port of call would be Chris Grayling, the transport secretary who always has a mischievous glint in his eye: the look of someone who has never quite been able to take anything seriously in his life and would probably get a kick out of doing TV interviews about the investigation between stints operating his machinery. But considering how tied up he must have been lately with another prank – awarding a hypothetical freight contract to a company that doesn't have any ships – we can only assume he wouldn't have had the time.
Grayling himself has suggested environmental protesters could be behind the stunt, which would be a quite intensely boring grand reveal, so we won't give that much thought.
Was it someone who had it in for that couple who got wrongly accused just before Christmas Eve? Or the Russians, who just can't seem to leave us alone? Or a young genius hacker who nobody will know how to ethically punish? Still all quite underwhelming finales.
What if it was someone closer to home? Someone with a noted passion for drones and chaos… He wouldn't, would he?
---
December 5, 2018 2:29 PM
Tom Cruise has posted a video alongside Mission: Impossible – Fallout director Christopher McQuarrie, encouraging fans to adjust their television settings to improve their viewing experience of the film, and we ache for when we had that enthusiasm.
It's normal to feel uncomfortable watching Tom Cruise staring down a camera lens at you for a quick chat. We're still trying to work out if the act has left us brainwashed, but we do know the nuances of frames in a shot of an action film we didn't bother to catch at the cinema isn't going to prompt a Google search on how to switch off interpolation. The difference would be so lost on us.
The setting is default on most high-definition televisions and apparently makes films look like they were shot on a cheap camera, causing what is referred to as the "soap-opera effect". God forbid we confuse EastEnders, a decades-old concept still being flogged to this day, with anything starring Tom Cruise.
The way we watch films has devolved. The human eye has adapted to low-bandwidth streams of straight-to-Netflix Adam Sandler jaunts and our brains can only process brief Saturday Night Live sketches on YouTube before needing an hour-long nap. If they make yet more Mission: Impossible films – and they will – they should shoot them on iPhones. We promise we won't care.
---
November 29, 2018 5:01 PM
Lewis Hamilton has used his appearance at an HPE Discover event in Madrid to step out of his little car and take an unexpected walk down memory lane, regaling the tech crowd with tales from his past life carrying out test runs on mainframes for his dad's IT support company.
This is the first we've heard of the Formula 1 driver's IT heritage, but that'll be because we try to avoid him at all costs – an endeavour made all too disruptive to daily life since 14ft adverts featuring his half-naked body started rolling around London on the side of its buses earlier this year.
But at least if Tommy Hilfiger decides to fund another double-decker Hamilton procession ever again, we'll know this time we're looking at the torso of an IT grunt come good, right?
Hold on, though. Is this just another PR stunt? Pilloried for mocking his own nephew's choice of outfit last Christmas, he reacted by parading him around Disneyland dressed as Rapunzel. What if this time Hamilton's said something awful about computers, and is trying to make up for it with this story about a father-and-son tech team? Our verdict: don't trust him. There'll be a deleted Instagram post somewhere of him saying IT is "for sad acts".
---
November 22, 2018 10:04 AM
The season of festive advertising is upon us, and this year's key theme is Guilt Olympics. Whether it be Visa, John Lewis or Iceland, firms are lining up to tell you not to even think about enjoying Christmas before making some very modern moral considerations. Thank God Google's here to clean up your mess.
While no app yet exists to magically help you afford pianos for all your little dormant Elton Johns or scan shampoo ingredients for palm oil without forcing your brain into a coma, Visa's wish that you support your high street has been made more viable by Google teaming up with local-shop inventory startup NearSt.
The objective is to encourage consumers to buy all their gifts the good, old-fashioned way by providing a search function that brings up information about nearby stockists and prices, much to the total dismay of Ebenezer Bezos.
This is the exact behaviour Visa has asked of you, vouchsafing you that feel-good factor you've craved since learning how lonely the real-life butcher, baker and flower arranger are in its advert. You can only assume the mere sight of another person will save their lives.
Christmas can now only be spoiled by the Joneses' delivery of pianos and Katona-scale Iceland banquet. "We might buy online," they'll shrug, "but at least we're not orangutan-murdering scum."
---