---
October 17, 2013 3:52 PM
Uncategorized
An area the size of Wales is filled with junk every year because tech PRs insist on sending, usually useless, free gifts and other crap to tech journalists on a daily basis.
PR Junk black holes are developing on and under desks across London and the worrying trend has caught the attention of office managers. A new variety of wild flower has evolved on the desk of networking journalist Jennifer Scott (@NifS), protected from outside influences for years by empty boxes.
New rules are set to come into force soon to force PR companies to only give away easily recyclable stuff, such as alcohol.
October 17, 2013 3:37 PM
BYOD
,
Cabinet office
,
Government IT
,
oligopoly
,
PC
,
Wi-Fi
The UK government, led by the Cabinet Office, is zealous in its desire to overhaul government IT.
Out go mega-outsourcing deals with the big "oligopoly" of IT suppliers, in come lots of SMEs, smaller contracts, and the re-skilling of civil servants to become agile software developers.
So congratulations to Cabinet Office minister Francis Maude – the political muscle behind the Whitehall IT reforms – who has taken the move to its ultimate conclusion by becoming his own IT manager.
According to The Telegraph, Maude was so fed up with his own in-house IT systems that he installed his own Wi-Fi network so he could make more use of his iPad.
Not so much bring your own device as bring your own IT department.
One of Maude's team, chief operating officer Stephen Kelly, claimed earlier this year that his PC took seven minutes to boot up, and went as far as posting a video of the boot-up taking place online after a Telegraph article suggested he was being "economical with the truth" – although he later removed the video.
Clearly Kelly knows what to do now – just pick up the phone, ring his minister, and ask, "Is that the helpdesk?"
---
October 14, 2013 3:14 PM
Oracle
Iron Man in Iron Man: Armored Adventures. (Photo credit: Wikipedia)
Anyone with at least half a brain loves the Iron Man movies and Robert Downey Junior's portrayal of the vain yet loveable character. However, anyone in IT could also not have failed to notice one firm's particular influence on the films.
Oracle is a huge sponsor, from projecting its name on the dome of one of the finales, Sun hardware showing up in satellite vans in the most recent film or even the company's CEO, Larry Ellison, making a cameo, Stan Lee style, in the first outing.
Most have made the connection; it is quite clear Larry sees himself as a Tony Stark-esq character – technically minded, investing millions in science, loaded playboy, handsome… well, this is his opinion, not ours.
So won't Larry be thrilled to know the reality of the Iron Man suit is getting closer and closer.
The US Army is working to develop "revolutionary" smart armour that would give its troops "superhuman strength," according to an article on the BBC website.
It is seeking out advice from government labs, academia and – listen up Larry – technology firms to progress its mission to get an armoured exoskeleton or Tactical Assault Light Operator Suit (Talos) up and fighting for its country.
It must be like Christmas day in the Ellison household. Go on Larry, go and make your dreams come true. Let's just try and keep the guy on our side… oh, yeah, we meant you were not handsome Larry, you are very handsome *coughs*
---
October 10, 2013 9:40 AM
Android
,
Bluetooth
,
consumer devices
,
Hacking
There is nowhere to hide from cyber attacks – not even the privy is safe anymore, according to security firm Kaspersky Labs.
The firm has just added toilets to the increasingly long list of
hackable consumer devices
it has been compiling, pointing out that warnings were issued in August.
Application security firm Trustwave warned that the Satis smart toilet Android application contained a hard-coded
BlueTooth
verification code.
The code is "0000," and entering it could allow an attacker within BlueTooth range to manipulate some of the toilet's features.
Once that pin is entered, one Android device can communicate via BlueTooth with any number of Satis smart toilets in range, exposing users to remote hijacking.
While this does not appear to be life threatening, an unexpected activation of a smart loo's bidet or air-drying function could potentially put users' nether regions in peril.
---
October 8, 2013 1:43 PM
Uncategorized
News that a manufacturer is developing ways to use Google Glass in the operating theatre should be kept out of sight and earshot of any Tory Minister.
IT suppliers are putting together a demonstration on the potential uses of Google Glass in surgery.
Google Glass could help doctors in monitoring blood pressure, heart rate, and other vital signs during operations.
But we all know that Tory Ministers like to impress the boss with innovative ways to cut costs. Surgeons are expensive, but Jobseekers with Google Glasses are not. This could slash costs and cut waiting times. Eventually the Tories could have eradicated the need for actual operating theatres for the poor. A local community hall would suffice.
Imagine it. Jobseeker 1: "Remove the aortic valve. Where is that then?" Jobseeker 2 in assistance: "Google it." Job done.
But before you get any ideas Hunt, remember what happened in Lewisham.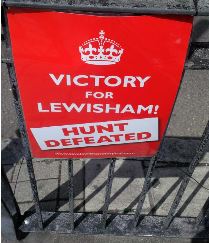 ---
October 2, 2013 11:12 AM
Uncategorized
News that an airline is equipping its pilots with tablet devices will send shivers down the spines of nervous flyers the world over. If you think it dangerous when a White Van Man holds court with his mates over the phone while travelling at 40mph in a built-up area, imagine a pilot travelling 500mph simulating that Ride of the Valkyries moment made famous by Francis Ford Coppola, while approaching turbulance.
At least CCTV and The Old Bill won't catch the pilots in the act.
---
October 2, 2013 10:59 AM
Lightning
,
nokia
,
University of Southampton
This image was selected as a picture of the week on the Malay Wikipedia for the 51st week, 2010. (Photo credit: Wikipedia)
Thunderbolts and lightning may be very, very frightening indeed, but it seems they could give us gadget junkies a funky way of charging our phones.
Researchers at the University of Southampton have successfully conducted an experiment to charge a Nokia Lumia 925 by simulating lightning.
The scientists managed to transfer 200,000 vaults across a 30cm gap into a smartphone and the energy from the light and heat gave the device the juice it needed.
"We were amazed to see that the Nokia circuitry somehow stabilized the noisy signal, allowing the battery to be charged," said the University's Neil Palmer.
"This discovery proves devices can be charged with a current that passes through the air, and is a huge step towards understanding a natural power like lightning and harnessing its energy."
So maybe when the next Thor movie comes out, we will see him not only saving the world against his brother but charging the devices of the planet too. That is the sort of superhero we are after…
---
September 27, 2013 4:04 PM
Michael Jackson
,
Microsoft
,
Steve Ballmer
Outgoing Microsoft CEO Steve Ballmer is well known for his dad dancing – but at his farewell company meeting in Seattle he revealed a previously unknown love of dirty dancing.
As reported by The Verge, Ballmer chose a karaoke theme for his goodbye speech, starting off with Michael Jackson's Wanna be startin' something – apparently the song played at the first Microsoft company meeting in 1983.
But, showman that he is, Ballmer left the best until last. He left the stage with tears in his eyes, to the tune of Bill Medley and Jennifer Warnes singing I've had the time of my life, the theme from the movie Dirty Dancing.
Downtime can exclusively reveal that Uncle Fester lookalike Ballmer went one step – or leap – further, re-enacting the most famous scene from the movie when Jennifer Grey's character Baby leaps high into the upstretched arms of Patrick Swayze's Johnny for the climax of their dance routine. And what's more, we have the photo to prove it: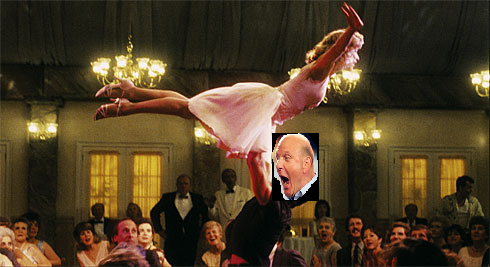 Everyone here at Downtime salutes you Steve – we're going to miss you.
(Photo editing courtesy of Microsoft software)
---
September 27, 2013 10:20 AM
Uncategorized
Oracle customers were a little upset when CEO Larry Ellison decided the Americas Cup was more important than his customers last week. The flamboyant CEO missed a keynote he was giving in favour of watching a race.
The Oracle team, referred to as the American team, overcame a team from New Zealand, despite having to come from behind. Critically the man who saved the day was a Brit, in the form of multiple Olympic champion Ben Ainslie. This proves that Britain still rules the seas.
Perhaps Oracle customers might call for Oracle to hand the wheel to a British CEO after Ellisson went Awol.
---
September 26, 2013 12:57 PM
Bill Gates
,
Control-Alt-Delete
,
IBM
,
Microsoft
,
Windows
How many different ways have your contorted your fingers over the years, to find the best way to hit Ctrl-Alt-Delete – that perfect encapsulation of how to make computers much harder to use than they need to be.
Well if you've cursed Microsoft founder Bill Gates for forcing you to over-stretch your phalanges, start apologising. For Gates says it's not his fault. He told fundraisers at Harvard that it's all down to IBM.
"It was a mistake," Gates said. "We could have had a single button, but the guy who did the IBM keyboard design didn't want to give us our single button."
Apparently the real culprit was an IBM PC engineer called David Bradley, who admits that he created Ctrl-Alt-Del, but insists it was Gates who "made it famous."
Watch Bradley attempt to defend himself from the finger-weary here:
---