---
August 26, 2014 3:24 PM
Brazil
,
Canada
,
Facebook
,
Germany
,
Google
,
Russia
,
twitter
Another day, another internet cock-up.
On Tuesday, users searching for any pictures on Google Images – kittens, puppies, flowers, food or even Google's own logo – were flooded with the same picture of a Russian car accident in the results page.
The worrying image was not an isolated incident, with users from Germany, Brazil, Canada all taking to Twitter and Google's own user forums to question whether its servers were hacked. While it did not affect all users, some users were repeatedly treated to the car crash image literally for all their queries on different browsers even when they had cleared their cache.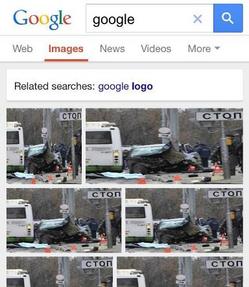 "Looks like Google Images got hacked by someone in Russia(?) First few rows appears as normal after that it shows this [Image of the car crash]," said a user on Twitter.
The search giant has not yet commented on whether Google Images has been hacked or if it's a search bug or an error from one of its new interns.
Downtime senses nothing new here as Facebook clearly is hacked by the ALS Ice Bucket challenge and Twitter by #Emmys or even #GoogleImageshacked by now. Ho-hum.
August 20, 2014 2:12 PM
Uncategorized
Not to be outdone by its two legged friends one dog in Chile decided to fake its own death on Google.
Back in June just for a laugh, a garage owner in Edinburgh faked an assault while a Google StreetView camera was driving by. A bit of clever police work soon revealed that it was a prank and the victim was not dead or even injured.
But proving that dogs are not just smelly stupid creatures, one dog in Chile has got Google stumped. A Google StreetView car has an image of the dog running in the road followed by another picture of it lying in the road. Such is the uncertainty surrounding the episode, despite a smoking gun, officials at Google are currently investigating whether the dog is dead or alive.
There are suspicions it was all a set up to damage Google's name as the dog is thought to be linked to a dog privacy group against Google Streetview. The group is attempting to get the same blurring rights that humans get on StreetView,
The dogs are said to send messages via the barking medium to alert each other when a StreetView car is approaching.
---
August 19, 2014 3:13 PM
Google
,
GreggstheBakers
,
logo
,
social media
,
twitter
On Googling Greggs today (as many are being encouraged to do so on social media), you might notice that its logo is not quite right.

The logo which Google associates with the brand now reads: "Greggs – Providing sh*t to scum for over 70 years"
Quick to respond to the torrent of Twitter comments, Greggs' social media team have handled the whole situation pretty well, tempting Google with a tray of donuts if they fix the problem
Hey @GoogleUK, fix it and they're yours!!! #FixGreggs pic.twitter.com/d5Ub7qtrLG

— Greggs (@GreggstheBakers) August 19, 2014
The @GreggstheBakers Twitter handle has proven that with social media and a little bit of character, it can make the best out of a bad situation with many praising its witty responses.
.@alukeonlife @_LeeTaylor_ Ha ha, the @GreggstheBakers replies are funnier than the thing itself. Well done whoever's manning that account.

— Matthew Desmier (@mattdesmier) August 19, 2014
@mattdesmier @alukeonlife @_LeeTaylor_ *bows gracefully*

— Greggs (@GreggstheBakers) August 19, 2014
@GreggstheBakers I hope your bosses realise how awesome you've been – easily making a bad story into a PR win! #WINNING

— Luke (@alukeonlife) August 19, 2014
@alukeonlife *forwards to big boss*

— Greggs (@GreggstheBakers) August 19, 2014
Comms team at @GreggstheBakers is doing a grand job responding to the tweets relating to the logo that's on Google. Good crisis response.

— Leigh Kendall (@leighakendall) August 19, 2014
@leighakendall crisis… what crisis? *eats doughnut*

— Greggs (@GreggstheBakers) August 19, 2014
Well done Greggs!
UPDATE – Google have responded and joined in with the fun.
Sorry @GreggstheBakers, we're on it. Throw in a sausage roll and we'll get it done ASAP. #fixgreggs pic.twitter.com/THXuMubrQq

— Google UK (@GoogleUK) August 19, 2014
.@GoogleUK WE LOVE YOU GOOGLE!!!!

— Greggs (@GreggstheBakers) August 19, 2014
---
---
August 13, 2014 4:13 PM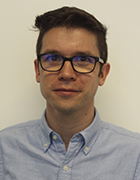 Profile: Alex Scroxton
Coding
A kick in the face for Wi-Fi suppliers who talk of little else but their latest stadium installation?
That's how Downtime first reacted to the news that Manchester United was banning people from taking tablets and laptops into Old Trafford.
But then we received an email from a fine practitioner of the arcane and mystifying art of public relations, who shall remain blessedly nameless to spare him the indignity.
"With Manchester United announcing that football fans can no longer bring laptops and tablets into their ground many techy football fans have been left wondering how they can write code whilst at Old Trafford," said the plucky PR, whose only crime was to be asked to email a load of daft nonsense to every technology journalist in the country.
Well where indeed? It's becoming a real problem for a lot of us.
Indeed, just a couple of weeks ago your intrepid reporter was at London's O2, watching the shameless old farts known as Monty Python try to wring a few more pounds out of their 40-year old material, when suddenly I was seized with the urge to bash out a bit of Python myself.
I reached for my trusty desktop and then remembered I was sitting in a 20,000 capacity arena paying over a hundred pounds to watch two elderly men falling about over a dead parrot. And worst of all, my computer was several miles away in the office! Foiled again!
"Curses! Damn and blast it all!" I cried.
"Now nobody will ever know of my programming genius. My app, which would have brought water to the deserts, reversed global warming, solved hunger, ended war in the Middle East, cured Ebola, and won me hearts around the world, shall remain forever uncoded!" I lamented, to the puzzlement of my fellow comedy enthusiasts.
"Shut up, you silly prat," one of them (my Dad) was heard to remark. "He's going to do the line about pining for the fjords."
Well it turns out I should have known better, for as my newfound friend went onto explain, what I should have done was download his client's smartphone app, which would have allowed me to control my computer remotely from my smartphone, and tinker away to my heart's content whilst missing all the fun and simultaneously irritating the pants off of everyone around me.
I suppose what we have learned from this is, in a very real and meaningful sense, nothing.
---
August 11, 2014 10:50 AM
BBC
,
rain
,
Temperature
,
United Kingdom
,
Weather
Britons download the BBC's weather app 19,000 times a day, with eight million downloads since its June launch date. This makes it the fastest growing app for the broadcaster.
As temperatures have soared this summer, mixed with sudden onslaught of thunderstorms, the UK has been turning to the trusty BBC to consistently check if the weather would last until the evening retreat to the beer garden or the weekend BBQ.
13.8million people visited once a week in July has temperatures hit 30 degrees.
The most popular time for checking the weather during the week is at 7am – brolly or no brolly? – while Brits give themselves a lie-in on the weekends and check the weather at 8am on Saturdays and 9am on Sundays.
But clearly we're living for the weekend in the summer months, because the Beeb says that Friday sees the highest number of visits to the app.
---
August 7, 2014 3:04 PM
Indonesia
,
Michael Jackson
,
wikipedia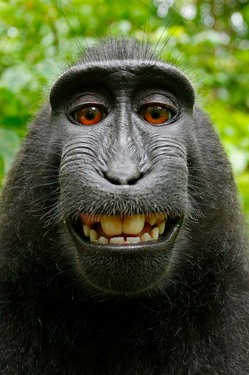 Last month saw the UK premiere of the latest Planet of the Apes prequel, in which Gary Oldman goes completely kiss-a-hobo-slap-a-donkey bonkers and imagines the world to be overrun with a simian patriarchy hellbent on destroying the human race. He subsequently attempts to eliminate every damn dirty ape on earth, curb-stomping a small, defenceless spider monkey in the process, following a lengthy, brutal bar brawl that rivals the most gruesome of Tarantino scenes. Then he sucks up the flattened bloody remains with a Dyson DC50 Multi-floor Bagless vacuum cleaner in what is likely to be the most misjudged example of product placement in the history of cinema.
At least, that's probably what happens, anyway – we've not seen it yet as we've been too busy writing stories for you ungrateful lot. The film does, however, contain monkeys, which allows us to reference it effectively for the purpose of a lazy, substandard segue.
You may think that – like in the movie – monkeys could only overtake the planet using violence, but a story this week revealed an alternative method of world domination available to our hirsute relatives.
Most of the images used on our site were paid for via a subscription to an online image library. But we didn't pay a thing for the one above. Why? Because the copyright is ostensibly owned by the photo's subject. When British photographer David Slater visited Indonesia in 2011, this cheeky crested black macaque stole his camera and took a few snaps of itself. That's right. It turns out monkeys are narcissistic and pathetic enough to take selfies too.
Understandably, Slater says the copyright belongs to him, but Wikipedia is contesting this, saying that, because the photo was taken by an animal – and animals cannot own the rights to an image – the copyright is held by no one. It's hard to say who's right. All we know is we can't wait to see the next Planet of the Apes prequel directed by the late Michael Jackson's chimpanzee Bubbles. In fact, Sky News has already announced that its war cameramen have been let go, and will be replaced entirely by the cast of the 1971 PG Tips commercial.
---
August 7, 2014 11:07 AM
Uncategorized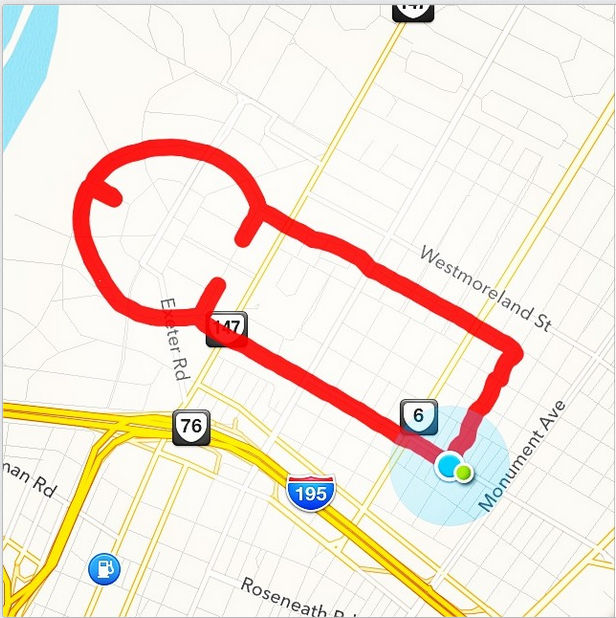 Claire Wyckoff has been quite the road runner on Nike+ – pounding the streets of her home town, San Francisco. Her running has been drawing quite a crowd on the web, with routes that outline a five mile long willy. Now that takes stamina.
---
August 7, 2014 10:42 AM
augmented reality
,
Gamar
,
London
,
museum
Night at the Museum (Photo credit: Wikipedia)
A London tech company has been able to recreate 20th Century Fox's film Night at the Museum in our very own British Museum.
Gamar has launched a mobile and tablet app which brings the museum's famous galleries to life.
In the Ben Stiller film, Night at the Museum (and its sequel), the night watchman at the Museum of Natural History learns that everything at the museum comes to life after the sun sets.
Gamar's augmented reality app superimposes graphics when visitors point their devices at different exhibits and artefacts in the museum. It also offers games for younger visitors to play themed around the exhibits.
---
July 31, 2014 2:13 PM
Uncategorized
Tim Torkildson, a social media specialist, was taken by surprise when he was fired last week. Why? Because he blogged about homophones on his employer's website and his boss thought the school is "going to be associated with homosexuality".
Homophones are word that are pronounced the same but differ in meaning, and sometimes in spelling – a bit like "hear" and "here" or "bare" and "bear" or "write" and "right". Oh the English language!
But his workplace confused his piece on homophones with homophobia. Tim's boss said: "This blog about homophones was the last straw. Now our school is going to be associated with homosexuality."
"We don't teach this kind of advanced stuff to our students, and it's extremely inappropriate. Can you have your desk cleaned out by eleven this morning? I'll have your check ready."
The American Heritage Dictionary of the English Language (Photo credit: Wikipedia)
Oh by the way, Tim's ex-employer is an American English language school called Nomen Global Language Center. Downtime is worried about its TOEFL students now.
The school went on to delete Tim's homophones blog post from its website.
Tim, who was too stunned to justify himself to his boss, just published the whole conversation between him and the boss on his personal blog and on Facebook.
"I'm not trying to judge or destroy my former boss — I just want enough publicity so someone out there will give me work!" he says on Facebook.
---