---
August 7, 2014 10:42 AM
augmented reality
,
Gamar
,
London
,
museum
Night at the Museum (Photo credit: Wikipedia)
A London tech company has been able to recreate 20th Century Fox's film Night at the Museum in our very own British Museum.
Gamar has launched a mobile and tablet app which brings the museum's famous galleries to life.
In the Ben Stiller film, Night at the Museum (and its sequel), the night watchman at the Museum of Natural History learns that everything at the museum comes to life after the sun sets.
Gamar's augmented reality app superimposes graphics when visitors point their devices at different exhibits and artefacts in the museum. It also offers games for younger visitors to play themed around the exhibits.
July 31, 2014 2:13 PM
Uncategorized
Tim Torkildson, a social media specialist, was taken by surprise when he was fired last week. Why? Because he blogged about homophones on his employer's website and his boss thought the school is "going to be associated with homosexuality".
Homophones are word that are pronounced the same but differ in meaning, and sometimes in spelling – a bit like "hear" and "here" or "bare" and "bear" or "write" and "right". Oh the English language!
But his workplace confused his piece on homophones with homophobia. Tim's boss said: "This blog about homophones was the last straw. Now our school is going to be associated with homosexuality."
"We don't teach this kind of advanced stuff to our students, and it's extremely inappropriate. Can you have your desk cleaned out by eleven this morning? I'll have your check ready."
The American Heritage Dictionary of the English Language (Photo credit: Wikipedia)
Oh by the way, Tim's ex-employer is an American English language school called Nomen Global Language Center. Downtime is worried about its TOEFL students now.
The school went on to delete Tim's homophones blog post from its website.
Tim, who was too stunned to justify himself to his boss, just published the whole conversation between him and the boss on his personal blog and on Facebook.
"I'm not trying to judge or destroy my former boss — I just want enough publicity so someone out there will give me work!" he says on Facebook.
---
July 30, 2014 5:10 PM
Bull
,
Instagram
,
photobomb
,
Spain
A man was photobombed trampled while trying to take a selfie of a raging bull at the Fetes de Bayonne festival.
The bull was menacingly running around a few feet behind the man who was desperately trying to get a selfie shot of himself and the angry horned animal.
The best thing about this story is that it was caught on camera for all to see. Don't worry, there's no blood but the bloke in question is clearly caught off guard (how that is possible, I'm not sure) and trampled by the animal.
All in the name of Instagram.
---
July 30, 2014 1:58 PM
Uncategorized
Friday was probably one of the hottest days of the year in the Downtime office, so it was no surprise when the network went down (probably due to the heat). "Hello mate we've got a weird one here," said the network engineer who was called out to fix it.
"It's like someone's stuck a screwdriver in the network socket." Own up. Who went to the pub early?
---
July 24, 2014 12:23 PM
Eindhoven
,
Malaysia Airlines
,
twitter
The Associated Press learnt an important lesson about using correct punctuation within a 140 character Tweet.
Yesterday the news wire sent out a Tweet to inform the world that a Dutch military plane, carrying the victims of the Malaysia Airlines Flight MH17 crash, had landed in Eindhoven.
Sadly, AP's Twitter handle sent out the following:

This awfully phrased Tweet sparked a fear that the plane carrying the bodies from MH17 had crash landed in Eindhoven.
Sigh.
Twitter was sent into a temporary frenzy thanks to the missing comma between 'crash' and 'lands'.
It was quickly followed by a clarification tweet nine minutes later.
Come on AP, didn't you guys ever read Eats, Shoots & Leaves?
---
July 22, 2014 12:06 PM
CCTV
,
Switzerland
Downtime always like to see technology put to good use, and in this case CCTV security firm AlertSystems agrees.
After a report in
The Daily Record
, AlertSystems has come out in support of a farmer in Scotland who has installed a high-quality CCTV system to protect his 11 Valais Blacknoses worth an estimated £55,000.
For the uninitiated, the Valais Blacknose is a rare breed of sheep native only to Switzerland that the farmer had shipped to Moray, Scotland to set up the first of its kind breeding programme in the UK.
The CCTV is aimed at ensuring nothing untoward happens to the prize flock, especially the award-winning ram, named King Kong.
A spokesperson for AlertSystems said that with such "heavy investment" in livestock, the time was right to install a CCTV security system.
---
July 17, 2014 11:01 AM
App store
,
hashtag
,
Manchester
,
twitter
A new hashtag has been created as a campaign to point out things in life that are NOT available on the app store, because "there isn't an app for everything".
#Notavailableontheappstore encourages people to place modified App Store stickers on things in the real world that aren't available digitally, as a reminder that "the most important things in life are not on the app store."
Caroline and Kayleigh at Computer Weekly took part by sharing tweets of their morning treat as well as shoebox care parcels about to be posted out to the British Forces.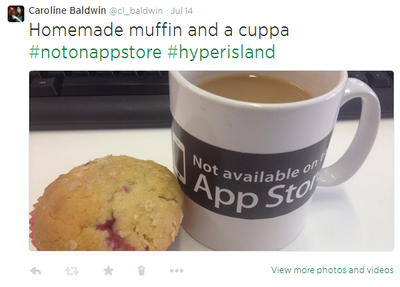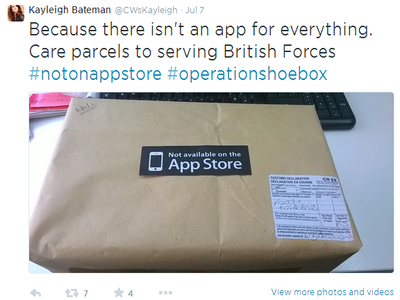 Here are some more Tweets from the hashtag: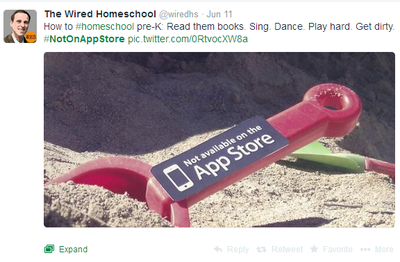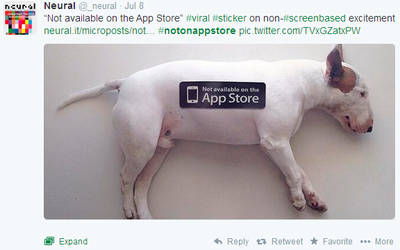 The campaign has been created students from Hyper Island – an educational body which is shaking things up in the digital and tech world.
Hyper Island which was set up in Sweden and has offices in Manchester, immerses students in digital and data strategy, as well as art direction, e-commerce, self-leadership and problem solving.
Both post-grad and mature students are given real briefs from major brands so they can experience learning on the job, and 9 out of the 10 students get job within six months of graduating.
---
July 16, 2014 3:42 PM
Uncategorized
By tracking eye movement, researchers at Microsoft reckon they can identify if someone has accidentally introduced a bug in software they are developing.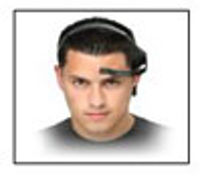 Microsoft researcher Andrew Begel said: "My idea is that if the software developers are writing the code and causing the bugs, we should measure attributes of the developers themselves. If we can figure out what cognitive or emotional issues lead to buggy code or lowered productivity, we can try to intervene and stop them from causing developers to make mistakes in the first place."
Amichai Shulman, CTO Imperva reckons that the industry could take pieces of this research to understand better why mistakes are happening and when, and how to avoid them. "However, I don't think that this is by itself an effective approach to improving software in general and software security in particular," he said.
So for a complete solution, Downtime recommends inventing a way to zap the offending developer.
---
July 8, 2014 11:44 AM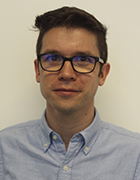 Profile: Alex Scroxton
Cthulhu
,
Facebook
,
smartphone
,
TigerMobiles.com
,
Tinder
,
twitter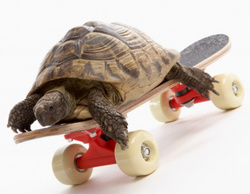 Summer's here, and it's time for Downtime to bring out its favourite picture of a skateboarding tortoise. Yes, the silly season is closing in.
Mobile phone comparison site TigerMobiles.com recently commissioned polling agency Carter Digby – to conduct a 'survey' that has allegedly found that the smartphone is killing off everybody's sex life… yours, mine, even Mrs Henderson at number 37's.
The rigorous 'survey', with a sample stretching to hundreds of thousands, conducted over many years, employing double blind techniques that was then extensively peer reviewed in leading academic journals …
Wait, it was 1,500 people? Fair enough. Carry on.
The 'survey' found that 75% of couples sit in silence browsing social networks "on a night" … whatever that means, whilst a "shocking" 40% turned down the "advancements" of their partner in favour of playing on their phone.
Even more horrifying, 74% said they got angry when someone interrupted them while using a smartphone, and the vast majority of dining room tables have achieved sentience and set up social media accounts.
No, you're not misreading, for I quote…
"85% admitted to texting or social networking the dinner table."
Coming soon, Terminator IKEA: the Rise of the Wobble.
Sorry, where were we? Oh yes, shagging. The 'survey' also found that 18% had checked their phone during sex, cause for panic, according to TigerMobiles marketing director Rob Myers.
"More couples are sacrificing their sex lives for addictive apps and the materialistic world of Facebook and Twitter. Fun between the sheets is disappearing down the drain for something that didn't even exist 10 years ago and the figures are shocking."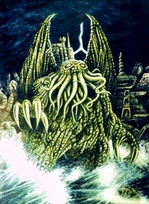 Downtime would argue that when the human race is down to its last few hundred people, either through disease, war, climate change, our imminent subjugation by Cthulhu (pictured left) or whatever, you can worry about fun between the sheets disappearing down the drain.
Look, there are seven billion of us and rising. I'm not worried about a few bored people whose relationships were doomed anyway texting.
Maybe they were on Tinder, setting up their next casual fling. Did you think of that?
Help is at hand, thankfully, for the survey provided some tips for taking back control of your sex life from those terrible smartphones.
The tips basically amounted to:
1. Use your phone as a sex toy (no not in that way) by sending cheeky texts or Snapchat messages. Super fun, and excellent blackmail leverage for later.
2. Exercise some self-control and put the blooming phone away.
Simple when you think about it.
---
July 1, 2014 1:01 PM
Uncategorized
Downtime received press releases last week about the volume of data that had been created online by the World Cup. They'll try anything to get a story those pesky PR peeps.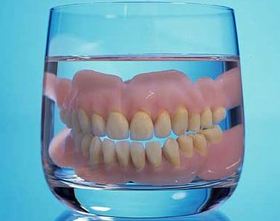 Apparently first ten days of World Cup saw 32 terabytes of data generated. Press releases with the details followed by commentary from networking suppliers clogged up inboxes everywhere.
Downtime thinks PRs are barking up the wrong tree with that one. It is clear the real news was about 1 mega bite.
---