---
November 19, 2015 3:56 PM
Linkedin
,
Ocado
A video by Ocado Technology asks parents of technologists to describe what their children do at work, revealing how little they know.
Parents who have children currently employed in the technology field have no knowledge about what their offspring do at work, research by Ocado Technology has revealed.
In a video by retailer Ocado's technology division, parents who have children working as software engineers are asked to describe what their son or daughter does at work, revealing they know little to nothing about what it actually means to work in a technology role.
The firm aims to use the video in its drive to employ 300 hardware and software engineers to help with its future plan to use its business model to help some other large bricks-and-mortar retailers with their online push.
In a bid to create interest in roles such as Java developers, mobile developers and cloud infrastructure experts, Ocado Technology challenged current employees' parents to explain what these roles would involve.
After stating she had looked up her son's job title on LinkedIn, which she referred to as Lindecar, one mother described that during a work day her son "attends meetings".
Another parent stated about his daughter: "I think she spends a lot of time sitting in front of a computer and drinking bottled water."
Despite not knowing the ins and outs of the roles, all parents agreed their jobs made their children excited and happy.
So next time a software engineer tries to baffle you with complex words when describing their role, all they're really doing is covering up the truth – they really just drink water all day and go to endless meetings.
November 6, 2015 3:37 PM
Uncategorized
Apparently close to one in three business executives responded to recent research from the Association for Information and Image Management (AIIM) admitting their office is still 'piled high' with paper documents.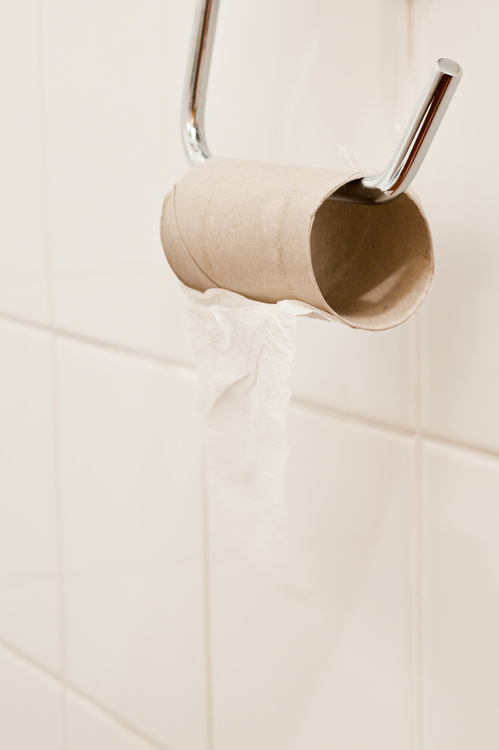 The survey found that 56% of organisations believe they still require contracts, orders and booking forms to be signed on paper and 40% feel the need to reference and file hard copies of their important documents.
"Cultural, technical and resource constraints, along with certain legal requirements, mean that a fully digital future looks a long way off for many businesses. The first step these organisations should take is to adopt a "paper-light" approach," says Iron Mountain's Sue Trombley.
Going paper free downside have a downside, as Bernadette recently discovered.
---
November 5, 2015 2:56 PM
Uncategorized
A Google employee is living in a van in the car park outside his office in a bid to save money. Yes 23 year old Brandon has been blogging about it.
Apparently the cost of accommodation and travel in San Francisco is so high that by buying a van he cut his living costs by a third in 4 years.
But Downtime knows exactly what is going on here. Google is beta testing the potential of having its headquarters in a van. The ability to move jurisdictions and save money on tax is the idea being floated here. It is only a matter of time that IT companies start commission huge ship building company's to build mobile headquarters.
I mean who needs their own home when you work at Google. Such is the competition for staff the internet giant offers work benefits like Michelin star chefs preparing free meals and toys and gadgets strewn across the office. Not to mention the reportedly high wages the company pays its staff.
---
November 3, 2015 11:11 AM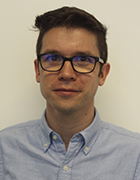 Profile: Alex Scroxton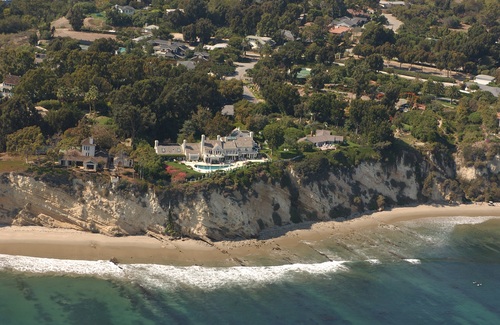 This is a picture of Barbra Streisand's house in Malibu, California. Lovely, isn't it? It was taken by a photographer called Kenneth Adelman, and about 12 years ago it became briefly famous when the entertainer took exception to it being published on the internet as part of the California Coastal Records Project, and took out a $50m lawsuit to try to suppress it.
Unfortunately for Barbra, the internet works in mysterious ways, and in seeking to have the picture removed from the world wide web, she merely succeeded in drawing more attention to it than ever before. The picture went around the world. Actually, according to Wikipedia, before she filed her lawsuit, it had been downloaded just six times, twice by her lawyer. In the following month, it was downloaded 420,000 times.
Nicknamed the Streisand Effect by TechDirt's Mike Masnick in 2005, the phenomenon has been widely observed at work in the online world, with victims including Beyonce, former motor racing boss Max Mosley, and Pippa Middleton. In these days of articles with titles such as '20 Photos Of The Editor Singing Spandau Ballet Songs At Karaoke That He Doesn't Want You To See' it is easier to fall victim to the Streisand Effect than ever.
Now, here at Computer Weekly we take a dim view of many of the trends in modern tech company naming. Give your firm a name that's all in capital letters, and you may find that our talented production team gives you a subtle re-brand in the finished article.
Unfortunately this sort of tomfoolery is becoming increasingly common these days, so we have to say, we weren't particularly surprised when the following 'guidance' popped into our inbox on Friday, ahead of the much talked-about split of HP into two new companies:
"In advance of the two companies trading as separate companies on the NYSE starting Monday, Nov. 2, I wanted to share accurate information about how each company should be referenced moving forward.
"Hewlett Packard Enterprise should only be referenced as "Hewlett Packard Enterprise" or abbreviated as "HPE". Please note: It should NOT be referenced as "HP Enterprise".
HP Inc. should only be referenced as "HP Inc." Please note: It should NOT be abbreviated in any way."
Sorry? What was that?
Okay. I think I get it. HP Enterprise definitely never wants us to call it HP Enterprise. Was that it? If HP Enterprise is off the table, then we shouldn't call it HP Enterprise under any circumstances.
It's funny, though, because I'm sure that up to now only about six people, probably all of them working at HP Enterprise, had really given the idea of using the term HP Enterprise a second thought. We certainly hadn't, but now all we and every other technology journalist who got that note can think about is when we can next find a way to call HP Enterprise HP Enterprise.
Well. Okay. We'll be good.
But we can't necessarily say the same for our sub-editors. Their ways are shrouded in mystery.
---
October 29, 2015 4:02 PM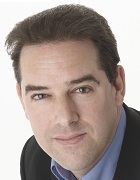 Profile: Bryan Glick
Cats
,
Internet
,
kittens
,
Uber
Downtime regulars may already know that in future, we won't own or buy stuff anymore, we'll all share with everyone else in a big, cuddly, let's-all-have-a-spliff-around-the-campfire, tree-hugging kind of way. To make this concept credible and allow politicians and business leaders not to appear like 1960s hippy day-glo wackos when they talk about it, we have to call it the "sharing economy".
The darling of the sharing economy is Uber, the firm that allows you to get a cab from someone who used to hang around Leicester Square in London on Saturday nights whispering, "Just £10 cab to zone 2. Take anyone to zone 2 super cheap" to lost-looking passers by.
But what you may not realise, is that hailing taxis through a smartphone is just the start of Uber's plan to be the hub for sharing all of creation. To prove this, on National Cat Day (no, us neither) Uber launched its latest service – Uber Kittens. As if there weren't enough of the cutesy creatures infecting every corner of the internet, Uber offered customers in selected US cities the opportunity to share a kitten. You get 15 minutes with an Uber-delivered kitten, at the end of which you can return the flea-ridden poop-fest or decide to rather ruin the business model by adopting it.
What next? Is there nothing that Uber and its sharing economy cohorts will not attempt to time-splice into our lives? What about children – just think, if you could have your kids delivered to home between the hours of 3-7pm when there's something decent on CBeebies to keep them occupied, then stick them back into the cab for someone else to bathe them and read a bedtime story.
How about Uber Spouses? Uber Bosses? Uber Beer? The possibilities are endless. At least Downtime can be assured there is no future in Uber Journalists – far too valuable a commodity to ever be shared round the digital campfire. *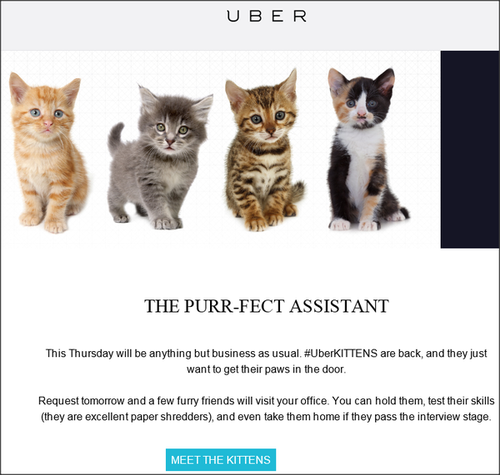 * We hope.
---
October 27, 2015 5:23 PM
Coding
,
Landlord
,
renting
,
Skills
,
Web development
The increasing need for software development and web-based digital skills is a hot topic these days, and it's hard to go more than a week without hearing about how in-demand the tech savvy are.
But what those with essential coding skills don't know is they should be using their advantage to wrangle cheap rent in The City.
One resourceful landlord in need of some web design help has offered a room in his five bedroom house for £1 a month, provided the tenant will help him develop his web application.
The overwhelming response he has seen led to him admitting he had opened a "Pandora's box" and suggests more landlords could offer accommodation in exchange for skills.
But Downtime advises erring on the side of caution when it comes to such offers, after all there's no such thing as a free lunch.
---
October 23, 2015 4:41 PM
CyberWar
,
GCHQ
,
Hackers
,
NSA
,
Snowden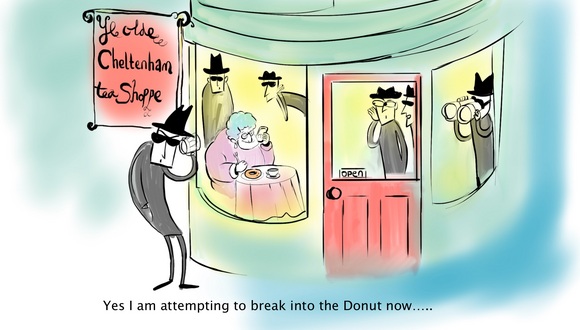 Paul Donnellon
---
October 23, 2015 9:46 AM
Uncategorized
IT people always talk about aligning IT with the business. So if you head up IT for Arsenal, Man U or whoever, what's the priority from an IT perspective? Options are:
Put Wi-FI in the stadium
Figure out how to make the queue for the loos go quicker
Faster ordering of beer
Logic dictates pick Number 2 – if you make it quicker to order more beer, sure as hell punters will buy more, drink more and get pissed more. Yup… then they realise pretty quickly they need a leak.
---
October 22, 2015 3:57 PM
Acquisition
,
EMC
,
michael dell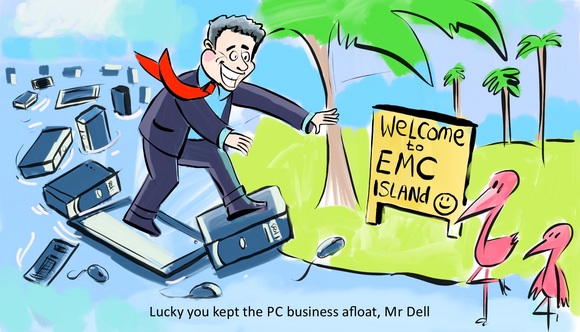 ---
October 15, 2015 4:02 PM
Uncategorized
It seems the big brains creating the robots that will take over the mundane tasks that humans have to do, otherwise known as a 'fair day's work for a fair day's pay,' want robots to have the same opportunities as humans.
Look at IPsoft's Amelia. The AI platform coming to a help desk or contact near you has been given botox to inject a bit of youth.
Admittedly the version one of Amelia did not look happy doing a fair days work for no pay, with the facial expression that suggested she was uninterested. And the bags under the eyes suggested disillusionment, late nights and heavy drinking
---