---
October 24, 2019 9:29 AM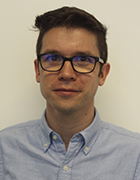 Profile: Alex Scroxton
Cyber security
Liverpool may be flying high at the top of the Premier League table right now, but when they get home after a hard-fought 90 minutes, their fans are the most likely to have had their personal data leaked, their bank accounts raided, and their Facebook status changed, according to new data from the...
---
October 16, 2019 2:51 PM
A robot hand has been taught by OpenAI to successfully solve a Rubik's Cube in an average time of four minutes.
"So what?" you ask, being the unbearable Rubik's Cube expert you are....
---
October 9, 2019 12:46 PM
Coleen Rooney has detailed the detective work that went into unmasking Rebekah Vardy as the alleged mole of her private Instagram account.
Adopting the standard celebrity...
---
October 2, 2019 3:57 PM
When we heard that some of Mark Zuckerberg's Q&A sessions with his Facebook massive had been released by The Verge, we hardly expected to witness a grand...
---