---
June 26, 2017 12:45 PM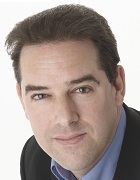 Profile: Bryan Glick
As we all know, software and artificial intelligence is going to run the world and make all the decisions on our behalf, probably starting from a week next Tuesday. Downtime has long felt it is our duty to reveal precisely what sort of world this means we will be living in, and recently we had...
---
June 13, 2017 1:53 PM
Uncategorized
Among those ever present first world problems is how to keep your phone charged - especially if you are out on the razz. The University of the West of England may have just the answer. It has developed a pioneering solution, based on taking a pee. Apparently there's some pretty clever microbes...
---
---
June 1, 2017 11:25 AM
Donald Trump has written a new page into the book of Twitter folklore with his now deleted classic, "Despite the constant negative press covfefe". The garbled message, surely reaching for the word "coverage" before cutting off entirely, was presumably posted by the president just before...
---