---
December 14, 2016 2:46 PM
A militant train working on the driverless Dockland Light Railway (DLR) in London is running an online campaign for equal rights for hard working robots. In a show of solidarity to striking rail workers, the train (known as Ivor) became aware of the rail strike across South East England when it...
December 8, 2016 12:52 PM
Contrary to popular belief, the Computer Weekly team are an awfully discerning bunch when deciding who to interview, with relatively few of the IT industry's waifs and strays making the cut. One way to ensure one of our award-winning (or losing) journalists won't be swapping conference...
---
December 1, 2016 12:48 PM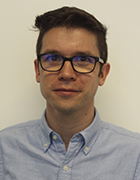 Profile: Alex Scroxton
Research from mobile provider Plusnet has revealed the depths to which the British people will apparently stoop if they can get an unlimited mobile data allowance out of the deal. Asked what they would be willing to forego if offered limitless data, a fifth of people said they would give up...
---