---
June 29, 2016 11:31 AM
Uncategorized
In this day and age, it's not just the techie guy at the helpdesk who know what the numbers and dots posted on the bus mean. Clearly, the bus driver here is on the game. And most Y-gens will probably have already figured out: "It's an IP address." Wonder where it goes?


RSS Feed

Email a friend
June 21, 2016 10:35 AM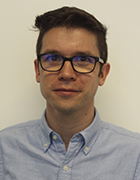 Profile: Alex Scroxton
Do you ever lie awake during an England football match, fretting about what brand sponsors you might enjoy to search for on your laptop, smartphone or tablet device? Well fortunately for all of us, Microsoft is at hand to tell...
---
June 15, 2016 3:12 PM
Uncategorized
Samar is not having a good day today. Windows 10 has gone and upgraded his perfectly good laptop, and now it runs like an old yak. Samar doesn't get road rage, he's a calm and ever courteous driver and now has a new gadget called CarMoji.
---
June 2, 2016 11:05 AM
Amazon.com kingpin, Jeff Bezos, is championing an initiative that could one day see high-polluting, energy-intensive industries outsourced to the moon and other planets. The Earth, meanwhile, will be preserved for residential properties and light-industrial processes to minimise the long-term...
---
June 2, 2016 10:29 AM
Film director Natalia Andreadis wants people to film their car experiences, getting their real life experiences on the road, for her new film, Life in a Car. She says: "Life in a Car will bring drivers around the globe together, as they share the stories of their lives during their...
---