---
February 26, 2015 9:28 PM
5G
,
BBC
,
zombies
The BBC has recently launched a show on its maybe-soon-to-be digital channel BBC Three.
The premise...
February 25, 2015 10:45 AM
astrology
,
NHS
Well, will it?

In an interview with the Astrological Journal, Conservative MP David Tredinnick has made the bizarre claim that astrology could solve the NHS crisis.

"I do believe...
---
February 20, 2015 12:26 PM
A recent office move has left the Computer Weekly team's lack of practical technical knowledge tragically exposed.

Not only are we apparently incapa le of networking a printer properly, we have also overloaded the production team's sockets and lown several fuses in the process.
---
February 20, 2015 12:23 PM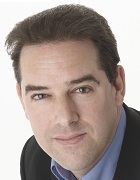 Profile: Bryan Glick
Email
Britain's contribution to computer history has received its ultimate accolade - Colossus, the world's first electronic computer, designed at Bletchley Park to help break secret German codes in World War 2, is to be featured in the latest set of Royal Mail stamps.



0 Comments

RSS Feed

Email a friend
---
February 19, 2015 12:52 PM
Uncategorized
If there is anything worse than waiting in the queue at the Post Office, it is using its new self service machine. First there are three staff - who would normally be behind the counter - keying in PIN numbers, because the Post Office doesn't trust you to buy a stamp on self service. Then there is...
---
February 9, 2015 10:29 AM
Romulans
,
samsung
I'm going to tell you a true story about voice recognition, and how far we still have to go before it really works properly.


---
February 5, 2015 3:18 PM
Uncategorized
Here at Downtime, we seem to get inundated by people who give their two bit's worth whenever there there is something security related. Here's this week's Top Five:
1. Lancope CTO, TK Keanini, on Anthem
Changing your DNA is not an option - if...
---
February 5, 2015 2:35 PM
ADAC
,
BMW
"As the leading manufacturer in the networking of driver, vehicle and the surrounding environment, the BMW Group is increasing the security of data transmission in its vehicles."
This is what the car maker told its customers about a fix for its ConnectDrive app, that allowed car thieves to...
---