---
May 29, 2014 1:27 PM
Google
,
Jetsons
"Just imagine: You can take a trip downtown at lunchtime without a 20-minute buffer to find parking. Seniors can keep their freedom even if they can't keep their car keys. And drunk and distracted driving?...
May 29, 2014 9:39 AM
Ninemsn
,
Ubisoft
The delivery of a beeping metal box led to the evacuation of a building in Sydney and the deployment of the Australian bomb squad.
The delivery was made to the offices of online news site Ninemsn, which is partly-owned by Microsoft.
---
May 23, 2014 12:32 PM
Applications
,
Mobile
,
PetMatch
Picture this everyday scenario. One day you get a phone call from your neighbours asking if you'd like to look after their pet rabbit, Smokey, while they sun it up in the Maldives. You realise it would be rude to say no - and,...
---
May 22, 2014 12:29 PM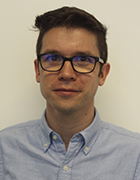 Profile: Alex Scroxton
London
,
salesforce
---
May 22, 2014 9:50 AM
Uncategorized
US officials are concerned that cyber defences are going to pot, but
FBI director
---
May 16, 2014 12:11 PM
DOS
,
Windows XP
Game of Thrones writer George RR Martin has revealed that, while writing his fantasy novels about characters inhabiting an ugly, medieval and primitive world, he himself inhabits an ugly, medieval and primitive world - namely that of DOS, the antediluvian operating system he uses to write his...
---
May 16, 2014 10:34 AM
Uncategorized
---
May 15, 2014 1:27 PM
Google
,
Lexus
Google's self-driving cars may be ideal for those never stray of well-worn routes, but useless to anyone with a spirit of adventure.
While the vehicles are able to take passengers on any pre-programmed route - although they perform like newly-licensed...
---
May 15, 2014 1:07 PM
Uncategorized
The creative brain behind Wallace and Gromit has joined up with the Nominet Trust to encourage kids to get coding.
The studios character Shaun the Sheep - who first appeared in the Wallace and Gromit...
---
May 8, 2014 11:36 AM
Uncategorized
Adult mutts are calling on stricter controls on gaming consoles taking up large chunks of puppy quality time.

But game makers claims campaigners are barking up the wrong tree targeting the doggy console as being the cause of dysfunctional youngsters.

It all began with the...
---