---
February 28, 2014 10:20 AM
Uncategorized
Social media has changed the world. Lovers today are in constant contact with smiley faces and messages going back and forward 24:7.

This is hard work for many. So one company has developed an App for that. Well for automating the sending of lovey dovey messages anyway.




RSS Feed

Email a friend
February 27, 2014 12:56 PM
Edward Snowden
,
smartphone
Everyone is at panic stations since the revelations of Edward Snowden and the sneaky spying by governments on our communications.
But the industry that has been providing the data to the state are cunning chaps and have turned this into an opportunity...
---
February 20, 2014 12:23 PM
block
,
Porn
,
Wi-Fi
---
February 18, 2014 4:40 PM
Website
We all know political parties and their politicians are some of the most frustrating characters we will come across in our lives. They rarely say what they mean, shout like school children in their workplace and happily expense every cup of tea - or glass of Dom Perignon - out...
---
---
February 14, 2014 11:23 AM
Video games
,
XBOX
An obsessed gamer (as if there were any other kind) in Kansas very nearly put himself the running for a
Darwin Award
for those who remove themselves from the gene pool in a silly way.
He risked his life by charging back...
---
February 14, 2014 10:08 AM
Android
,
Coffee
,
Google
,
table
Walk into any coffee shop today and you will be surrounded by mustached hipsters, sipping their extra shot lattés and tapping away on their tablet of choice.
---
February 11, 2014 1:57 PM
Uncategorized
Staff working in first class lounges are constantly having to deal with people that are "significantly richer than yow."

It is hard to be polite to people that can afford to throw away their money on luxuries such as first class travel. Or for that matter scrounging journalists that...
---
February 5, 2014 12:36 PM
Uncategorized
Downtime had some time to ponder the use of technology to carryout human roles whilst sitting waiting for a bus. The tube strike in London was the perfect opportunity to gather some thoughts.

London Underground wants to get rid of nearly 1000 staff as technology replaces the need for...
---
February 5, 2014 12:29 PM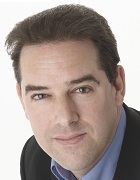 Profile: Bryan Glick
twitter
This is a guest post by Steven Hipwell, principal project manager at Birmingham City University.

Channel 4's recent "Psychopath Night" gave some chilling insights into the inner workings of the psychopathic mentality. Put simply, a psychopathic personality is one whose levels of...
---