---
February 27, 2013 12:55 PM
Uncategorized
Downtime mistakenly suggested last week that the Pope's resignation might have something to do with his use of social media tool Twitter.

Downtime apologises for this error....
February 27, 2013 11:31 AM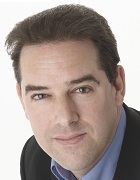 Profile: Bryan Glick
3D Printing
,
BBC
,
Facebook
,
Paypal
,
Printers
,
Tesco
The world of late has been full of vegetarians loudly crowing about their lifestyle choices after everyone else discovered they had been eating horses in their beefburgers and Findus lasagne.

But if one US start-up is successful, veggies might have even more reason to get on their high...
---
February 26, 2013 10:34 AM
BBC
,
Bird
,
Frankenstein
,
PICAXE
A Frankenstein-wannabe has worked with a team of engineering students and a taxidermist to raise a bird from the dead.
The American Scientist used robotics to operate the wings of a deceased swamp sparrow in order to study the aggressive behaviour of...
---
February 22, 2013 11:14 AM
Facebook
,
gazeMetrix
,
Instagram
,
photos
,
social media
,
Starbuck
,
twitter
A service called gazeMetrix is allowing companies to track how often their brands' logos turn up on social media sites.
This image recognition will let companies make sense of the thousands of pictures snapped a day and uploaded...
---
February 21, 2013 10:58 AM
Perm
,
Russia
,
Yandex
Over here at Downtime we do not condone cheating on your loved ones, but what we hate even more than such betrayal is glaring stupidity. Enter Russian philanderer Sasha...
This chap may have been with his girlfriend for five years, he may have even...
---
February 14, 2013 11:30 AM
BBC
,
Facebook
,
Fiverr
,
Google
Move over Romeo and Juliet, there is a new love story in town.
Forget wasting £5, or even £15, on an oversized novelty stuffed teddy this Valentine's Day, even if it sings Unchained Melody when you push its paw.
Dave...
---
---
February 13, 2013 2:27 PM
Uncategorized
Truth is out Pope broke God's Twitter policy.

The resignation of Pope Benedict XVI was inevitable once he signed up to Twitter. He must have said something he shouldn't or failed to impress his boss due to the lack of Tweets.

He has clearly gone the same way as Habitat....
---
February 13, 2013 1:41 PM
---
February 7, 2013 1:17 PM
APTs
Advanced Persistent Threats (APTs) usually refer to some clever combination of social engineering and malware deployed stealthily over a long time to steal information or sabotage data.
However, a credit controller who was denied a pay rise at his firm in...
---