---
October 9, 2012 11:18 AM
Kinect
,
Sensor
We have all seen enough 'Minority Report' films or gotten over excited enough playing the Nintendo Wii to continue to daydream about when we can control technology merely through gesture.
Yes, there have...
October 4, 2012 4:49 PM
Lemmy
,
Motorhead
,
Motorheadphones
As we are sure you know, we have three true loves over here at Downtime; business, technology and heavy metal.
OK, maybe not all of us are enamoured with the last one but there is still something special when all...
---
October 4, 2012 11:01 AM
Uncategorized
If like Downtime you nostalgically crave the presence of The Real World in our age of digital ubiquity, then the iBell Mini could...
---
October 4, 2012 10:24 AM
Bee
,
robot
,
sheffield
,
Sussex
---
October 4, 2012 10:19 AM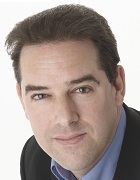 Profile: Bryan Glick
Intel
,
ultrabook
Global self-publicist - sorry, "internationally renowned performance artist and master magician" - David Blaine, is following up his past stunts of being encased in ice and hanging in a box near Tower Bridge with an inspiration for every worker whose laptop has run out of juice when you can't find...
---