---
February 15, 2012 10:47 AM
Uncategorized
TechMarketView, may well have predictions on the IT market. But during the Intellect Annual Regent Conference 2012, Antony Miller appears to have expanded his remit...because he claims he is seeing a lot of limp willies out there. People are apparently swimming naked due to the economic downturn. ...
---
February 14, 2012 10:47 AM
Facebook
Membership of Facebook should require some sort of an IQ test to qualify to help protect stupid people from themselves.
A Sicilian drug lord on the run from the local law enforcement was proving to be untraceable, until a series of ill-considered photos were posted on Facebook,...
---
February 8, 2012 2:12 PM
food
,
health
,
McDonald
,
Recreation
As if the saturated fat, salt and additives weren't already enough to worry about, in America it seems you also have to consider the threat of 50,000 volts before you opt for fast food.
A 37-year-old woman from North Carolina was tased after cutting...
---
February 8, 2012 1:55 PM
India
,
Karnataka
,
Pornography
,
Rave
Three Indian BJP ministers, who were caught watching, ahem, adult material on a mobile phone during an assembly in Karnataka, have resigned today.
Krishna Palemar, minister for ports, science and technology, is the cheeky chappy...
---
February 6, 2012 12:04 PM
Computer games cheapen life and gamers risk becoming inured to violence and its consequences through repeated exposure to it in the virtual world, say critics.
Downtime is inclined to think so too in light of the fact that a Taiwanese man that died while playing World of Warcraft in an...
---
February 1, 2012 4:29 PM
Facebook
,
Groupon
,
Skype
,
twitter
,
Valentine
Breaking up is hard to do. But these days, as a result of technology, it's even harder than ever.
This is because of the decisions a person has to make. Will it be Skype, Twitter, Facebook, email, text, telephone or, as a last resort, face to face.
Well...
---
February 1, 2012 12:37 PM
Uncategorized
Last month, just as hard-working IT people were firing up their PCs following the Xmas break, Gartner sneaked out a piece of research - which in six pages manages to introduce a dictionary of acronyms around Paas, as in platform as a service.
So they have aPaas, as in...
---
February 1, 2012 12:16 PM
Leigh
---
February 1, 2012 10:11 AM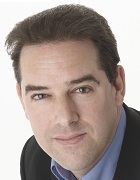 Profile: Bryan Glick
Cisco
,
Wi-Fi
With Cisco due to be providing Wi-Fi access for the Olympic and Paralympics Games this summer, it's slightly concerning that the vendor struggled to provide Wi-Fi for the attendees of its very own Cisco Live Europe event this week....
---