---
February 4, 2011 9:37 AM
confession
,
iPhone
,
iphone app
Got a guilty conscience? Feel the need to fess up? Well, there is an app for that.
In fact the Catholic Church has given its blessing to the iPhone app called Confession.
The app takes information from the user like age, gender and time elapsed since their last confession,...
February 2, 2011 11:30 AM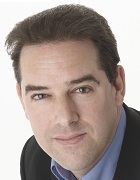 Profile: Bryan Glick
BBC
,
Facebook
,
social media
Amid all the fuss about Prince someone-or-other marrying an online saleswoman from Reading late last year, most (but not all) of the media missed what was undoubtedly the real news - the Computer Weekly royal wedding.
Our
---
February 2, 2011 11:24 AM
Code
Mad programmer is not the epithet than springs to mind about Donald Knuth, but it is one he volunteers of himself. In fact, he claims to have written the code for the first program published by the American satirical magazine MAD, in 1957,...
---
February 2, 2011 10:56 AM
IET
,
Knuth
Downtime was relieved to find that the god of programming, Don Knuth, is human. He was suffering from a cold, thanks to the change from sunny Stanford University to London's Savoy Place, where he gave the 13th Turing Lecture.
---
February 1, 2011 11:21 AM
Hacker Chris Russo, who made his name breaking into file-sharing site Pirate Bay, has sparked a war of words after a similar stunt at dating webite plentyoffish.com.
In addition to firing off a list of accusations and complaints in a
---