---
May 26, 2010 3:53 PM
Internet
,
VeriSign
,
Web
Downtime has no objection in principle to Verisign, the long-time operator of the .com domain, having a dinner for its mates from the internet. But it does have some quibbles about who it chooses to bless as ".com honorees".
Among the 25 (well, there's an arbitrary number for you, apparently...
May 26, 2010 1:55 PM
crime
FiFA.com is running its 75 supercomputer server farm for the world cup in Slough.
According to Matt Stone.head of new media at FIFA, "Slough was the natural choice for FIFA.com to house its additional bandwidth requirements. The state-of-the-art venue offers security and will ensure...
---
May 26, 2010 1:36 PM
Music
Here at Downtime we've just been pitched the most amazing product - a solar-powered pair of speakers. The techies have managed to get hold of a batch and are planning a midnight rave in Downtime's basement flat. DJ Tweet Daddy reckons they'll set the party alight...so long as someone remembers...
---
May 26, 2010 1:22 PM
advertising
It seems the bods at Salesforce.com are taking the idea of cloud to new heignts. This week the company announced that Virgin Galactic will be using the service as part of its Astronaunt Relations Programme. These astronauts must be going soft...Arthur Dent got by with a dress gown and a talking...
---
May 24, 2010 10:17 AM
Google
,
Pac-Man
So Pac-Man turned 30 last week, and ageing Googlers glommed onto the chance to reprise it in its title page. Which led to a renaissance of demand for the pill-popping ghost hunter, which has tempted Google to make the game permanently available.
---
May 20, 2010 11:36 AM
Microsoft
,
PowerPoint
PowerPoint, Microsoft's venerable crutch for presenters, has come under fire from the military, says the Grey Lady, aka The New York Times. The bullet points it makes are "dumb-dumb" bullets, according to Thomas Hammes, a retired Marine colonel, because its structure papers over the need to view...
---
May 19, 2010 10:00 AM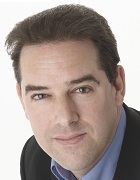 Profile: Bryan Glick
datacentre
,
Green IT
,
HP
"Information technology and manure have a symbiotic relationship."
That quote is basically a polite way of saying IT and poo are pretty much the same thing, so thanks to Chandrakant D. Patel, the director of HP's sustainable information technology laboratory for his contribution to...
---
May 17, 2010 1:26 PM
Well, it was a nice party while it lasted, but the hangover is about to begin. Bewildered as ever about government finance, Downtime decided to do something about it. He now understands why ignorance is bliss.
Thanks to good people at HM Treasury and the Institute of Fiscal Studies he has...
---
May 13, 2010 8:55 AM
Anyone typing in the search term "whore" in YouTube would not expect to come across a religious sermon, but in all likelihood, they would.
An Austrian monk, who is using YouTube to spread his message, is proving he knows a thing or two about using new media to create stir and get his...
---
May 10, 2010 9:51 AM
Ever wondered how big suppliers really spend those billions of dollars in licensing and services fees?
The question is answered, in part, by the latest in the series of Iron Man films.
Oracle undoubtedly paid a fortune to the film's producers because the brand seems to pop up...
---