---
December 3, 2009 1:44 PM
Chelsea
,
Yorkshire
It has got nothing to do with tectonic plates but Chelsea is now part of Yorkshire. The Yorkshire and Chelsea building societies are merging. Whatever next? I've never seen such a disparate group of buildings. The players of Chelsea are going to be mighty confused. And not just the imports. "When...
December 3, 2009 10:36 AM
iPhone
Tthe IT Team at Bott & Co, specialist personal injury lawyers, have created a 'Car Incident Assistant' app for the iPhone. The application connects to the firm's live 24-hour accident help system and assists a...
---
December 2, 2009 3:19 PM
Workarounds
Management Guru, David Taylor, aka "the Naked Leader", is running a seminar on how to hold meetings. Here on Dowtime, we think we have the perfect solution to meetings blues: coffee, bourbon biscuits and no agenda. Ps, don't dunk the...
---
December 2, 2009 3:15 PM
advertising
Joe Brockmeier from Novell has one of the toughest jobs in IT - to convince the masses that they should use Linux rather than Microsoft software. Let's face it Microsoft spends more money getting people to say "I'm a PC" and run their own Windows 7 launch...
---
---
December 2, 2009 9:41 AM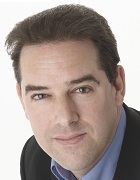 Profile: Bryan Glick
gadgets
Blogs such as Downtime that often talk about weird and downright bizarre technology are permanently in debt to Japanese researchers.
If it's not robots performing obscure household or human tasks in a slightly creepy way,...
---