---
November 30, 2009 4:41 PM
Games
,
simulation
Forget Championship Manager. If you really want to relax after a hard days work in the IT department you need IT manager III. This strategy game created by Intel could be bigger than World of Warcraft. It offers frustrated...
November 30, 2009 3:12 PM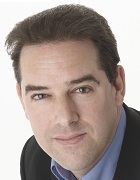 Profile: Bryan Glick
cartoon or comic
,
consumer
,
gadgets
,
health
,
iPhone
,
Social networking
In these troubled times, time itself is clearly at a premium for the busy health-conscious IT professional. But worry no more, for now you no longer need to waste precious seconds glancing down at your scales to find out how much you weigh.
Thanks to the
---
November 30, 2009 2:21 PM
Everyone now everything seems to be sending messages via the Twitter microblogging service, including a 16th century cottage.
Isle of Wight resident Andy Stanford-Clark has installed hundreds of sensors in his home, each one capable of sending him alerts via Twitter.Anything unusual,...
---
November 30, 2009 2:19 PM
Mobile phones
Mobile phones make life a lot easier, but failure to end calls properly could turn out rather badly as a businessman in China found out.
Gao Meng called his wife, but did end the call properly before meeting up with a lady of the night. His wife recorded every moan and groan.
...
---
November 30, 2009 12:48 PM
---
November 30, 2009 12:47 PM
---
November 26, 2009 10:24 AM
iPhone makers Apple are keen to boast there is an iPhone app for everything, but two Texans have proved there should be exceptions to the rule.
They have developed an iPhone app that enables them to steer a modified Oldsmobile Delta 88 remotely.
This means the pair can literally...
---
November 26, 2009 10:13 AM
Teenage websurfers in China can now indulge their passions without fear of physical punishment, which has been banned as a form of "treatment" for internet addiction.
The ban comes after the death of a 15 year old undergoing this "treatment" which was prescribed to "encourage people to...
---
November 24, 2009 12:06 PM
gadgets
Now you can own a life-like doll of security technologist and author, Bruce Schneier, from the
---
November 24, 2009 10:58 AM
---