Apr 20 2013 4:00PM GMT

Profile: Beth Cohen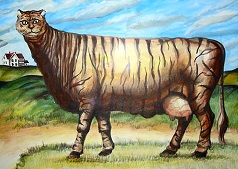 Think of IT infrastructures as either Cats or Cows. Traditional enterprise infrastructure has always been treated like pampered and spoiled pet cats that require expensive care and feeding. Cloud infrastructures, on the other hand, are seen by the end users as indistinguishable commodities to be consumed like hamburgers. Cloud computing resources should be built and treated like cows, not cats.
What does this have to do with the just concluded April 2013 OpenStack Summit? Everything! The Summit was a big turning point for the just under three year old Open Source Cloud Platform Project. Never before has the Summit felt more like a real business conference with a clear-eyed agenda to architect a stable and viable enterprise ready cloud platform, rather than just a bunch of wild developers on a mission to save the world. After several years of intense development and shakedown, OpenStack is finally more than ready to take on the unique challenges of enterprises that want to deploy private clouds.
There were plenty of great examples of respected organizations, public and private that have crossed the innovation chasm by deploying OpenStack clouds into their production environments. The keynote sessions all highlighted large enterprise case studies to emphasis the message that OpenStack is a strong and very viable option. Here are just a few to whet your appetite:
• Bloomberg has deployed a large scale internal cloud, for a variety of applications including analytics and support of their backend systems.
• BestBuy built an OpenStack cloud to support their extremely spiky holiday rush traffic. In just eight months, 25% of their systems ran on their new cloud in time for the 2012 Christmas buying season. They found the new platform, combined with a move to a PaaS push button development environment and a server side delivery architecture, allowed them to speed delivery of their catalog content pages down to under 2 seconds, while saving over $500K per platform upgrade. How is that for some serious discounting!
• Comcast Cable and NBC/Universal built an OpenStack cloud to move content delivery out of proprietary limited function set-top boxes and into backend servers, giving them more flexibility and capabilities for the development of new interactive features such as live streaming and gaming.
• The NSA, yes the spies in DC, are using OpenStack. Of course, what, how and why they are using it were not shared, but clearly they are not overly concerned with reports of security deficiencies.
• Samsung is rolling out a production grade platform that will support millions of users across the globe. If the success of the new Android based smartphones and tablets are any indication, Apple should be looking over its shoulder very carefully.
In conclusion, if your company is contemplating a public or private cloud deployment, you should be putting OpenStack at the top of your shortlist. The rich ecosystem of big names, such as Dell, IBM, RedHat and Cisco is a clear signal that OpenStack has arrived!
About the Author
Beth Cohen is a senior cloud architect for Cloud Technology Partners, Inc., focused on delivering solutions to help enterprises leverage the efficiencies of cloud architectures and technologies. Previously, Ms. Cohen was the director of engineering IT for BBN Corporation, where she was involved with the initial development of the Internet, working on some of the hottest networking and web technology protocols in their infancy.