---
November 16, 2012 9:53 PM
Hi folks! So as you know  Meru Networks is a vendor of single channel wireless networks. Meru has made great strides in the field and consistently deploy great products in high density wireless environments.
Well they have now introduced a new line of controllers with beefier specs that can handle even more density, so it's good news for us the consumer!
The 1550 and the 4200 are two great controllers that have upped the ante from the previous generation of controllers. You can see the comparative specs here.
-RP
November 14, 2012 9:49 PM
Hi folks! As you know, I've always been a big proponent of network management & monitoring solutions. I truly believe you can't manage a large network effectively without having some sort of software that pulls all that information together for you in a meaningful way.
Historically I've spoken about SolarWinds and Plixer as great products. I wanted to also mention the offering from HP. This is HP's IMC (Intelligent Management Center).
With this software you will be able to manage & monitor your infrastructure in such a way so the plethora of data that your network equipment logs will actually display in nice reports so you can make educated decisions about your network.
You can try a free trial of HP IMC and read more about it here.
-RP
---
November 12, 2012 9:46 PM
Hi folks! So now with the cloud, there are a lot of discussions not just on how you back up your data, but where is it going to?
Most cloud providers only offer US datacenters as a drop point, and there are no Canadian options. However Asigra offers many options for cloud backup and partners with Canadian providers. This can allow you and your business to take advantage of cloud backup and still keep your data in your home country for regulatory reasons.
You can read more about Asigra's agentless cloud backup solution here. Say goodbye to tape!
-RP
---
November 9, 2012 2:56 PM
Hi folks! So SSL VPN isn't really a new thing. Many people use SSL VPN so their remote workers can easily access their network from wherever they are.
The problem is that the SSL VPN that people use, usually is integrated with their firewall and only supports a limited feature set and a limited amount of simultaneous sessions. This isn't really a great solution for an enterprise with needs for many users.
SonicWALL has a product line of SSL VPN appliances that meet these needs quite well with a dedicated appliance to provide these VPN connections. I have to say the SonicWALL SSL appliances are super easy to configure and offer a very nice feature set for the price point.
You can read more here.
---
November 5, 2012 2:49 PM
Hi folks! So in this day and age BYOD (bring your own device) is becoming a serious concern. Gone are the days when people were happy with just a wired connection.
With the plethora of devices out there such as tablets, smartphones, and laptops it's a given that people are going to clamor for proper wireless access wherever they go.
The problem that plagues most companies these days isn't that they don't have wireless access, most of the them do in fact. The problem is that their wireless networks aren't ready for the density that BYOD brings. Multiple clients in close proximity clustered on single access points.
In situations like this it's a good idea to audit your current wireless environment and re-plan for BYOD. In the past wireless connectivity is how AP's were planned, but now we have to plan for density otherwise your wireless network just won't cut it.
-RP
---
November 3, 2012 2:40 PM
Hi folks! As you know I'm an avid Android user, and not that long ago during the summer I dropped my phone and broke it, despite the Gorilla Glass on my HTC One X.
I had to wait months to receive my new phone and in the interim had to go back to my old iPhone 4. I didn't mind going back to the iPhone but it was definitely an inferior experience for me once I was used to my HTC.
Now that I'm back on my HTC everything is good again with the world! I have to say, I love HTC Sense and how seamless it is. If you haven't tried out the Android platform, give it a whirl, you won't be dissapointed!
-RP
---
November 1, 2012 2:31 PM
Hi folks! EPIC Technology Day was a success thanks to all you great customers and vendors! We had a great turnout and I'd like to thank everyone who attended and everyone who presented.
It was a great day of fun and learning in IT and I heard a lot of positive feedback on how great the event was. We broke all of our records again this year so next Technology Day will hopefully be even bigger!
You can read more here.
---
October 29, 2012 5:27 PM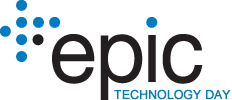 Hi folks! Don't forget to signup for EPIC Technology Day, one of the largest held VAR conferences in North America.
There are over 600 people registered already! Free to attend and breakfast and lunch is provided. You can register at www.techday.ca.
---
October 28, 2012 5:57 PM
Hi folks! So RIM is teasing us with the latest features of BlackBerry 10.
Despite some of the news that has surfaced, I don't think it's enough to stem the bleeding. I think everything they have done is too little too late. Don't mistake this for me wanting this to happen, because I'd honestly rather see them survive, but I have a shaky feeling that things still don't bode well for them.
From what I've heard, I don't feel that BlackBerry 10 is radically different enough from what's out there to really make a splash. Today's gadget users expect a lot and unfortunately I don't think RIM is going to deliver. Here's hoping they prove me wrong.
---
October 26, 2012 5:31 PM
Hi folks! So Windows 8 is here! This latest launch of Microsoft's new desktop operating system has attracted much controversy and debate as it's a huge shift from the way people are used to doing things.
Now don't get me wrong, I don't like everything about Windows 8, but I think it's good that Microsoft is at least embracing change and trying to make things better. After all, how else are we going to get to a better operating system without trying something new?
My prediction is that we will work out a lot of the kinds and the likes and dislikes of users in Windows 8 and then the next version will probably be closer to something everyone will agree on.
-RP
---