---
January 5, 2013 10:42 PM
Hi folks! So as I mentioned earlier, I recommended Kaspersky for Windows 8. I have been using Kaspersky Internet Security 2013 on my laptop that I recently installed Windows 8 on.
Just wanted to update you folks after having used it for a while. So far so good! I run the Kaspersky product with the internal Kaspersky firewall turned on and it's been great! I can highly recommend this product to Windows 8 users. The product runs quickly and does not intrude on my daily use of my laptop. It quitely does it's thing in the background.
-RP
January 3, 2013 10:39 PM
Hi folks! The VMware vCenter Operations Management suite is ideal for IT departments with little time on their hands. Having a suite like this is a boon to an IT guys existence.
The suite consists of the following:
vCenter Operations Manager
vCenter Configuration Manager
vFabric Hyperic
vCenter Infrastructure Navigator
vCenter Chargeback Manager
The suite helps out IT admins by providing a comprehensive set of management tools that automates and integrates into your virtual environment. You can read more about it here.
-RP
---
January 2, 2013 10:31 PM
Hi folks! So for all of you SAN users out there, you have probably drooled over the 3PAR from HP for quite some time now. After the big HP buy of 3PAR, everyone has been salivating to get their hands on one.
Now the 3PAR has entered a cheaper market and is now more easily available to the masses. Granted you can buy the base 3PAR for cheap but it won't come at that cost with all the features in. It still makes sense though as you can grow and scale as you need to.
You can read more about the baby 3PAR here.
-RP
---
December 31, 2012 8:38 PM
Hi folks! So what did you resolve to do in the New Year? Did anyone resolve to do more certs? Well if you did, may I suggest going down the Microsoft path?
Microsoft has come a long way since the "paper MCSE" days, and now their certs actually do have value. You learn a lot from training and certification and with all the new Microsoft products out there, it helps to get trained up.
Microsoft has a great learning web site that makes it easy for people to figure out their path to learning and certification. You can go to this link to figure out how you want to plan out your learning!
-RP
---
December 25, 2012 4:24 AM
Hi folks, so Netflix is down on Christmas eve. This is apparently due to the Amazon's AWS. This brought a thought to my mind.
When you decide on who to host your cloud services with, do you have a checklist? Do you do your due diligence? Do they take proper backups, have failover power capabilities and treat your data with privacy?
These are all important questions for the cloud, and when we're talking about your business, it's best you pay heed to the answers. After all, Netflix being down is one thing, but your business being down is a whole different ball game.
-RP
---
December 21, 2012 8:28 PM
Hi folks! Once again Microsoft is helping out all you IT folks out there by offering up the Second Shot offer!
You can basically register for Second Shot before you take your exam, and then go register for your exam. If you fail the exam, you can retake your exam for free!
This is a great way to get back on the horse and start passing exams! You can signup for the offer here.
-RP
---
December 19, 2012 8:10 PM
Hi folks! For those of you that rely on Cisco for VPN access, you'll be happy to hear that there is a supported Windows 8 client now. I installed it myself and verified that it does indeed work.
The Cisco AnyConnect VPN client no longer needs a workaround to work with Windows 8 as it did before. A quick check of the Cisco AnyConnect release notes revealed the following:
AnyConnect 3.0.10055 and later versions (including the latest version of AnyConnect, version 3.1.01065), function on Windows 8 32-bit and Windows 8 64-bit operating systems, though there are some limitations.
Limitations to AnyConnect Support for Windows 8
•
AnyConnect is not supported on Windows RT. There are no APIs provided in the operating system to provide this functionality. Cisco has an open request with Microsoft on this topic. Customers who want this functionality should contact Microsoft to express their interest.
•
Other third party product's incompatibility with Windows 8 prevent AnyConnect from establishing a VPN connection over wireless networks. Here are two examples of this problem:
–
WinPcap service "Remote Packet Capture Protocol v.0 (experimental)" distributed with Wireshark does not support Windows 8.
To workaround this problem, uninstall Wireshark or disable the WinPcap service, reboot your Windows 8 computer, and attempt the AnyConnect connection again.
–
Outdated wireless cards or wireless card drivers that do not support Windows 8 prevent AnyConnect from establishing a VPN connection.
To workaround this problem, make sure you have the latest wireless network cards or drivers that support Windows 8 installed on your Windows 8 computer.
•
AnyConnect is not integrated with the new UI framework, written in the Metro design language, that is deployed on Windows 8; however, AnyConnect does run on Windows 8 in desktop mode.
•
AnyConnect 3.1.01065 and AnyConnect 3.0.10055, and later AnyConnect 3.0 releases, provide "toast notifications."
•
You will not be able to write a Host Scan prelogin policy that tests for Windows 8 on the endpoint.
•
You will not be able to write a dynamic access policy that tests for Windows 8 on the endpoint.
•
For Network Access Manager, machine authentication using machine password will not work on Windows 8 / Server 2012 unless a registry fix described in Microsoft KB 2743127 (http://support.microsoft.com/kb/2743127) is applied to the client desktop. This fix includes adding a DWORD value LsaAllowReturningUnencryptedSecrets to the HKEY_LOCAL_MACHINE\System\CurrentControlSet\Control\Lsa registry key and setting this value to 1. This change permits Local Security Authority (LSA) to provide clients like Cisco Network Access Manager with the Machine password. It is related to the increased default security settings in Windows 8 / Server 2012. Machine authentication using Machine certificate does not require this change and will work the same as it worked with pre-Windows 8 operating systems.
-RP
---
December 17, 2012 8:02 PM
Hi folks! So after installing Windows 8, I re-installed all my old apps. However I did run into a hiccup. One of the apps required the old .NET framework 2.0.
So what do you do, do you download and install it? No need to do this in Windows 8! Just open your control panel, go to the Programs section, and click on "Turn Windows features on or off". This will bring up the screen below: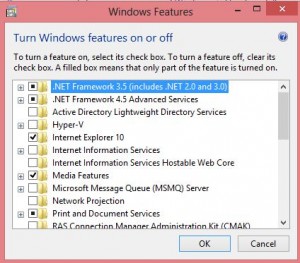 Then select .NET Framework 3.5 (includes .NET 2.0 and 3.0) and click ok. This will automatically download any needed updates from the Internet and then you can now install your apps that require any of these versions of .NET. Hope this helps!
-RP
---
December 15, 2012 8:01 PM
Hi folks! So after I migrated my main laptop to Windows 8, I figured it was time to upgrade to Office 2013? What's the main difference? Not much really, just more of a Windows 8 look and feel.
The real difference comes if you have a touch screen monitor. Then you can use touch to interact with Windows 8. In touch mode everything spaces out a bit more to make it easier to interact with.
However for the most part, things seem the same, a bit cleaner, a bit more colorful even, but the core functionality is all still there. I would say if you want to upgrade to Office 2013, no need to worry, just go ahead and do it!
-RP
---
December 13, 2012 7:41 PM
Hi folks! So if you have installed Windows 8, you'll notice it's not as easy or intuitive to get around as it was in Windows 7. How can we alleviate this pain? Hot keys of course!
The best way to become efficient at Windows 8 is to start making use of the myriad of hot keys / shortcut keys available to you. Below you will find a list of commonly used shortcuts that will help you in your Windows 8 travels!
The below list is quoted from Yash's MSDN blog.
Windows key: Switch between Modern Desktop Start screen and the last accessed application
Windows key + C: Access the charms bar
Windows key + Tab: Access the Modern Desktop Taskbar
Windows key + I: Access the Settings charm
Windows key + H: Access the Share charm
Windows key + K: Access the Devices charm
Windows key + Q: Access the Apps Search screen
Windows key + F: Access the Files Search screen
Windows key + W: Access the Settings Search screen
Windows key + P: Access the Second Screen bar
Windows key + Z: Brings up the App Bar when you have a Modern Desktop App running
Windows key + X: Access the Windows Tools Menu
Windows key + O: Lock screen orientation
Windows key + . : Move the screen split to the right
Windows key + Shift + . : Move the screen split to the left
Windows key + V: View all active Toasts/Notifications
Windows key + Shift + V: View all active Toasts/Notifications in reverse order
Windows key + PrtScn: Takes a screenshot of the screen and automatically saves it in the Pictures folder as Screenshot
Windows key + Enter: Launch Narrator
Windows key + E: Open Computer
Windows key + R: Open the Run dialog box
Windows key + U: Open Ease of Access Center
Windows key + Ctrl + F: Open Find Computers dialog box
Windows key + Pause/Break: Open the System page
Windows key + 1..10: Launch a program pinned on the Taskbar in the position indicated by the number
Windows key + Shift + 1..10: Launch a new instance of a program pinned on the Taskbar in the position indicated by the number
Windows key + Ctrl + 1..10: Access the last active instance of a program pinned on the Taskbar in the position indicated by the number
Windows key + Alt + 1..10: Access the Jump List of a program pinned on the Taskbar in the position indicated by the number
Windows key + B: Select the first item in the Notification Area and then use the arrow keys to cycle through the items Press Enter to open the selected item
Windows key + Ctrl + B: Access the program that is displaying a message in the Notification Area
Windows key + T: Cycle through the items on the Taskbar
Windows key + M: Minimize all windows
Windows key + Shift + M: Restore all minimized windows
Windows key + D: Show/Hide Desktop (minimize/restore all windows)
Windows key + L: Lock computer
Windows key + Up Arrow: Maximize current window
Windows key + Down Arrow: Minimize/restore current window
Windows key + Home: Minimize all but the current window
Windows key + Left Arrow: Tile window on the left side of the screen
Windows key + Right Arrow: Tile window on the right side of the screen
Windows key + Shift + Up Arrow: Extend current window from the top to the bottom of the screen
Windows key + Shift + Left/Right Arrow: Move the current window from one monitor to the next
Windows key + F1: Launch Windows Help and Support

PageUp: Scroll forward on the Modern Desktop Start screen
PageDown: Scroll backward on the Modern Desktop Start screen
Esc: Close  a charm
Ctrl + Esc: Switch between Modern Desktop Start screen and the last accessed application
Ctrl + Mouse scroll wheel: Activate the Semantic Zoom on the Modern Desktop screen

Alt: Display a hidden Menu Bar
Alt + D: Select the Address Bar
Alt + P: Display the Preview Pane in Windows Explorer
Alt + Tab: Cycle forward through open windows
Alt + Shift + Tab: Cycle backward through open windows
Alt + F: Close the current window Open the Shut Down Windows dialog box from the Desktop
Alt + Spacebar: Access the Shortcut menu for current window
Alt + Esc: Cycle between open programs in the order that they were opened
Alt + F4: Close Application

Alt + Enter: Open the Properties dialog box of the selected item
Alt + PrtScn: Take a screen shot of the active Window and place it in the clipboard
Alt + Up Arrow: Move up one folder level in Windows Explorer (Like the Up Arrow in XP)
Alt + Left Arrow: Display the previous folder
Alt + Right Arrow: Display the next folder
Shift + Insert: CD/DVD Load CD/DVD without triggering Autoplay or Autorun
Shift + Delete: Permanently delete the item (rather than sending it to the Recycle Bin)
Shift + F6: Cycle backward through elements in a window or dialog box
Shift + F10: Access the context menu for the selected item
Shift + Tab: Cycle backward through elements in a window or dialog box
Shift + Click: Select a consecutive group of items
Shift + Click on a Taskbar button: Launch a new instance of a program
Shift + Right-click on a Taskbar button: Access the context menu for the selected item
Ctrl + A: Select all items
Ctrl + C: Copy the selected item
Ctrl + X: Cut the selected item
Ctrl + V: Paste the selected item
Ctrl + D: Delete selected item
Ctrl + Z: Undo an action
Ctrl + Y: Redo an action
Ctrl + N: Open a new window in Windows Explorer
Ctrl + W: Close current window in Windows Explorer
Ctrl + E: Select the Search box in the upper right corner of a window
Ctrl + Shift + N: Create new folder
Ctrl + Shift + Esc: Open the Windows Task Manager
Ctrl + Alt + Tab: Use arrow keys to cycle through open windows
Ctrl + Alt + Delete: Access the Windows Security screen
Ctrl + Click: Select multiple individual items
Ctrl + Click and drag an item: Copies that item in the same folder
Ctrl + Shift + Click and drag an item: Creates a shortcut for that item in the same folder
Ctrl + Tab:  Move forward through tabs
Ctrl + Shift + Tab: Move backward through tabs
Ctrl + Shift + Click on a Taskbar button: Launch a new instance of a program as an Administrator
Ctrl + Click on a grouped Taskbar button: Cycle through the instances of a program in the group
F1: Display Help
F2: Rename a file
F3: Open Search
F4: Display the Address Bar list
F5: Refresh display
F6: Cycle forward through elements in a window or dialog box
F7: Display command history in a Command Prompt
F10: Display hidden Menu Bar
F11: Toggle full screen display
Tab: Cycle forward through elements in a window or dialog box
PrtScn: Take a screen shot of the entire screen and place it in the clipboard
Home: Move to the top of the active window
End: Move to the bottom of the active window
Delete: Delete the selected item
Backspace: Display the previous folder in Windows Explorer  Move up one folder level in Open or Save dialog box
Esc: Close a dialog box
Num Lock Enabled + Plus (+): Display the contents of the selected folder
Num Lock Enabled + Minus (-): Collapse the selected folder
Num Lock Enabled + Asterisk (*): Expand all subfolders under the selected folder

Press Shift 5 times Turn StickyKeys on or off
Hold down right Shift for 8 seconds Turn FilterKeys on or off
Hold down Num Lock for 5 seconds Turn ToggleKeys on or off
-RP
---