Dec 17 2012 8:02PM GMT

Profile: Raj Perumal
Hi folks! So after installing Windows 8, I re-installed all my old apps. However I did run into a hiccup. One of the apps required the old .NET framework 2.0.
So what do you do, do you download and install it? No need to do this in Windows 8! Just open your control panel, go to the Programs section, and click on "Turn Windows features on or off". This will bring up the screen below: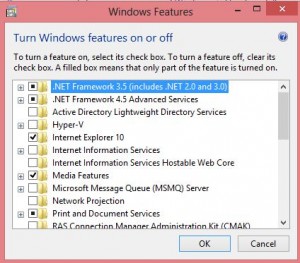 Then select .NET Framework 3.5 (includes .NET 2.0 and 3.0) and click ok. This will automatically download any needed updates from the Internet and then you can now install your apps that require any of these versions of .NET. Hope this helps!
-RP