Sep 9 2013 3:12AM GMT

Profile: Raj Perumal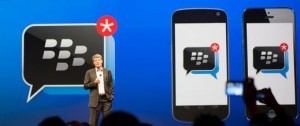 Hi folks! So over the past years people have been talking about how great it would be for BBM to come to other mobile platforms. Well apparently we have to wait no longer.
BlackBerry has submitted their BBM app for iOS for review and it shouldn't be much longer before the app is released for use for iPhone users. On the down side, there is no sign of an Android version of the app yet.
Like I've said before – I think this move is too little too late. BlackBerry should have done this ages ago. Having said that, I hope this helps them out because I would like to see BlackBerry succeed again and I hope they prove me wrong.
-RP