Feb 20 2008 7:21PM GMT

Profile: Mark Fontecchio
Zend now has software in beta called the Platform 5250 Bridge that basically allows you to use this interface: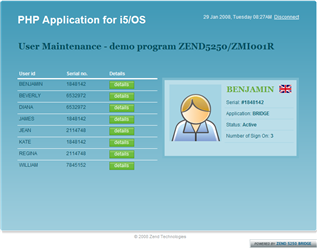 to access data from these 5250 data screens: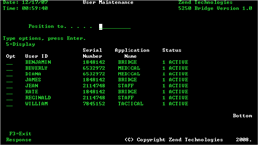 In other words, Zend wants you to be able to use PHP to access those green screens. How it works: The Platform 5250 Bridge sets up contact between a PHP script and a green screen application. The bridge then converts green screen data into an XML format that can be entered into the PHP program or put into an HTML format that users can work with.
The beta program is available now. When it goes general availability later this year, it won't be free, but users will be able to try out a one-user license for free. From iDevelop:
We're really looking forward to having the chance to play with this capability, but the demonstrations we've seen so far have been impressive. While refacing green-screen applications is not necessarily a good long-term solution, it's certainly a step along the road, and sometimes may be all you need. With the many additional capabilities that the PHP environment offers, this tool can do much for very little in the way of cash outlay.