Jun 25 2009 12:35PM GMT

Profile: Mark Fontecchio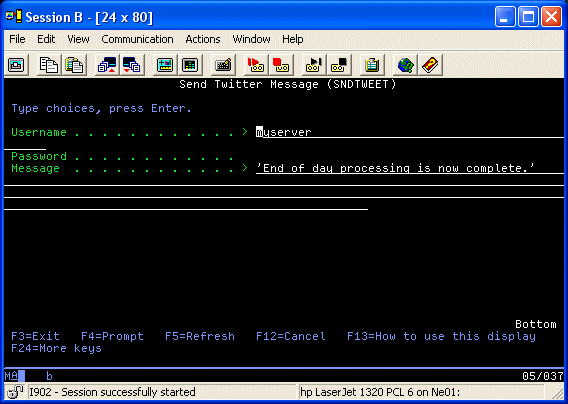 Usually when I think of the IBM System i, Twitter doesn't pop into my head. Kisco Information Systems, a longtime IBM System i software vendor, is looking to change that.
Last week the Saranac Lake, N.Y.-based company announced a new release of SNDTWEET, an application that allows users to post, receive and reply to Twitter messages from a System i server. The company pitches the application as a way to turn Twitter into a modern-day SMS system for your shop.
For example, a system running some regular overnight processing could automatically send out a tweet to its followers (ie. the System i administrator and programmers) when it completes. If the tweet doesn't go out, it's likely there was a problem. System i Twitter users can send each other messages, or the company's marketing department could set up a list of tweets to promote company announcements on certain days. Though a Twitter account's default is to have all its tweets be public to the whole world, you can change that setting to private when you set up an account.
Is relying on Twitter as an SMS service good business practice? That is something you would have to figure out if you're considering using this product. There are occasional outages on Twitter, and relying on an application to contact a third-party service might not be the best way to do system monitoring. Kisco is offering a 30-day free trial of the product if you want to check it out.