Oct 30 2008 10:18AM GMT

Profile: Mark Fontecchio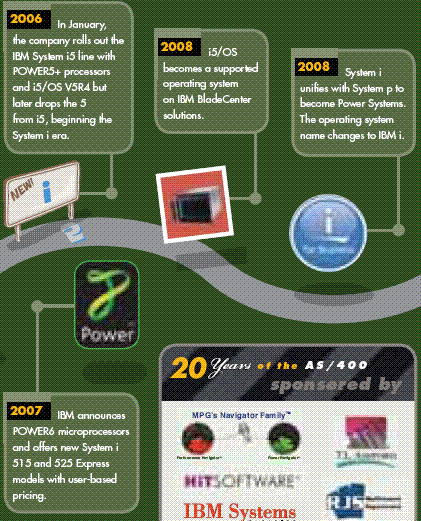 Wow, that's a mouthful. Anyway, IBM Systems Magazine recently published an illustrative timeline of the 20 years since AS/400, short for Application System 400, was first introduced by Big Blue.
Here's a sample of it.
The full AS/400, iSeries, System i and Power Systems running IBM i timeline is here, and it's pretty informative.
The introduction to the timeline is as follows:
"It's been called a lot of things—AS/400, iSeries, System i and now Power Systems—but most would call it a triumph of technology. Born as a mainframe for small businesses, the AS/400 platform was a marvel—a revolutionary plug-and-play server that could run an entire business and had thousands of software solutions from its inception. After 20 years, the AS/400 is still relevant to today's computing environments. Oh, it's come a long way; it's not the same machine IBM introduced that near 100-degree day 20 years ago. But the AS/400 has been hot ever since. Join IBM Systems Magazine, Business Systems edition as we travel the road of AS/400 history."
Question: Will there even be a timeline for the next 20 years?