---
July 20, 2009 6:31 PM
Generating an AJAX response to RPG or PHP requests
Building an AJAX program is a lot like building a dynamic HTML page says Profound Logic founder, Alex Roytman, but you output text or data interchange format (XML, Javascript object notation) instead of HTML. Hany Elemary, Web developer and analyst from Profound Logic, demonstrates how to output a product description in plain text in response to an AJAX request that provides a product ID on the IBM i using PHP. Alex Roytman demonstrates the same procedure using RPG.
[kml_flashembed movie="http://www.youtube.com/v/YDaAU3mCL7w" width="425" height="350" wmode="transparent" /]
Using AJAX libraries
In a follow-up to a earlier video in which viewers were directed to use the AJAX library, Profound Logic's David Russo, the main developer and architect of the company's JavaScript AJAX library explains how to use AJAX libraries.
[kml_flashembed movie="http://www.youtube.com/v/SY4voLkh9J4" width="425" height="350" wmode="transparent" /]
The team at Profound Logic is interested in getting feedback on what you would like them to cover in future videos. Leave your comments here or contact them directly.
July 10, 2009 3:22 PM
On June 29, 2009, many Search400.com readers received an email that got them a little stirred up. I sent out our newsletter and presented an article on EGL and a blog on RPGAAS. This is what I wrote:
So is EGL the new high-definition, flat-screen replacement to that old vacuum-tube television? Is RPG really that outdated? Is there a dearth of RPG programmers available, requiring shops to consider the RPGAAS offering? I ask for reader input partly out of sheer curiosity but also out of a desire to serve the informational and educational interests of readers. If RPG is outdated, what do you need to know about instead? Send me your feedback.
Eleven readers were compelled to write back, and not too surprisingly, none of them sung the praises of the fall of RPG. Instead, most made ardent defenses of RPG as a useful and necessary programming language.
Marc Hall wrote:
I don't believe RPG is outdated. It has become much more like a scientific language since the introduction of procedures, local variables, and pointers. ILE makes reusability easy, with modules and service programs. RPG seems like a very relevant language and I enjoy it. If there are people suggesting that RPG is outdated, why do they say so?
Bob Mizner wrote:
First, let me say that I reject the argument that there is a dearth of RPG programming talent available. This argument fails to understand the dynamics of supply and demand market forces. There is a dearth of RPG positions available to skilled RPG programmers. Don't believe it? Post a job opening for an RPG programmer offering a competitive salary with benefits; I promise you, within hours you will have a pile of resumes to choose from. I personally know of several traditional RPG programmers who are currently either looking, or have "settled" for other work.

AS/400 shops stopped hiring after Y2K for a number of reasons, but a scarcity of programming talent was not one of them. Younger people who were educated in the 80's and 90's on Wintel platforms – and, in some cases, on Unix and Linux, because, after all, that's what they learned on in college – moved into decision making positions, and lacked a fundamental understanding of what the IBM midrange platform was doing for the organization. [They] made strategic decisions to move off the platform onto newer, sexier platforms that were graphic and Web-enabled, and which made them feel more comfortable. They walked through the organization and saw all these green text-based screens, and wondered why their internal platform wasn't capable of colorful graphics and Web-based applications that communicated to their customers and supply chain? And when they questioned their staff as to why those kinds of apps were not available, they got answers ranging from "IBM doesn't support that" or "it's expensive and difficult to do" on an AS/400-based server. Which is far from the truth …

I personally know of an AS/400 shop who has Web-enabled all of their internal, home-grown applications. Remote locations were able to ditch expensive frame-relay communication networks in favor of DSL lines into each of their 50+ remote locations, domestic and international. Was it expensive? It was, in fact, a fraction of the cost of moving off the AS/400 platform onto something Windows-based, rewriting legacy apps, and installing and maintaining all new Windows-based hardware and networks.

If there is a dearth of anything, it is in ISV's offering native ERP solutions to businesses. There are a dwindling number of solutions providers who have stayed with the platform; most have developed comparable, competing apps using .Net or other development tools. RPG programmers have had to learn Java, .Net, or now PHP in order to remain employed. Rational tools? EGL? It's all just additional buzzwords to facilitate IBM's move away from RPG. IBM sees the writing on the wall, all these young decision-makers wanting graphic and Web-enabled interfaces. So instead of placing development emphasis on making RPG-based apps more modern – perhaps by offering a native CGI for RPG – IBM moves businesses away from the platform, away from the strength of all those legacy apps written in RPG that drive business logic, to newer platforms, newer tools, newer apps written in languages that didn't exist a decade ago. And probably won't exist a decade from now. Which means, for businesses who invest in them by developing business logic apps, another conversion, another migration, a decade or so down the line …

Furthermore… vLegaci's … "RPG as a Service" is nothing more than out-sourced contract development with a new name. A pig is still a pig, and calling it something different don't make it so. I don't buy into it as even remotely related to "cloud computing" a.k.a. capacity on demand.
---
July 9, 2009 12:16 PM
More than 70 System i vendors have joined hands in Japan to form iManifest, a group dedicated to promoting the IBM System i platform.
The slogan for the group is a take off a famous quote by John F. Kennedy, and it goes like this: "Ask not what IBM can do for you, ask what you can do for the IBM i community." The folks at IBM, though not involved with the group, are supporting it, and even former IBMers like Frank Soltis are behind the effort.
The success of the impromptu group in Japan raises questions about whether the American System i community can get something similar off the ground. Though iSociety is still around, it hasn't lived up to its original expectations. Maybe it can restructure itself to look more like iManifest?
Some links: The iManifest "declaration," a column on what we can learn from iManifest, and a call to arms, so to speak, for a similar EMEA-based group.
Here's an excerpt from the group's joint declaration:
We do not know of any machine other than IBM i which has resolutely protected user assets for 20 years and would continue to protect them in the future. We think we have a mission to convey its excellence and superiority. We can justifiably describe IBM i as "the miracle in computer history", especially when we speak to enterprise management, thought leaders in the business world and all those engaged in information system departments.

Every-one in business continues to face a fierce battle, if described in a simple word, to innovate the old to create the new, by incessant managerial and operational innovation. We firmly believe from our communication with many customers and by looking back at our own experience that there would be no progress without innovation in Information Technology to support business.

IBM i is well known for having the largest number of customers using a single systems family. It has retained its brilliant record of No.1 position for more than 10 years in the "Customers' Satisfaction Survey" conducted every year in Japan by the Nikkei Computer magazine. The platform's reliability, stability, resilience and high ROI stand out from all others.

Taking the opportunity of IBM i's 20th anniversary we have established the IBM i Manifest to ask users to again recognize the value and achievements of IBM i. We ask that they renew their firm confidence and belief that IBM i is the best infrastructure available to support managerial and operational innovation.

Further we think that the merits of this excellent system should be shared by many others. More widespread usage of IBM i is the best way for corporations to strengthen their management capability and business power. We have started activities to add to the user community as many new companies as possible. We, the IBM i Manifest initiative support members, have been very proud of assisting our customers over many years with this very rare product, IBM i. We will act widely, in various ways and continuously, to help business-people to recognize the merit, excellence and achievements of IBM i.
---
July 8, 2009 5:43 PM
IBM has just released a Redbook with detailed implementation instructions for JS23 and JS43 IBM BladeCenter blade servers. The 594-page guide (yes, 594) is good both for an overall look at the IBM BladeCenter platform, as well as detailed implementation guidelines for specific operating systems (in addition to IBM i, it also has chapters on AIX, Red Hat Enterprise Linux, and SUSE Linux).
The chapter on IBM i implementation is about 100 pages.
---
July 8, 2009 5:35 PM
This might be a bit offtopic, but it's for a good cause. Aaron Bartell, a System i consultant and big proponent of RPG on the platform, is running a marathon in Chicago on Aug. 7. His goal is to raise $10,000 for World Vision, a Christian humanitarian organization that is tackling worldwide child poverty and hunger.
But Bartell is throwing in a twist. For certain landmarks, Bartell has agreed to remove hair from certain parts of his body. At the $1,000 mark, he'll shave his head. For $2,000, the armpits. And so on, until at the $10,000 mark, Bartell will hand over a hand buzzer to his 4-year-old son and let him get artistic on his head.
Check it out, and if you can, donate.
---
June 25, 2009 1:25 PM
Here are the top concerns of European System i users, according to a survey taken by COMMON Europe:
Satisfy internal customers
Treat data security and confidentiality as a business risk
Improve IT security and continuity
Receive consistent high quality service and support from vendors
Keep the skills current for the existing staff
Make me grow as a more competent individual
Do fast application development to fulfill business needs
Build business skills in the information technology shop
Standardize and consolidate IT infrastructure
Attract the younger generation to centralized systems
Easily exchange information with other companies/institutions
Find applications that fulfill business needs
Acquire and retain IT personnel
Correctly measure the value of IT to business
Integrate document management and unstructured data with core applications
Assure better data warehousing with real answers to business questions
---
June 25, 2009 1:21 PM
Western Power Sports reworked its online presence using Web development tools on the System i, a move that has increased online sales of its power sports equipment fivefold.
Prior to the project, the Boise, Idaho-based company was only generating about 10% of its sales online. Now about half of its sales comes over the Internet, garnering more than 1 million page views, 17,000 orders and about $7.5 million in sales every month.
How did it happen? Well, it almost didn't. The fast-growing company was outgrowing its outdated Web presence, and needed something that would better integrate with its existing System i platform.
"We didn't have the time or the ability at that point to develop our own solution," said Rody Cummings, the company's IT director. "What we were looking for was a company to sell us a product and also provide a solution they could support."
What Cummings found was that most products had steep, lengthy learning curves that Western Power Sports didn't have the time to endure. So the company was leaning toward outsourcing its Web development entirely.
It decided to listen to one more pitch, from a company called Profound Logic. The software vendor sells RPGsp, an RPG-based Web development platform on the System i. Cummings said that halfway through the demonstration, he knew it was something that Western Power Sports could use.
A few weeks later, Western Power Sports had developed a new online platform that was implemented soon after.
"With our previous solution it would have taken a full week of me working with the product along with their team just to get a website online that still had no functionality," he said.
---
June 25, 2009 12:50 PM
Midrange.com has four YouTube videos embedded in a post on the benefits of IBM's Dynamic Infrastructure. The videos are of various System i personalities riffing on how cool the platform is. The videos were reportedly taken at the COMMON show in Reno. They star Trevor Perry, Pete Massiello, Justin Porter and Jim Oberholtzer, and there are a couple more (Wayne Madden and Lew Satur) at an IBM YouTube channel.
---
June 25, 2009 12:44 PM
I just saw this job posting on midrange.com: Psychiatrist, American Hospital Service Group.
The description: "Great opportunity to work for your country as a psychiatrist. Candidate must have 2yrs experience and will evaluate,diagnoses & treat psychiatric disorders."
---
June 25, 2009 12:35 PM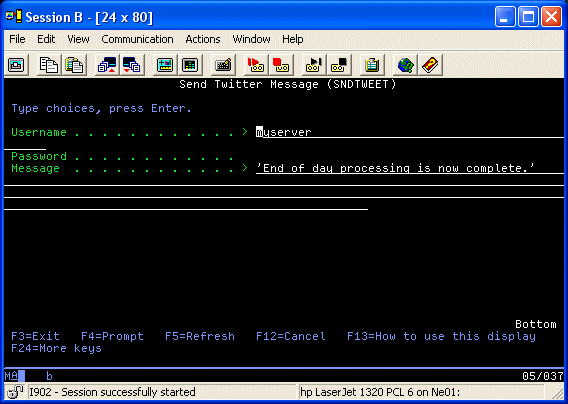 Usually when I think of the IBM System i, Twitter doesn't pop into my head. Kisco Information Systems, a longtime IBM System i software vendor, is looking to change that.
Last week the Saranac Lake, N.Y.-based company announced a new release of SNDTWEET, an application that allows users to post, receive and reply to Twitter messages from a System i server. The company pitches the application as a way to turn Twitter into a modern-day SMS system for your shop.
For example, a system running some regular overnight processing could automatically send out a tweet to its followers (ie. the System i administrator and programmers) when it completes. If the tweet doesn't go out, it's likely there was a problem. System i Twitter users can send each other messages, or the company's marketing department could set up a list of tweets to promote company announcements on certain days. Though a Twitter account's default is to have all its tweets be public to the whole world, you can change that setting to private when you set up an account.
Is relying on Twitter as an SMS service good business practice? That is something you would have to figure out if you're considering using this product. There are occasional outages on Twitter, and relying on an application to contact a third-party service might not be the best way to do system monitoring. Kisco is offering a 30-day free trial of the product if you want to check it out.
---