---
April 17, 2007 2:38 PM
Magic Software, a big System i software vendor, has announced a special edition of its iBolt software for SAP R/3. The iBolt software focuses on connecting applications to business process management, and Magic has been in the AS/400, iSeries and System i space for 12 years.
We did a customer case study earlier this year on Farm Mutual Reinsurance Plan Inc. that needed a quicker way to get its claims management data into its J.D. Edwards ERP system. Magic Software helped them automate that. Has anyone out there done anything similar to that?
April 11, 2007 9:54 AM
Yes, there are still plenty of one-man System i shops out there. Some of the challenges: small budgets, no time for training, and lack of programming resources. Solutions: free software, local user groups, and cheap interns.
Who else is a one-man System i shop out there?
---
April 11, 2007 9:46 AM
As this column on MC Press explains, getting out from under legacy technology doesn't necessarily mean you have to dump your System i. In fact, this writer claims that the System i is "cutting edge."
However, he does say that System i folks should start looking into modernizing their environment, mainly be getting away from 5250 green-screen interfaces and bringing applications to the Web. What are you doing out there to modernize your System i, and if you're not, why not?
---
April 11, 2007 9:41 AM
There will be another iSociety "fireside chat" tomorrow, this time with Jim Herring and Ian Jarman. Herring, the IBM System i products and business operations director, and Jarman, a System i product manager, will likely be talking about the new System i servers that IBM announced yesterday.
The last "fireside chat" three weeks ago was with Susan Gantner, Skip Marchesani, Paul Tuohy and Jon Paris, the people who run System i Developer. The iSociety started last year with its goal being a sort of MySpace for System i users.
---
April 10, 2007 2:02 PM
At an event at its campus in Cambridge, Mass. today, IBM introduced two smaller System i machines aimed at smaller businesses. The most inexpensive is the System i5 515 Express, which starts at $7,995 for five users. Companies can then upgrade for $1,250 more per five additional users. The other product is the 525 Express.
This is similar to the System i5 520 Express that IBM rolled out last fall and is meant to compete with x86 Windows servers.
IBM execs spoke and then there was a panel with business partners and a couple customers, so I'm working on a story that will probably go live by tomorrow.
---
April 4, 2007 7:15 AM
Bruce Guetzkow has a column in IT Jungle saying that IBM's move to take Screen Designer and Application Design out of WebSphere Development Studio Client 7.0 standard edition and put it into the advanced version (which costs $4,000 per seat) is akin to turning its back on the System i community.
Guetzkow says he refuses to install version 7.0 of WSDc until this is changed. IBM, meanwhile, has hinted that it would offer components of WSDc for separate prices, but developers are not happy with this change. It will be interesting to see if they're willing to back down on this topic, since the developer community has expressed its disgust.
---
April 4, 2007 7:01 AM
The PowerTech Group has released another study looking at System i security, and has found yet again that it's the people administering the systems that tend to cause security leaks, and not weaknesses in the hardware itself.
According to the story, findings from the study include:
76 percent of systems don't control or audit changes to data made through PC access applications such as MS Excel and MS Access, creating uncontrolled network access.
10 percent of all users have privileged access (root-level access) authority.
Confidential reports can be viewed by 20 percent of all users.
Half of all systems have more than 20 users with default passwords (Password = User name) that can be easily determined by any attacker.
The findings are similar to the study PowerTech did last year.
---
April 4, 2007 6:51 AM
Frank Soltis, the chief scientist of System i, said that a new entry-level System i will be hitting the streets soon and is aimed to compete with smaller Windows and Linux servers. Soltis was a keynote speaker at a recent user group meeting.
He also said that IBM this year will introduce a new System i5 595 as well as a System i box with the new Power 6 processor technology.
Next week, I'm heading to an IBM event announcement in Cambridge, Mass. There is plenty of mention of SMBs and ISVs in the invitation, so it's a good bet this could be System i-related. Stay tuned.
---
April 3, 2007 8:01 AM
I've always been unhappy with how the default owner of an object in the IFS is determined.
When a new object is created the ownership is, by default,  the creating user's profile name.
When objects are shared amoung a group of profiles (Group Profile Membership), this can lead to problems, especially if someone in the group has to delete an object created by another group member.
I have learned that if a directory object has the S_ISGID permission bit set ON, then whenever a new object is created in that directory the owner of the object will be the same as the directory's PRIMARY GROUP OWNER.
The S_ISGID permission bit can be set on a couple of different ways.
You can use the CHGATR command… For example:
 CHGATR OBJ('/PRDCIS/INBOUND') ATR(*SETGID) VALUE(*YES)
or, via the Properties/Security tab within iSeries Navigator: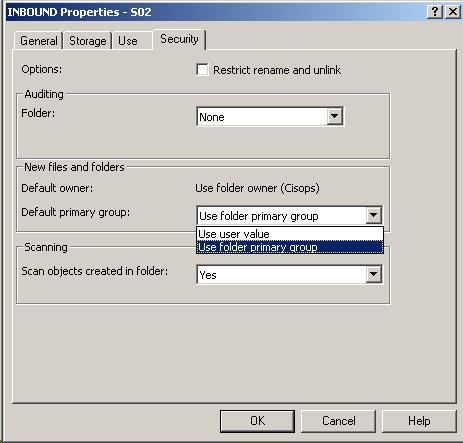 Kenneth
---
---