---
June 6, 2007 8:06 AM
Lukas Beeler over at his blog on midrange.com has a close look at the System i 515, one of the new System i machines that IBM announced in April. He talks about the machine lacking a front door (which the 520 has) and how adding memory can give you a migraine. But he does add that IBM has preloaded the console configuration correctly so you don't have to bother with reconfiguration yourself if you're using a thin console.
In the end, the 515 isn't really a new machine, just a new licensing model which lowers the price for the System i a little bit for smaller businesses. While this might entice small businesses already running a System i to upgrade their hardware, I do not believe that IBM will be able to acquire many new customers without improving performance, lowering prices and improving remote maintenance access.
June 5, 2007 1:19 PM
Got this from an AS/400, iSeries and System i systems integrator: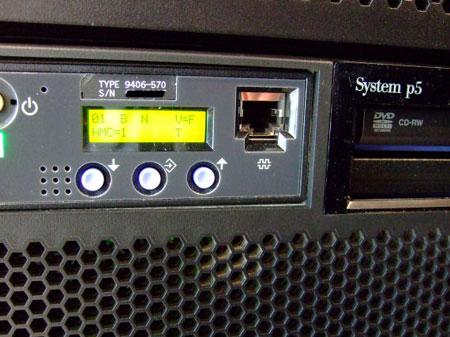 That's right, it's a System i 570 (notice TYPE is 9406-570), but the faceplate clearly and proudly says "System p5." Is this the equivalent of a marketing Freudian slip from the factory? Most likely it's just an honest mistake, but it's another twist in the dagger of System i folks who feel that IBM isn't doing a good enough job promoting the platform.
---
May 30, 2007 7:21 AM
Independent Computer Services has received an award for developing a Web-based PHP application that allows service technicians in the field to enter customer requests into the system to be tracked — previously the system was largely paper-based.
The award was given by Zend, the company behind PHP, as part of its PHP Innovation Challenge.
From IT Jungle:
[Company Web developer Charles] Abbott's experience with creating the Maintenance Contract Workflow has benefited ICS, too. The company, which is moving the application from Linux to i5/OS, plans to use the framework as a basis to build more internal business processes, and it also gave ICS the confidence to move forward with modernizing its green-screen diesel engine and parts applications with PHP.

For Abbott, the experience has given him confidence in his own abilities and a newfound respect for System i's capability to run PHP. "When I was first introduced to the box, I was a little scared of it," he says. "After I got used to it, I really enjoyed it. I think it's a great fit. I believe PHP can be used to write good business logic."
---
---
May 30, 2007 6:37 AM
Maybe IBM announced Power6-based servers on System p before System i because System i doesn't need Power6 as badly. It all comes down to System p customers hungering for more and more processing power. Meanwhile, System i folks can take advantage of features like capacity on demand and get by until the Power6-based i machines hit the market.
That's just another reason to focus the POWER6 on the Unix world. If Unix is constantly hungry for more power . . . but the System i world is relatively not as hungry . . . no wonder IBM has had a tough time making quarterly financial reports that show positive revenue growth for the System i group.

Sure, every hardware manufacturer has this same problem, but I can't help but believe it hits the System i harder than others.
---
May 23, 2007 7:14 AM
The IBM Power6 processor news hit this week, and in case you hadn't seen it, it's all about the System p. Sure, System i got a quick mention in some stories because its Power6-based systems will be here late this year or early next. But System p is a strong growth platform for IBM, especially recently, while System i simply is not.
Here's a hint at another reason: System i is a banana, while other midrange platforms from Sun, HP and IBM itself are oranges. Check out Chris Maxcer's blog about the Power6 release to read up on this fruit analogy.
---
May 16, 2007 9:04 AM
IBM announced last week that it plans to redirect $1 billion of its earnings each year to increase data center energy efficiency.
Data center efficiency, along with the power and cooling issue, has become a hot topic (pun 100% intended) in all data centers in the last few years. My question is, is it becoming an issue for System i users out there?
---
May 16, 2007 8:58 AM
Check out MC Press' technology preview of the Screen Designer feature in WebSphere Development Studio Client 7.0. The article also quotes an email that IBM sent out to people who voiced their concern that Screen Designer would only be avaiable in the much more expensive Advanced Edition of WDSC:
"And, while we are currently in the process of evaluating our future packaging strategies, it can be confirmed that when it is ready for 'general availability,' we're committed to delivering the 5250 screen designer as a part of our entry-level System i development tools, like WDSC Standard Edition. Your input has come at a timely juncture, and will be valuable for us as we evaluate our current and future strategy. Please continue to provide feedback to wdscques@us.ibm.com."
---
May 16, 2007 8:52 AM
The System i Network references a Forrester report on one of its stories looking at the integration of Windows and System i. Though doing so might be a good idea, helping to both modernize your IBM System i and tame your Windows server jungle, there will doubtless be some hiccups.
There is effort involved, both in integration activities and the initial work. On the other hand, the benefits often make the effort worthwhile.
IBM is especially keen on promoting BladeCenter connections to System i.
---
May 10, 2007 10:17 AM
Raz-Lee Security Inc., a System i security software vendor, has released a new version of its iSecurity application. New features include:
Java-based interface including an embedded terminal emulator and embedded spreadsheets for viewing reports.
The ability to execute and print reports on remote or local systems for one or a group of servers.
User authentication that allows users to manage their own passwords without the help of system administrators or help desk personnel.
---