---
February 20, 2008 8:37 PM
This video has been making the rounds a bit, but I still thought it would entertain readers here if you haven't seen it. Aaron Bartell is a pretty well-known RPG programmer in the System i world. It looks like Bartell had a little too much coffee in his system and was staying up too late.
By the way, he's rocking out to "Say This Sooner" by a band called "The Almost." Some sample lyrics: "No one will ever see these things the way I do / No one will try / All my friends say that I'm gone / But I swear / I swear I'm not." Those are lyrics that can probably explain a lot of System i programmers' frustrations with higher-ups who want to phase out the platform. Enjoy.
February 20, 2008 7:21 PM
Zend now has software in beta called the Platform 5250 Bridge that basically allows you to use this interface: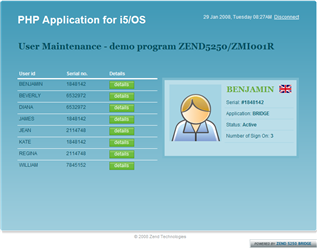 to access data from these 5250 data screens: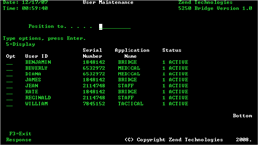 In other words, Zend wants you to be able to use PHP to access those green screens. How it works: The Platform 5250 Bridge sets up contact between a PHP script and a green screen application. The bridge then converts green screen data into an XML format that can be entered into the PHP program or put into an HTML format that users can work with.
The beta program is available now. When it goes general availability later this year, it won't be free, but users will be able to try out a one-user license for free. From iDevelop:
We're really looking forward to having the chance to play with this capability, but the demonstrations we've seen so far have been impressive. While refacing green-screen applications is not necessarily a good long-term solution, it's certainly a step along the road, and sometimes may be all you need. With the many additional capabilities that the PHP environment offers, this tool can do much for very little in the way of cash outlay.
---
February 19, 2008 1:07 PM
That is the question many System i users out there are asking. As you can see from some comments last year, some were looking forward to i5 blades, and some were not.
A familiar misgiving is that many of the smaller System i shops aren't that worried about the space constraints that a smaller form factor like blades can help solve. They're usually running one box in production and maybe a second for DR, and that's it. Buying the expensive BladeCenter chassis might not make sense for them.
Those that might take to it are the more heterogenous shops that are running System i along with a lot of x86 servers in their data center. Being able to combine all that processing power into one blade chassis could save them space and possibly help the System i server(s) communicate with the x86 ones, especially if they're System x.
When the i5/OS blade becomes available next month, look for IBM to recommend configurations to business partners that involve an overall blade server strategy that includes System i and rids users of older System i standalone hardware.
But there is another issue: Is the JS22 blade that i5/OS will run on too big for some customers? The answer may be yes, and software costs might end up being a deterrent. The JS22 is a two-socket blade that has four Power6 processing cores. That's more horsepower than some System i applications may need, and thus some users might get stuck paying for a software licensing tier that's over and above what they want.
In addition to that, the i5/OS blade is about 20% more expensive than either the equivalent AIX or Linux blade ($7,436 compared to $6,129) .
---
February 6, 2008 12:02 PM
David Vasta, over at our sister blog at IT Knowledge Exchange, has a post there about how he overheard an ad on the radio for the System i Express server. Considering how one of the beefs from System i users is that IBM doesn't market the platform enough, this is decent news.
Vasta said IBM should have thrown in the starting price — $8,000 — in the ad as well, to get Microsoft and Dell to "shake in their boots." He also takes the opportunity to bash Windows Server, saying it's basically just a big desktop computer.
Needless to say, it's good to see that IBM is still actively selling the System i, seeing as it's been pushing quite hard on all its other platforms (especially System p) in recent months.
---
February 6, 2008 11:31 AM
Lee Kroon, a well-known columnist and consultant on System i enterprise resource planning (ERP) applications and especially J.D. Edwards, posted a blog earlier this week on The J.D. Edwards Advisor about how i5/OS V6R1 can benefit JDE customers.
The new operating system, which IBM officially unveiled last week, will be available in March. Kroon summarizes four major reasons why V6R1 is good for JDE users: better Java performance, virtual i5/OS partitions, support for blade servers, and improved storage area network (SAN) performance.
Kroon wrote that JDE EnterpriseOne customers accustomed to running the Java Application Server on a separate platform may now be able to reconsider, adding that "IBM has told us that Java performance under V6R1 will only be a few percentage points less than that of AIX running on comparable System p models."
With virtual i5/OS partitions, Kroon said it will be much easier for JDE customers to set up virtual partitions to allow for testing and development. V6R1 allows users to create virtual partitions that borrow resources from other partitions, a feature that wasn't previously available.
Kroon also said that support for blade servers could help reduce hardware costs for JDE users.
---
February 5, 2008 10:19 AM
The iSociety group, which serves as a MySpace-like site for IBM System i users, is holding yet another "fireside chat" this week. The transcript will likely be up at the iSociety chat site.
The chat plans to cover IBM's recent announcement of i5/OS V6R1, the new version of the System i operating system due out in March. Participants in the chat will include Craig Johnson, i5/OS product manager, and George Farr, product tools for System i tools and Rational.
Common, the System i user group that runs iSociety, made a lot of suggestions for improvement to i5/OS, so this should make for a good chat. People can also submit V6R1-related questions for the chat by emailing chat@isociety.org.
---
January 29, 2008 9:53 AM
System i5 security vendor Bytware Inc. has wrapped up its i5 online game, where contestants navigated YouTube videos and searching for clues on different Web sites to solve a fictional System i security mystery, all the while learning about PHP and i5/OS security.
The grand prize winner, who gets a Nintendo Wii, was Anna Musella-Chiasson, a senior iSeries analyst with Canadian company CGI. There were also four winners of $100 gift certificates at Apple: Kristina Alcorn, a senior systems engineer at the Automotive Retail Group in Troy, Mich,; Suzanne Dahms, the executive VP at Union Bank in Lake Odessa, Mich.; John Pfitzner, a programmer at EFCO Corp. in Monett, Mo.; and Patrick Sczypiorski, an applications systems manager at Velvac in New Berlin, Wis.
The game will remain online, although Bytware didn't say for how long.
---
January 28, 2008 10:06 AM
Arthur Cole at IT Business Edge has a blog post speculating over whether IBM is "looking to get out of the server hardware market before virtualization sends it crashing to the floor."
Cole's argument is that despite IBM's denials, its moves indicate that it is leading toward being more of a software company. There's no doubt that IBM's software division is a huge leg of its business. But can it and the services/support leg be the only ones IBM needs to stand on?
Cole points to the announcement by IBM that Lenovo, the owner of Big Blue's former PC unit, will begin selling rebranded IBM x86 servers later this year. Cole wrote that while System x revenue rose 8% last year, overall server sales at IBM were flat, and so System x was a prime platform to be outsourcing.
Of course, System p revenues also increased last year, by 9%. Perhaps another reason IBM chose System x is because x86 servers aren't much different than PC hardware and thus fit Lenovo's business plan better.
Cole also sees IBM's acquisition of AptSoft as an indication that IBM is focusing more on software. Then he hits on the virtualization theme again:
But if virtualization does start to tear into server demand as the experts predict, it probably does makes sense to unload hardware lines onto companies that can survive on smaller volumes.
Here's the thing, though. What company would take on the System i or z lines, or even p for that matter? They're all built on a more specialized architecture — which includes proprietary IBM hardware such as mainframe and Power processors — than commodity x86 servers. If IBM outsources its server hardware, will it start outsourcing its processors as well?
If this does happen, if it ever happens, it's a long, long ways down the road.
---
January 21, 2008 1:54 PM
The IT Jungle has a bunch of user feedback regarding the System i, where it's going, and where it should be going. This comes in the midst of a small revenue increase for the platform announced by IBM last week. Still, the platform isn't nearly out of the weeds yet, and to be able to survive, IBM needs to listen to its customer base.
The suggestions range from the usual complaint about the name of the platform — one user astutely says: "Google 'i' and you will see my point" — to another wishing that IBM would make RPG a "true Web Programming Language," to another sadly wishing that IBM would see the i5/OS to another company such as Oracle or Zend "that has the necessary get up and go to make the improvement to the OS that it needs to compete."
---
January 21, 2008 9:00 AM
In its earnings report last week, IBM announced that revenue for System i was up 2%. It's the first time System i revenue has been up year-over-year in two years. The chief financial officer at IBM, Mark Loughridge, said the rise was due to the introduction of Power6 System i 570.
Although the 2% increase is compared to a 10% decrease in the fourth quarter of 2006, it's still a whole lot better than it going down again. And given Loughridge's reasons for the increase, it's fair to think that revenues might continue to rise in 2008 when more Power6 boxes become available.
---