---
October 2, 2008 9:42 AM
Like "jumbo shrimp" and "small fortune," one would probably think that "new RPG users" is an oxymoron. And if we expand that out more — "new RPG users on the System i" — well, that makes it seem more like one.
But that may not be the case. The folks at iDevelop reveal that there are actually plenty of people out there coming to the System i new from other platforms — Unix, Windows, Linux. Now, coming to System i usually means you have to get to know RPG, as it's the main language for many i applications. But iDevelop reports that these newcomers are coming to the language with more of an eagerness to learn, rather than a gritting of the teeth:
Assuming they're introduced to the modern version fo the language (i.e., /Free format logic, modular design with function calls, etc.) nearly all those we've talked to are impressed by the power and simplicity of RPG for business-oriented logic compared to whatever languages they have worked with. At least a couple of RPG's most publicly vocal fans came to the language after experiencing other languages and environments.
The point of the post was to generate some discussion about how to attract people to the i platform as they're coming new to it. Commenters added on, saying that anything that can run on the LAMP (Linux, Apache, MySQL, PHP) stack within i is attracting the new users, as well as some other interesting things.
October 2, 2008 9:08 AM
Oracle has updated its JD Edwards ERP software, including additions EnterpriseOne and World on the System i.
The EnterpriseOne changes include a new user interface for its Tools portion to jibe with all the other Oracle interfaces, tools to help with regulatory requirements, and a feature to help reduce user data entry errors.
With JD Edwards World, the updates include integration with Demantra, the supply chain management software that Oracle acquired last year. Another update are what Oracle calls user productivity kits, and which basically are templates that include so-called best practices for the World application, including training and documentation.
For more details, read this IT Jungle story and look at Oracle's EnterpriseOne and World sites.
---
October 2, 2008 8:37 AM
If the Young i Professionals blog is to be trusted, interest in open source applications on System i is growing.
Brian May wrote from Common Directions, the System i-focused trade show down in Dallas last week. The YiPs had a table down there, and May reported that it "seems everyone at the conference was asking about open source software, Web 2.0, MySQL, and PHP." He followed that up with another post yesterday saying that he "spoke to lots of people, all of whom were interested in and excited about the site and the open source applications that we have loaded on i."
If you're unfamiliar with PHP on i, check out this tip from Andrew Borts as a starting point.
---
September 26, 2008 10:21 AM
Now that we've had a few months since IBM's announcement that the System i would be grouped with System p under the moniker and umbrella of Power, I took the opportunity to talk with an experienced AS/400 vendor, Vision Solutions CEO Nicolaas Vlok, to find out how this turn of events has affected his business. We also discussed Vision's broader business strategy, which provided me some insight into the overall use of their products around the globe.
Vlok shared his reaction to the movement to consolidate the i and p platforms, which was generally enthusiastic.
"We were excited about the opportunity that it brought," said Vlok. "We had been investing in solutions that would run on AIX, and the fact that they came together under one hardware brand is great. It effectively moved us into a new marketplace with an upper-hand due to our position as leaders on i. It has helped us lift our revenues and assisted us in expanding into the bigger power marketplace."
When asked about any direct business impact the name-change caused to the vendor company, such as marketing campaign and branding change costs, Vlok shared that the change didn't cause any significant expenditures. However, in the long term he posited that there may be a cost savings because all marketing will be done under the umbrella of "Power."
Many Search400 readers shared their opinions on the name change, and expressed a stubbornness to call it anything besides "AS/400", so I had to ask Vlok what the people at Vision call it in the hallways and in meeting rooms.
"That terminology moved on in our organization," said Vlok, referring to AS/400. "But in the hallways sometimes we call it System i."
It's probably a good time to clarify common terminology, as the recent Vision acquisitions and mergers and resulting varied product offerings are demanding partners and resellers get firm on the marketing terminology. Getting these partners on board was the focus of the company's worldwide partner conferences in March 2008.
"Historically Vision was focused on the enterprise," explained Vlok. "We wanted the historical Vision partners to address the SMB solution – a market that is not tapped. With the hardware and software price points coming down we're seeing quite a bit of affordability in the marketplace. We wanted our over 400 partners to segment the market to the right customer base. We then were preparing our partners for Power; an area where the i community is presented with a great opportunity to expand into AIX."
When asked for his opinion as to why small and medium-sized businesses had not embraced high availability (HA) and business continuity solutions at this point, Vlok didn't have a lot of firm answers. (If you have an opinion on why this may be, please share it here in the comments.) He did however explain that as the costs have come down, HA solutions become more attractive for this market segment.
"Historically speaking, prices have come down on the hardware side," said Vlok. "Hardware was the most expensive for a high availability solution. But the cost to value equation is much better for today's customers. Also, midmarket customers are facing stricter regulations than five years ago. Medical patient data needs to be digitized and available for 10 years. For sectors like transportation, gaming, and manufacturing the lower prices are just in time." In addition to lower costs, big news stories of disaster has helped spread awareness and educational efforts are opening up the SMB market. Vlok also explained that some of the growth in sales has come from bundling Vision's products with other applications that are sold to these businesses. This trend means that a lot of companies aren't going out looking specifically for HA solutions for their system, but that they are expecting the applications to have a HA component to protect their data and business continuity.
Vlok shared a positive attitude about the business growth for the i market, and I wanted to know where this was being seen geographically.
"I would say that Asia has historically been a very big growth market for us," shared Vlok. "However, we've really seen strength across the board. We've had a strong year in North America; due in part to regulation and awareness. In markets like Latin America and Asia it's catching on right now and we're seeing strong demand out of those markets. India is one of the markets that is on our focus list for 2009."
Overall, Vlok is optimistic about the market for Power. I asked him what he thought about the recent acquisition of PowerTech by Help/Systems.
"I think it's a pretty good business decision," shared Vlok. "I still believe from a software perspective that it's a market worth investing in and expanding with specifically infrastructure-related software. In the i marketplace, most people looking in the 3-5 years can see an expanded opportunity with i and p."
So there you have it – one CEO's perspective on the future of the i. What do you think? Do you have a HA solution, and if not, why not? Share your comments. 
---
September 24, 2008 1:08 PM
If you are noticing that the weather has turned from warm and sunny to a bit crisp and cool, maybe it's time to take a trip to the sunny state of Florida, and attend iSeries DevCon 2008 in Orlando between October 27 and 29th. An early registration discount is offered up until October 3, 2008, so it may be worth checking out soon.
I looked through the course offerings, and found some that looked pretty interesting to me including an entire track on getting ready for V6R1. My interest was also piqued by a session on CL that focuses on new enhancements and fixes to old problems.
"… learn all about the new enhancements that IBM has made to Control Language (CL) in recent releases. Find out how CL can now address a wide range of applications that it couldn't reach before. Delve into new data types and structured code for easier communication to other jobs on your system. Understand how to declare variables of type pointer in CL and then learn how to use subroutines to divide a CL procedure into tasks of logically related code and understand the types of APIs that CL can now call that used to be unreachable from CL. Take a first-hand look at some of the most annoying problems encountered by CL programmers over the years and get expert advice to overcome them."
With an esteemed group of experts, the conference looks like it has some good content if you have the money in the budget to check it out. If you're planning on attending and would like to share your experience with other Search400.com readers, let us know (email editor@search400.com).
---
September 18, 2008 7:18 AM
Young i Perspectives is a new blog from Young i Professionals (YiPs), a group of younger System i programmers. I expect a lot of good posts from them, especially on using open source on the i platform.
The whole website is hosted on System i, so that's a start. The blog and site are currently in their infancy, as the posters have just made their introductions. Brian May, Adam Shirley, Justin Porter and Aaron Bartell look like they'll be the main posters. The YiPs group is fairly new itself, having only been started earlier this year at the Nashville Common show.
As a point of information, the site is being redone and the new version will go up some time tonight, according to May.
---
September 18, 2008 6:39 AM
This is courtesy of the Four Hundred Stuff report from IT Jungle:
---
September 18, 2008 6:23 AM
From the links page for Doug Hart, an IBM System i consultant: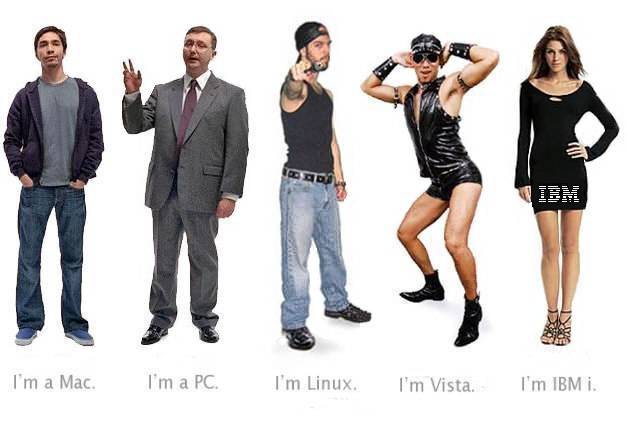 I would like someone to please explain the Vista picture to me.
---
September 16, 2008 2:31 PM
I wouldn't normally write about other IT publications, but IT Jungle is such a huge player in the world of news for IBM i, System i, iSeries, AS/400, and so on, that this bears mentioning. Timothy Prickett Morgan, who runs the site, wrote recently that IT Jungle would no longer publish its Linux, Windows and Unix newsletters, and the mainframe newsletter is on hold.
The good news is that IT Jungle will continue to publish its System i-focused newsletters, which includes "The Four Hundred," "Four Hundred Stuff," "Four Hundred Guru," and "Four Hundred Monitor." In addition, Morgan has taken another job as systems editor for The Register, another IT news publication. We wish him the best in all his endeavors.
---
September 4, 2008 9:17 AM
It seems that in more and more System i educational classes, there are growing numbers of Java and .Net developers sitting in aside the RPG developers. This according to a post over at iDevelop. As the post says, "Quite often the non-RPGers don't hang around for the RPG-specific topics in our courses. We customize all of our on-site classes so that our clients can mix RSE/WDSC with RPG or SQL or XML topics as needed for their requirements. This sometimes means the non-RPGers come and go throughout the class."
That's not always the case, however. During one class, there was a System i shop whose developers sat through everything no matter what, and in some cases, the non-RPGers did better on the RPG exercises than some of the old RPG pros. Their reasoning? The shop "integrates nearly all of their development projects" with System i developers working alongside non-i folks every step of the way, leading to what the blog post calls an "amazing synergy."
When we work with such teams it is also apparent that this collaboration has resulted in the non-i folks gaining a true appreciation both for the i platform and the power and simplicity of RPG. It would seem that a good way to get a truly integrated application is to truly integrate the programmers creating it.
That sounds about right.
---