---
November 13, 2008 12:26 PM
Frank Soltis, who is considered the father of the AS/400 and its various sequels, will reportedly be leaving IBM at the end of this year.
He has been with IBM for about 40 years and has penned two books on the platform: Inside the AS/400 back in 1997, and Fortress Rochester: the Inside Story of the IBM iSeries in 2001.
The link above gives some details about the how and why of him leaving, although I'm not sure all of those are clear. Whatever the case, Soltis is a veritable institution within Big Blue, and his expertise will be surely missed.  Hopefully he'll still consult with them, or maybe work some with Common, the System i user group.
Earlier this year in a great webcast, Soltis compared the System i and p merger to the System/38 and System/36 merger, saying it was history repeating itself.
November 13, 2008 11:50 AM
Ross Mauri, the general manager of IBM Power Systems, held forth at a fireside chat at iSociety earlier this week. The full transcript of the chat is worth reading. Hat tip to David Vasta for the heads-up.
Here are a few excerpts of the transcript. On early feedback of System i blades:
so far we have a small number of customers using i blades, but we are getting good feedback from key early users, both in Bladecenter S and H chassis. For example BC-H … Websphere on i on multiple blades appears to be a popular choice, for BC-S … we see customers are mixing i blades and x86 blades to build a combined infrastructure. We just completed our first round of worldwide education on blades with business partners. We expect that to pay off in 2009. We are also investing in additional blade support virtual tape and new disk options … so we will hit some key customer requirements for blades in the first half of 2009
On virtual System i partitions:
feedback from customers says that the virtual i partitions support is one of the most exciting new capabilities. Virtual partitions enables you to run multiple images of IBM i without dedicated hardware, so it's great for people who are testing apps
And finally, the potential role of the IBM i operating system in cloud computing:
we already have many partners offering IBM i based applications as a service – those partners are everything from small ISVs .. to the largest … ie Oracle, JDE. the large ISVS especially like this because it allows them to reach down into small and medium businesses for the future as we move to cloud computing … IBM i will be participant
---
October 30, 2008 10:18 AM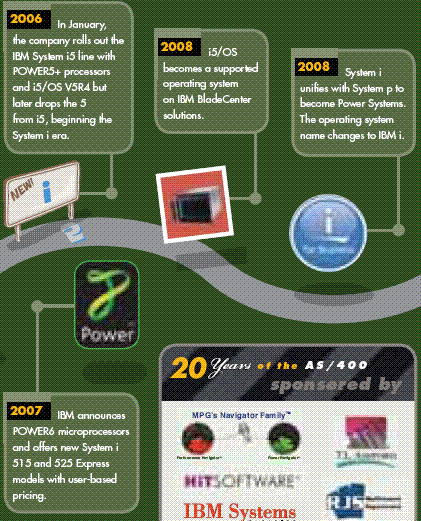 Wow, that's a mouthful. Anyway, IBM Systems Magazine recently published an illustrative timeline of the 20 years since AS/400, short for Application System 400, was first introduced by Big Blue.
Here's a sample of it.
The full AS/400, iSeries, System i and Power Systems running IBM i timeline is here, and it's pretty informative.
The introduction to the timeline is as follows:
"It's been called a lot of things—AS/400, iSeries, System i and now Power Systems—but most would call it a triumph of technology. Born as a mainframe for small businesses, the AS/400 platform was a marvel—a revolutionary plug-and-play server that could run an entire business and had thousands of software solutions from its inception. After 20 years, the AS/400 is still relevant to today's computing environments. Oh, it's come a long way; it's not the same machine IBM introduced that near 100-degree day 20 years ago. But the AS/400 has been hot ever since. Join IBM Systems Magazine, Business Systems edition as we travel the road of AS/400 history."
Question: Will there even be a timeline for the next 20 years?
---
October 30, 2008 10:02 AM
Tom Jarosh, the former general manager of IBM's AS/400 line (when it was still called that), died Oct. 17 from melanoma. He was 55.
Jarosh worked as the GM of the AS/400 line until October 2000, when he moved into other positions within IBM's server and technology group. I personally never spoke to Jarosh, but there are plenty of people out there who have, and had some nice things to write. Timothy Prickett Morgan wrote an obituary of Jarosh in IT Jungle recalling some of the accomplishments of Jarosh, as well as Morgan's interactions with him.
Evelyn Hoover wrote at iDevelop that Jarosh "always seemed larger than life." The death notice for Jarosh was published in the Pittsburgh Post Gazette.
Back in 1999, former Search400.com editor Paul Gillin had a chat with Jarosh about the future of the platform.
---
October 21, 2008 11:12 AM
This fall we have been examining the power of DB2. Andrew Borts first wrote about what DB2 does on the AS/400. And Joe Pluta contributed a well-received tip comparing DB2 to SQL. Continuing with the examination of DB2 versus competing databases, and in a nod to the current political campaign season, Andrew Borts chose to create a mock debate between DB2 and Oracle.

This content has been written as a humorous endeavor and is not meant to be a political statement. Please read and respond with this in mind.

by Andrew Borts, Contributor
Announcer: Ladies and gentlemen, tonight's debate format will be a town hall style, with both candidates having limited time to respond. We'll start the questioning with Oracle. Oracle: What are your advantages, and why are they so important in today's world of business?
Oracle: First off, I'd like to thank the academy for allowing us to have this debate in public for the first time. To start off, I am available on almost all operating systems …
DB2: Except i5/OS …
Announcer: Please, would the candidates let the others complete their statements… we have certain time limitations!
DB2: Sorry … will I have time to rebut the comments?
Announcer: Yes… of course…
Oracle: As you know, Oracle is world class, and you don't have to limit yourself to only IBM hardware. I cost less than my opponent, and I'm easy to manage. Using the same criteria, DB2 isn't world class, and in my opinion, is not enterprise worthy. Just because DB2 is "pal-ing" around with i5/OS – which is certainly not enterprise worthy! We don't even hardly see advertisements for it! Does IBM still SELL this i5 system??? Because you hear about me frequently, I am obviously far more popular. Why, we practically invented SQL, we're so good at it. We've been around much MUCH longer than DB2, and cater to the Web world in today's modern times. You don't see really big applications using DB2 – only Oracle. We're simply the Maverick of the Database world!
Announcer: DB2 – same question…
DB2: Thank you. And I'd also like the thank the Academy. My opponent would like to convince you that DB2 isn't available on all platforms, but that's simply not true – including Linux, Windows, and of course, our flagship the i5 or iSeries. The i5 system is where SQL the common database language was invented back when it was called the "System 38" now I know that Oracle has been on the market a whole two weeks longer than DB2; however, we still invented SEQUEL – which we had to rename SQL, and I noticed that you refer to that name yourself, Oracle. Running DB2 is least expensive on the i5/OS as it is built into the operating system, removing a layer of complexity not necessary. Application systems such as SAP run best using DB2, due to lower costs of ownership, and faster processing using less hardware.
Announcer: This question starts with DB2 — what is the most common misconception people might have about you?
DB2: That we're not enterprise worthy, and we cost more. To say "enterprise worthy" we need to bring both of us on the same terminology. We support partitioning, database mirroring, and commitment control managed at an operating system level. These optional journals are used to send records remotely to backup systems. Giving more backup options and solutions for our customers. Our reputation may look bad, however many of these excellent solutions are available through third party applications such as DataMirror and iTERA solutions. Our flagship, the i5 server, is also the most reliable computer in the world, giving them the highest repurchase rate of any computer, bar none. If you buy an i5 OS, you're going to buy one again – over 95% of the time! Who needs to advertise when you your customers are addicted to you!
Oracle: So you admit! Some of your customers are addicted to you!!!
DB2: In as much that they want us more. It's like Chocolate – too much of a good thing, just makes you happy. In standard and enterprise configurations, we cost less per CPU then Oracle. And on the i5, there is only an operating system fee, and no separate license for the database. It's built in!
Oracle: How about security! We're a highly secure Database – how about you?
DB2: The i5 system has plenty of security. We're even certified "secure" by the government – as a matter of fact, we were the first system certified with a C2 clearance. So our flagship system is secured far more than any system. If your database isn't a part of the operating system, you're only as good as the OS securing you. I must tell you, I sleep well at night.
Announcer: Oracle, same question – any misconceptions?
Oracle: None! I utilize triggers, indexes, arrays, commitment control relational tables — all industry standards. Something that we don't hear much of from DB2!
DB2: [throat clearing] Actually, we have all those functions as well. All of our limitations, are within site of one another. It's all a matter of preference these days, but it should be about return on investment, and lowering costs.
Announcer: Final Statements — Oracle?
Oracle: Do you want speed? Then you want Oracle! Do you have a Java application? Well then we're your database! Do you have a legacy application? Then we're your database as well. Want to make sure you have plenty of solutions for high availability? We're your guy! I don't need to waste more time. We're faster, stronger, and lighter!
Announcer: DB2 — final statement?
DB2: I know you're all concerned about speed. But looking at the numbers crunched by outside organizations that test the systems you'll see that we're speedier then you think. We're tied with the top two places on the TPC chart – with almost 2 million transactions between us, and Oracle. 2 million. As far as Java, both Websphere and Tomcat are available. So if you want to do open source, we're there. We support PHP as well with our product, all for low cost. As you know, PHP is Web-based, but years ago, a few of our nerds in the lab invented DB2WWW or Net.Data — delivering DB2 for the Web, back when people thought the Web was a passing phase. As far as highly available systems, with third-party mirroring solutions in place, we're right there. So we're really more like twins separated from birth, more than being different. Where there is a fundamental difference is our overall costs. Look at the return on investment. In the long run, you spend less with DB2, and especially the i5 or iSeries. With these troubled economic times, you need DB2 on your side, fighting for you.
Announcer: This ends the debate between DB2 and Oracle. In a moment, George Stephanopoulos will give his analysis of the debates. Right now we're looking at both Debaters, shaking each others keyboards, and being friendly with one another. Maybe they'd interface well using XML or Soap services — we'll have to let time tell the rest of this tale.
ABOUT THE AUTHOR: Andrew Borts is webmaster at United Auto Insurance Group in North Miami, Fla. He is a frequent speaker at COMMON and is past president of The Southern National Users Group, an iSeries-AS/400 user group based in Deerfield Beach, Fla.
---
October 17, 2008 6:13 AM
Or so say the revenue figures from the IBM press release on the matter, which came out late yesterday.
As I wrote yesterday before the revenue numbers came out, this was precisely the reason why Ross Mauri, the Power Systems general manager, came out with an open letter to the System i community. Remember: that 82% drop compares all System i servers from the same quarter last year to pre-Power6 System i servers this year.
The "converged System p" revenue — which compared Power6-based servers running AIX and IBM i to the traditional System p servers of the same fiscal quarter last year (which didn't run IBM i) — increased 7 percent. It remains to be seen whether IBM will continue to call the platform the "converged System p," or just go to "System p" or "Power Systems."
Either way, we have two more fiscal quarters of IBM doing this sort of comparison, and then most likely System i revenues will no longer be part of their quarterly announcement.
---
October 16, 2008 8:23 AM
Using DB2/400 for MySQL: Alex Woodie at IT Jungle said sources have told her that IBM is working on developing DB2/400 to power MySQL, the open source database. According to the article: "When complete, the new software will enable organizations that run PHP applications running on MySQL on i OS to access data stored in DB2/400, the i OS's native database, without modifying MySQL or PHP." I'm sure the YiPs are happy about this.
New IBM storage options for System i: The System Storage 7214 Tape and DVD Enclosure Express works with Power systems running i5/OS V5R4 and IBM i 6.1, as well as AIX and Linux. The 7214 "allows users to externally connect one or two DAT, LTO, or DVD drives to Power Systems servers via SAS connections" and "is designed for use where there is no room for additional storage in the server's internal bays, and where space is limited or non-existent in rack-mounted servers."
Blade servers and IBM i 6.1 get friendlier: IBM will now pre-install IBM i 6.1 and pre-configure the Virtual I/O Server (VIOS) on JS12 and JS22 blade servers. VIOS has been a hindrance to some System i shops looking at blades, as "a company that bets its business on midrange platforms can't pay a premium for blades, shift to VIOS, and move to i 6.1 all in one step. Especially when it is so hard to set up." Now, hopefully, it is a little easier.
---
October 16, 2008 8:07 AM
Mid-deranged.com has a new satirical article up on its site: "IBM Announces the New Power 995 Server." Some tidbits:
With unrivaled power, it can perform an infinite loop in under 4-seconds and requires two HALT instructions to stop it.
It's kind of big, though:
At 900 km (550 miles) in diameter, the IBM Power 995 must be deployed in a low-earth orbit and requires a 12-year lead time before orders of this product become operational.
And talk about power and cooling issues to deal with!
Powered by an array of 12 nuclear reactors generating up to 25 gigawatts of power, the IBM Power 995 can run continuously for 97 years.
---
October 16, 2008 7:58 AM
Ross Mauri, the general manager of IBM Power Systems, recently wrote an open letter to the System i community. The point of the letter was to update System i users on the state of the platform, and perhaps to ease some of their fears.
First, the push toward Power6 servers: "In 3Q08, we expect that the majority of IBM i shipments will be on POWER6 processor-based Power Systems, and, as a result, the older System i servers based on POWER5+ technology are gradually being withdrawn," he wrote. "We expect to complete this transition by the end of 2008."
Mauri continued in that vein but took it to the software side, writing that all the old System i, iSeries and AS/400 applications will be supported on the new Power servers. Nothing too new there, although it may be a relief to some.
There is also some talk in there about IBM i 6.1, and how the next version will be out in 2010 and is being developed in concert with users through groups like Common.
The letter is worth reading, although reception hasn't been too fantastic. David Vasta over at IT Knowledge Exchange said:
I have read the letter and it seems very dry and blah. I don't think Mr. Ross Mauri gets it. I may be wrong but seems like they are still thinking about each OS as a platform and not as one Platform and many OSes.
Others, such as IT Jungle and the System i Network, have speculated that Mauri came out with the open letter to calm fears from System i users who have seen revenue numbers from IBM. We wrote about this back in August when IBM reported second-quarter figures. In short, IBM started talking about a "converged System p" platform, which includes Power6-based servers running AIX and IBM i. That number was up big, in part due to the fact that it was compared to the previous System p line, which didn't run the System i operating system. Meanwhile, the System i number, which only included older System i servers prior to Power5, dropped off.
Expect those same kind of numbers this week when IBM announces its third-quarter revenue numbers.
---
October 7, 2008 1:47 PM
Last week the private equity group Audax purchased antivirus specialist Bytware, Inc. The Audax Group owns Help/Systems and also recently purchased PowerTech.

Chris Maxcer shares his opinion on the consolidation of i vendors, and the private equity ownership model in his recent blog post.
If you believe that competition brings innovation, then the Bytware, PowerTech, Help/Systems trifecta means you've got "competing" security solutions all owned by the same company, which means there isn't any real competition between those three companies. You can't fake competition.
However, Maxcer doesn't touch on the possibilities of open source solutions adding to the competitive marketplace of the i market. As the YiPs recently shared, interest in open source options for i is growing.
Nicolaas Vlok, CEO of Vision Solutions shared his opinion about the acquisition of PowerTech by Help/Systems in a recent interview:
"I think it's a pretty good business decision," shared Vlok. "I still believe from a software perspective that it's a market worth investing in and expanding with specifically infrastructure-related software. In the i marketplace, most people looking in the 3-5 years can see an expanded opportunity with i and p."
Maxcer pointed out that Vision is also a private-equity-owned company, but posits that this hasn't necessarily negatively affected the innovation in the Power and i world.
Private equity company Thoma Cressey Bravo owns Vision and brokered the deals that led to the acquisition of iTera and Lakeview Technology. Is the System i industry any worse off with a consolidated power player–Vision–instead of three solution providers trading punches and customer contracts? In fact, a larger, more stable company may be better for customers than when one of three might bite the dust entirely.
What do you think? Is open source the answer for innovation woes? What are your concerns?
---