---
June 25, 2009 1:25 PM
Here are the top concerns of European System i users, according to a survey taken by COMMON Europe:
Satisfy internal customers
Treat data security and confidentiality as a business risk
Improve IT security and...
June 25, 2009 1:21 PM
Western Power Sports reworked its online presence using Web development tools on the System i, a move that has increased online sales of its power sports equipment fivefold. Prior to the project, the Boise, Idaho-based company was only generating about 10% of...
---
June 25, 2009 12:50 PM
Midrange.com has four YouTube videos embedded in a post on the benefits of IBM's Dynamic Infrastructure. The videos are of various System i personalities riffing on how cool the platform is. The videos were reportedly taken...
---
June 25, 2009 12:44 PM
I just saw this job posting on midrange.com: Psychiatrist, American Hospital Service Group. The description: "Great opportunity to work for your country as a psychiatrist. Candidate must have 2yrs experience and will...
---
June 25, 2009 12:35 PM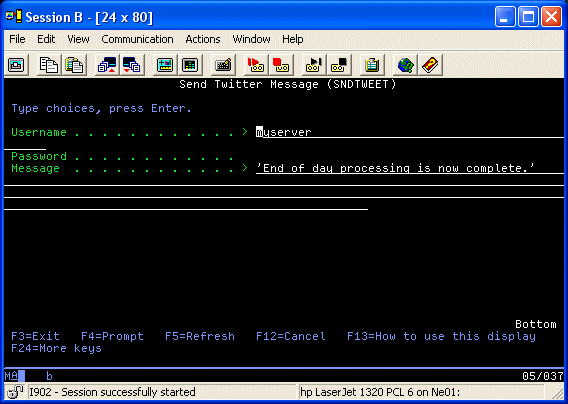 Usually when I...
---
June 23, 2009 4:17 PM
Beyond the world of IBM i, the hottest topic in IT right now is "Cloud Computing," which is essentially a mix of platform and software-as-a-service (PaaS and SaaS) offerings that are available on-demand. So it was with a little amusement...
---
June 9, 2009 3:17 PM
Big Blue has slashed prices for most of 20 different upgrades on Power Systems, some by as much as 54%. Some of the upgrades include moving from a Power 5+ processor to a Power 6, and adding memory. There are two upgrade changes that are price increases. The
---
June 8, 2009 5:59 PM
IBM System i high availability software vendor Vision Solutions is now offering a host of courses on the System i platform and high availability. The great majority of them are related to Vision products like iTera, Mimix and Orion, but there is one introductory course on the i5 operating...
---
---