---
October 30, 2008 10:18 AM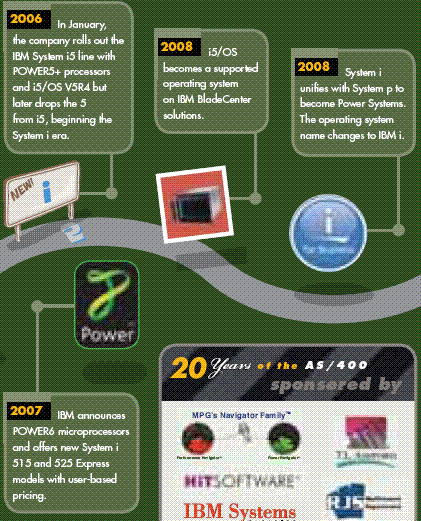 Wow, that's a mouthful. Anyway, IBM Systems...
October 30, 2008 10:02 AM
Tom Jarosh, the former general manager of IBM's AS/400 line (when it was still called that), died Oct. 17 from melanoma. He was 55. Jarosh worked as the GM of the AS/400 line until October 2000, when he moved into other positions within IBM's server and technology group. I personally never spoke...
---
October 21, 2008 11:12 AM
This fall we have been examining the power of DB2. Andrew Borts first wrote about what DB2 does on the AS/400. And Joe Pluta contributed a well-received
---
October 17, 2008 6:13 AM
Or so say the revenue figures from the IBM press release on the matter, which came out late yesterday. As I wrote yesterday before the revenue numbers came out, this was precisely the reason why Ross Mauri, the Power Systems general...
---
October 16, 2008 8:23 AM
Using DB2/400 for MySQL: Alex Woodie at IT Jungle said sources have told her that IBM is working on developing DB2/400 to power MySQL, the open source database. According to the article: "When complete, the new software will enable...
---
October 16, 2008 8:07 AM
Mid-deranged.com has a new satirical article up on its site: "IBM Announces the New Power 995 Server." Some tidbits:
With unrivaled power, it can perform an infinite loop in under 4-seconds and...
---
October 16, 2008 7:58 AM
Ross Mauri, the general manager of IBM Power Systems, recently wrote an open letter to the System i community. The point of the letter was to update System i users on the state of the platform, and perhaps to ease some of their...
---
---
October 2, 2008 9:42 AM
Like "jumbo shrimp" and "small fortune," one would probably think that "new RPG users" is an oxymoron. And if we expand that out more -- "new RPG users on the System i" -- well, that makes it seem more like one. But that may not be the case. The folks at
---
October 2, 2008 9:08 AM
Oracle has updated its JD Edwards ERP software, including additions EnterpriseOne and World on the System i. The EnterpriseOne changes include a new user interface for its Tools portion to jibe with all the other Oracle interfaces,...
---