---
February 20, 2008 8:37 PM
This video has been making the rounds a bit, but I still thought it would entertain readers here if you haven't seen it. Aaron Bartell is a pretty well-known RPG programmer in the System i world. It looks like Bartell had a little too much coffee...
February 20, 2008 7:21 PM
Zend now has software in beta called the Platform 5250 Bridge that basically allows you to use this interface: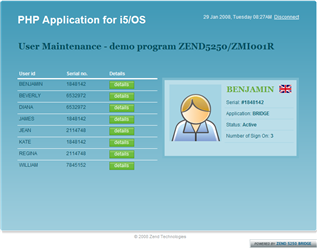 ---
---
---
February 6, 2008 11:31 AM
Lee Kroon, a well-known columnist and consultant on System i enterprise resource planning (ERP) applications and especially J.D. Edwards, posted a blog earlier this week on The J.D. Edwards Advisor about how
---
February 5, 2008 10:19 AM
The iSociety group, which serves as a MySpace-like site for IBM System i users, is holding yet another "fireside chat" this week. The transcript will likely be up at the iSociety chat...
---