---
January 24, 2017 4:05 PM
connected
,
Consumer IoT
,
Internet of Things
,
iot
,
IoT applications
,
Smart bulb
,
Smart Device
,
smart home
Ninety-nine percent of appliances and devices in the home are not connected. Today, you have no idea if the HVAC is working efficiently, let alone if it is about to breakdown. Ditto for your hot water heater, washer, dryer, dishwasher, etc. The failure of any one of these appliances is a major...
December 15, 2016 10:53 AM
Data analysis
,
Data Analytics
,
Internet of Things
,
iot
,
IoT analytics
,
smart home
With all the talk of the internet of things, it seems everyone is scrambling to jump on the IoT bandwagon. Companies are connecting products to the internet because they can. The question is: why do that if there is no additional value by being connected? Taking it one step further, we are...
---
---
---
---
November 7, 2016 1:49 PM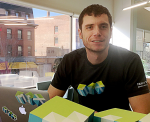 Profile: Kenn Harper
Data Management
,
Developers
,
Internet of Things
,
iot
,
smart home
,
voice
,
Voice platform
,
Voice recognition
When is a refrigerator more like a cash register? These words may sound like the beginning of a children's riddle, but as the proliferation of smart devices continues into the marketplace it becomes abundantly clear that for many foreseeing corporations these simple words accurately describe a...
---
November 4, 2016 11:11 AM
consumer devices
,
consumers
,
Internet of Things
,
iot
,
smart home
When it comes to adoption of new products and technologies, there is often a chronological lag between perceived mass-market readiness and reality. Cloud, mobile apps and big data all fell into this category before indeed becoming an integral part of our lives, and it is a storyline currently...
---
---
October 13, 2016 11:03 AM
Amazon
,
Apple
,
cloud
,
Cloud platform
,
Internet of Things
,
iot
,
smart home
The IoT space is expanding to provide more targeted service offerings with vertical-specific capabilities, such as predefined reference applications, data algorithms, mobile apps and business intelligence...
---
---