---
September 13, 2018 3:49 PM
Blockchain
,
Consumer IoT
,
Customer satisfaction
,
Enterprise IoT
,
Internet of Things
,
iot
,
IoT applications
,
IoT data
,
Transparency
,
transparency and accountability
,
trust
The rise of internet-connected devices entering into the IoT market holds the promise to transform homes, cities and lives. It also invites a plethora of challenges when it comes to consumer privacy and data protection — particularly in the wake of GDPR and the recent scandals plaguing social media, credit bureaus and other "advocates" of consumer information.
There is hope though — and it could sit with the controversial offerings within blockchain. For some, blockchain is the disruptive technology that promises to solve transparency problems by creating one version of the truth; for others, it is all hype with no great real-world application other than cryptocurrency. The transparency of a blockchain exists due to its ability to "see" the holdings and transactions of each public address that are opened to multiple users or systems, working as an active distributed ledger. Ultimately, blockchain enhances the interactions between vendors, partners and customers across the chain of consumption.
According to a recent Deloitte survey, 74% of major companies across seven countries are shifting their momentum to blockchain technology and its practical application in business. It is expected that the rising adoption of blockchain by corporations will boost growth of its application in various industries. What is making this technology even more appealing is its seamless ability to pair with IoT technology.
Blockchain and its potential with IoT technology
As IoT applications are by definition distributed, it is only natural that the two will play a role in how devices will communicate directly between each other. In fact, the convergence of blockchain and IoT is on the agenda for many companies and there are existing implementations, systems and initiatives in several areas outside of IoT and financial services too. According to IDC, by 2019, 20% of all IoT deployments will have basic levels of blockchain services enabled.
To illustrate the benefits of blockchain and IoT convergence, IBM gives the example of complex trade lanes and logistics whereby smart contracts can follow (and via blockchain technology register), everything that has happened to individual items and packages. Large-scale organizations such as SAP and Deloitte have even partnered up participating in a blockchain co-innovation initiative, making the digital ledger system an integrated part of IoT, manufacturing and digital supply chain systems by way of the SAP Cloud Platform Blockchain service.
Using blockchain for your IoT data offers new ways to automate business processes among your partners without setting up a complex and expensive centralized IT infrastructure. This also adds additional benefits that include audit trails, accountability, new forms of contracts and speed, to name a few.
Blockchain and IoT: The customer experience dream
So how does this all impact the actual consumer and the overall customer experience (CX)? Blockchain offers the chance to change CX for the better — improving access for disadvantaged customers, making businesses more accountable and increasing security in all kinds of business-customer interactions.
IBM's recent collaboration with the jewelry industry demonstrates how businesses are utilizing a blockchain network to improve the customer experience. The release of TrustChain, a collaboration between IBM and a consortium of leaders in the gold and diamond industries, offers customers the ability to track and authenticate their jewelry purchase, from mine to market. For enabling message exchanges directly to the customer, IoT devices are used through smart contracts. These are modelled to monitor the agreement between the two parties and notify the end user when each transaction or exchange from one vendor to the next has been completed.
The quest to bring full transparency to the consumer in a digital approach is not specific to just the jewelry industry; in fact a study by Label Insight found that 73% of consumers say they're willing to pay more for a product that promises total transparency. Providing consumers transparent insight from manufacturing practices to accounting details are all critical when looking to enhance the overall customer experience and retain loyal customers. TrustChain serves as a proof point of how transparency and technology meet to provide the ultimate customer experience.
The future looks bright for customer success
Business and technology leaders have the opportunity to become more engaged and open with their customers through the influence of blockchain and IoT systems. The two together complement their core functions and offer an ethical approach to business while also enhancing the customer journey.
Organizations now have the opportunity to reconsider traditional business processes from their foundations and employ blockchain to create a fair and compliant supply chain. Today, there are already a lot of examples where blockchain and IoT technology is being used across different industries for different applications. For example, blockchain technology is already being used for charity donations, voting systems, HR processes and retail interactions — all of which are making the customer interaction seamless and safe.
Blockchain with IoT adoption allows businesses to demonstrate a heightened amount of transparency which is enabling organizations to build a new type of relationship with their customers — one built upon core values of security, fairness and equality. Blockchain could even create an entirely new era of customer expectation: the expectation that customers should be treated fairly by the businesses they spend their money with — and what's more, that the blockchain itself can act as a guarantee for that fair treatment.
All IoT Agenda network contributors are responsible for the content and accuracy of their posts. Opinions are of the writers and do not necessarily convey the thoughts of IoT Agenda.
September 13, 2018 1:50 PM
Cellular
,
Connectivity
,
Internet of Things
,
iot
,
IOT Network
,
LoRA
,
LPWAN
,
MNO
,
MNOs
,
mobile network
,
monetisation
,
Network operations
,
platform
,
platforms
,
revenue
,
Wireless
So much for the hype. There was — and still is — quite a lot of bullish news about IoT being the next big thing for mobile operators. Some even claimed that IoT would overshadow the mobile phone business. That has not materialized. Most operators find IoT a major challenge at best, a loss-making venture at worst. There is very little evidence to support that initial bullishness.
An analyst outfit, Analysys Mason, recently noted how shy operators were to report their IoT revenues. According to the report, only Telstra, Telefonica Vodafone and Verizon reported IoT earnings — and even from that, it only made up 2% of total revenues. The analyst leading the research, Tom Rebbeck, quite rightly pointed out: "For a segment that is supposedly key to future growth, operators are remarkably shy about providing progress updates."
Show me the (IoT) money!
If mobile operators are serious about securing IoT revenues, there are three areas to hone in on:
Connectivity: Traditionally, the first stop for operators with a robust network. This can build customer loyalty and potentially give operators a fighting chance when competing with unlicensed spectrum technologies.
Platform provider: Mobile operators have the capability, thanks to network fragmentation, to provide APIs that can interact with devices, automate orchestration, conduct analytics and manage policy.
Vertical solution provider: The all-encompassing option. Operators provide a vertical edge for IoT use cases that include the solution, application, connectivity, provisioning and servicing. This is arguably an uphill struggle for most operators as it can consume considerably more resources when catering to almost every industry.
So, which of these three options best suit operators? It is a mix and match. Connectivity is why mobile operators are in the business, but it is arguably the option that delivers the lowest ARPU. It is time for operators to consider the platform approach, i.e., delivering an IoT system for developers, end-users and so forth with robust connectivity.
Build it — but they may not come
Starting with a platform, however, does not mean putting in place the architecture and then expecting users to come. This is not a "build it and they will come" scenario. To succeed in the world of IoT, operators need to adopt a mindset similar to cloud-native OTTs that places developers at the center of the ecosystem.
OTTs have cultivated a loyal developer following by providing them with easy and flexible access to the public cloud. Operators must replicate and fine-tune this strategy if they are to succeed in IoT. How can they do that? By also using their most valuable asset — connectivity — with an IoT platform.
Currently for connectivity, low-power wide area networks (LPWANs) such as LoRa and Sigfox operate over unlicensed spectrum. Private IoT networks have the capability to connect thousands of devices — at low cost. The number of IoT use cases for operators is limited. 3G and 4G LTE, operating over licensed spectrum, can support long-distance data transfers with low latency, robust quality of service and deliver reliability. The use cases for cellular IoT include connected cars, in-home security and smart meters. For operators to recuperate their investment in IoT and keep their bottom line in the black, these use cases have to be peddled in large volumes. And IoT connectivity pricing is a race to the bottom — reminiscent of the early internet dial-up prices of the nineties and noughties.
Connectivity is a double-edged sword
At its height, ISPs who touted dial-up connectivity earned good profits, but that did not last long. That quickly changed with Web 2.0 and a new wave of internet technology that made connectivity cheaper. Moral of the story? Connectivity alone is not a viable long term strategy for revenues. Just look at AOL's market value from its heyday to now.
History can easily repeat itself. Mobile operators will need to transform themselves from mere IoT network connectivity providers to network solution providers. The transformation will require agility, not just at the technology level, but even in operations. That means being flexible to both developers and IoT product and network providers. Yes, as platform providers mobile operators will be competing with the likes of AWS and Azure — but at the moment, operators are losing the battle to monetize IoT. If you can't win, it is time to mimic your competitor's strategy and fine-tune it to perfection.
All IoT Agenda network contributors are responsible for the content and accuracy of their posts. Opinions are of the writers and do not necessarily convey the thoughts of IoT Agenda.
---
September 13, 2018 11:02 AM
"diversity in tech"
,
accessibility
,
ai
,
Blockchain
,
Consumer IoT
,
Diversity
,
Enterprise IoT
,
ethical
,
ethics
,
Internet of Things
,
iot
,
IoT analytics
,
IoT data
,
Workflow
The global business community has a massive opportunity to innovate enterprise and consumer products, platforms and devices connected to the internet of things. Most importantly, we can do so in a more thoughtful, inclusive and efficient way than previous industrial innovation cycles that favored cities over rural areas or one group of people over another. The internet of things, in particular, is quickly becoming an integral data collector and creator fueling automated technologies like artificial intelligence and connecting enterprise platforms to critical information. That's why I believe the boardroom needs to get involved, take control and establish a practical business solution for ethically and responsibly developing IoT technologies from the beginning.
As web-connected products, like fridges and lighting systems, expand further into mainstream workplaces and homes, the tech and enterprise community will need to ensure fundamental misfires of previous innovation cycles, like leaving the door open to biases and security risks, are not repeated with new IoT-linked things. To avoid doing so, they should consider adopting frameworks that guide development and deployment of IoT-linked systems sending and receiving data signals that inform enterprise operations.
Here are some guiding principles for creating accessible enterprise IoT technologies that places a premium on ethics and inclusion.
New IoT technologies should produce data that reflects the diversity of its users
In order to develop inclusive products that resonate across a global user base, we need IoT-linked technologies that create diverse datasets and sources that connect to the broader digital enterprise. That means that as an industry and tech community we must build effective mechanisms into the fabric of end products and human-driven processes that filter or correct bias in all its forms. We need to eliminate any biases derived from the source data generated by IoT to ensure technologies and platforms do not perpetuate human stereotypes. Any IoT-linked product or platform delivering biased or unchecked datasets to enterprise endpoints could end up becoming socially inappropriate when deployed into the world, or useless to the users it is designed to serve.
IoT-linked workflows must be held accountable for outcomes
Technologies and the platforms that run on them should be held to the same performance standards as people operating in identical sectors. People that interact with innovations running on IoT actually start to trust them after just a few meaningful, seemingly successful interactions. Consequently, IoT-linked systems operating in the enterprise need to be held accountable for the decisions made based on the data signals they generate in a similar fashion to human counterparts. After all, the business world does not accept unruly behavior from human professionals, and we cannot make exceptions for technology.
Businesses — especially enterprises — need to lay the foundation for every new IoT-linked system that hits the market to be transparent and accessible. Companies need to take the lead on educating people about how IoT-linked products and platforms work for every step of customer adoption journey. Further, executives will increasingly need to take ownership of IoT's impact on humanity — as well as consumer awareness of its potential value to society.
IoT-connected systems should make workplace opportunities more accessible
IoT, along with associated technologies like AI and blockchain, provides a clean sheet to democratize access to data, technology and opportunities in the workplace. Voice technology built as the user interface for IoT-linked systems and other platforms provides newly accessible technologies for achieving workplace productivity and equality — notably for people with sight or hearing impairments, learning challenges and limited mobility. Businesses need to accelerate the development of these technologies in order to level the playing field and broaden previously unattainable career opportunities to wider groups of people.
To fully prepare for an ethical, IoT-connected future, the essence of our success will be education. We need to retrain the human workforce to better understand IoT-connected technology and pivot human skills to embrace new workflows presented by data-driven enterprise systems. We need to develop skills that focus on applying creativity, empathy, judgment and emotional intelligence to technologies — working in perfect harmony with human counterparts in an increasingly automated environment. But the heart of our success in this field will lie with young people, by ensuring that we create and fill the IoT and technology development talent pipeline for the future. We need to educate more young people — as well as current members of the workforce — that IoT-connected platforms and products that generate and run on inclusive data will actually improve our work and personal lives.
All IoT Agenda network contributors are responsible for the content and accuracy of their posts. Opinions are of the writers and do not necessarily convey the thoughts of IoT Agenda.
---
September 12, 2018 3:21 PM
Customer satisfaction
,
Edge computing
,
Infrastructure
,
Internet of Things
,
iot
,
IoT analytics
,
IoT data
,
Network infrastructure
,
User experience
Historically, data centers have conjured images of huge structures in remote locations with countless rows of servers that stretch into the horizon. Today, data is being processed and actioned on the edge in many unlikely places, including cars, drones, refrigerators, washing machines, fitness devices and even in pet collars. This is a natural outgrowth of IoT, which is capturing tantalizing information of a variety, volume and speed we've never seen before.
Yet, reaping all the advantages of connected devices depends on the ability to analyze and action this data in real time to deliver exceptional customer experiences. And this requirement is bringing companies to the edge.
A move toward the edge
Edge computing is where the processing and actioning of the data happens at the collection source, instead of moving data to the data center or public cloud. This significantly improves processing times and reduces consumption of cross-network bandwidth. The result is insight with an extremely low latency and enhanced reliability because an offsite data center does not need to be accessed for each transmission.
There's no question that the modern enterprise architecture must be built on cloud and edge computing. Fundamentally, however, the biggest outcome of edge computing is less about technology and more about improving, and reimagining, the customer experience.
Ingredients for a modernized enterprise infrastructure
Enterprises have no bigger priority today than to deliver seamless, amazing experiences. To achieve this, they must implement two ingredients to modernize their infrastructure: real-time decision-making and a central profile to store the data. Edge computing is the backbone of all of this.
Decision-making goes hand-in-hand with moving the computing to where data is generated. Tangible value results when decisions are made in real time, in the moments that matter.
And disparate data must be pulled into a single, unified profile in the cloud that connects enterprise systems, such as marketing data lakes, CRM and ERP. This informs decisioning at the edge where experiences are delivered and provides a full view of the customer and delivers a personalized, connected experience.
Consider brick-and-mortar retailers, who are in constant search of innovation to battle online competitors. Already, retailer warehouses are including out-of-the-way server closets that hold the infrastructure and applications to process supply chain information in real time, reducing the risk of out-of-stock merchandise that so irritates shoppers. Edge analytics also will allow retailers to better understand the customers who are prowling the aisles, so they can be sent targeted advertisements or have interactive displays change right before their eyes based on their interests.
The result is a vastly improved shopper experience tailored to each individual — made possible with centralized, unified customer data and decisioning on the edge. This is virtually impossible to achieve in the submillisecond response time that consumers demand if the data has to be sent back and forth to a data center. For example, if a retailer fails to respond to a shopper instantly, the engagement opportunity and therefore the conversion and revenue will be lost. Today's digital savvy consumers have limited attention spans and high expectations, so it's critical that brands capture their interest in real time.
The business need for innovation
Retailers aren't the only ones pressing for innovation. Two-thirds of organizations are adapting their technology strategy because of unprecedented global political and economic uncertainty. Digital strategies are being embraced by businesses at an entirely new level.
As enterprises become more data-centric, they are shifting from traditional business intelligence and reporting (understanding what happened) to predictive analytics (understanding what will happen), along with recommendations for the next best action. This requires taking digital strategies, then making transforming investments in a central record and using edge computing.
This innovation is not only improving the customer experience, but changing how companies view their products and services. Consider an exercise device used by multiple users in a home, like a stationary bike. Exercise can be transformed from a chore to a fun activity if each family member enjoys personalized experiences in real time. With edge computing, fitness companies can forge a deeper connection with customers by suggesting stretches or making nutrition recommendations, for example.
Edge computing will transform the customer experience
With Gartner expecting more than 20 billion connected devices to be in place by 2020, companies across industries must continually rethink how they collect, augment and use their vast data stores.
The rise of edge computing, coupled with a single view of the customer, will empower organizations to harness all this data to engage with customers in a matter of a submillisecond — they can anticipate and respond to individuals' every need in an instant. This is the key to delivering the next generation of digital experience and positively impacting brands' bottom line.
All IoT Agenda network contributors are responsible for the content and accuracy of their posts. Opinions are of the writers and do not necessarily convey the thoughts of IoT Agenda.
---
September 12, 2018 12:17 PM
AES
,
Cryptographic encryption
,
Cryptography
,
Decryption
,
Encryption
,
Internet of Things
,
iot
,
IoT applications
,
IoT devices
,
iot security
,
security in IOT
,
White box
In some IoT applications, devices such as RFID tags, sensors, contactless smart cards and medical devices, have only limited computational capability because of cost or power reasons. Yet, security is still a critically important requirement, and cryptography is a basic building block that needs to be supported now and in the future as companies' critical infrastructure of IoT ecosystems expand. Traditional cryptographic algorithms, such as Advanced Encryption Standard (AES), may require more computational power than these kinds of devices can support. Thus, there has been substantial interest in recent years in lightweight cryptography.
Enter Speck, a family of lightweight block ciphers publicly released by the National Security Agency in 2013. It has been optimized for performance in software implementations while its sister algorithm, Simon, has been optimized for hardware implementations. Speck is a simple add-rotate-xor (ARX) cipher that can have anywhere from 22 to 34 iterations of functions that repeatedly scramble data to secure and support a variety of block and key sizes.
Speck is not without controversy. The NSA attempted to standardize these ciphers in 2014, but withdrew its submission last year after delegates from Germany, Japan and Israel went to the International Organization of Standards to express concern over the NSA's motives and were suspicious that the NSA had engineered backdoors into the cipher. For certain applications, where such concerns don't apply, Speck is still an excellent choice for a lightweight cryptography cipher. The algorithm has been extensively studied in the academic community, and to date no viable attack has been found.
Those familiar with white-box cryptography understand that white-box implementations of cryptography impose both computational and memory overheads to a cryptographic implementation, potentially undermining the goal of being lightweight. White-box algorithms rely on large numbers of table lookups and code transformations to ensure that encryption keys are never revealed in the clear, even while they are being used to encrypt or decrypt data.
However, there are two reasons why you might be interested in a white-box implementation of the Speck lightweight cipher.
The first reason is that it is a lightweight white-box algorithm compared to, for instance, AES. So, if white-box protection is a core requirement and you are trying to minimize the computational and memory footprint, white-box Speck might be a good choice. Compared to a white-box AES implementation, a white-box Speck implementation is about eight times faster and somewhat smaller. However, in many applications the footprint is an issue, and Speck could be a feasible option that would meet the specifications of the device.
Second, IoT devices often are part of a broader ecosystem. Although the IoT device itself might even lack resources to implement lightweight white-box cryptography, it may need to share information encrypted with a lightweight cipher or communicate securely with other devices that don't have such constrained performance requirements. Those devices may be under different threats that white-box cryptography can mitigate.
Consider a medical device that may have severe computational restrictions, such as a glucose monitor. The device itself might run Speck directly to encrypt blood sugar information and communicate that to a smartphone so that users can track their health statistics conveniently. The smartphone can use a white-box implementation of Speck to handle that sensitive data on the phone. The same holds true for handling sensitive data within one's burgeoning home IoT ecosystem.
These are just some of the many examples where lightweight cryptography will play an increasingly important role in securing the internet of things across industries and inside our personal dwellings. We're just scratching the surface.
All IoT Agenda network contributors are responsible for the content and accuracy of their posts. Opinions are of the writers and do not necessarily convey the thoughts of IoT Agenda.
---
September 12, 2018 11:23 AM
Data Analytics
,
Digital transformation
,
Internet of Things
,
iot
,
IoT analytics
,
IoT applications
,
IoT data
,
Machine learning
Businesses everywhere are digitizing their architecture in a bid to improve efficiencies and customer experience. As part of this process, software systems offer more automated ways of providing value in those situations which once required the physical intervention of humans to make decisions between two or more enterprise systems. Over time, these systems have evolved from creating automated workflows by opening communications paths and integrating different data systems. They have created runtime workflows and, more recently, intelligent workflows, in which some form of machine learning will drive context-specific decisions for the end user.
Consider the purchase recommendations we receive online, based on related searches or recent areas of interest. The technologies that underpin these are largely limited to specific exchanges and experiences within a particular vertical or use case; humans are still heavily involved in coordinating and driving decisions.
Machine learning, combined with workflows, will soon be able to make decisions for users based on profiles and interests. This is an example of ambient computing, in which independent software systems communicate across various contexts, protocols and systems to transfer data and orchestrate decision-making at lighting speed. It's likely that, with the widespread adoption of Alexa Echo, Google Home or Apple's HomePod, most of us already have a primitive form of ambient computing in our homes.
The potential application of the technology ranges far beyond consumer-focused ecommerce and virtual assistant capabilities, however.
Ambient computing and IoT
The value of the data created by the billions of connected devices comprising the internet of things lies in the improved business processes that can result from the intelligence and insight it delivers. Integrating this data — and the intelligence its analysis provides — with business processes is key to the successful implementation of IoT systems.
If a manufacturing business, for example, can predict equipment failure based on the information generated by a network of embedded intelligent sensors and algorithms, it will be better able to improve its inventory management, reduce costs and even prevent potentially harmful failures. Today, humans are still required to make decisions — particularly where disparate systems are involved.
Enterprises will enjoy greater value from IoT when these diverse systems are able to communicate using a form of machine learning-based intelligence and canonical data architectures. With the appropriate permissions and security measures in place, accessing and pulling together the relevant information from different applications and platforms will deliver more insightful results. Operators will play a critical role in providing access to a cross-industry set of rationalized information that can be used via cloud-based platform services.
Furthermore, by optimizing the supply chain, ambient computing will play a key role in an organization's digital transformation, which will include the significant benefits to clients that require product performance, availability, reliability for their competitive edge and/or in support of their customers' safety. As a result of this move to intelligent IoT systems to correlate cost, availability and performance data from components and systems from many different manufacturers and operational systems, businesses will be better able to automatically select and purchase the best, most cost-effective parts and provide higher-value services to their clients.
Appreciating value
To enable IoT, ambient computing requires available access to all relevant data, but it is also necessary to translate this data into a form that can be understood across all systems. The provision of layered and rationalized data architectures that can be rapidly accessed across intelligent systems is, therefore, crucial to its success. Business analysts play a critical role in providing the vision necessary to translate the current business process environment into this next-generation automated and intelligent workflow.
However, while the technology may already be available, it will never be fully implemented until businesses appreciate the value that it offers. Most organizations tend to focus on their own business processes. To visualize the potential of ambient computing, and create these next-generation scenarios, they must broaden their gaze to consider what can be achieved across different verticals and their associated systems.
A design for the future
By allowing the simultaneous sourcing of data, either specific to a business or from external sources, ambient computing enables business to improve experience, competitiveness, relevance and customer satisfaction.
Digital design is key to its long-term success in providing the visualization of the end-state value to the business owner. Creating top-down plans, via design-integrated engineering, that incorporate elements such as workflows, integration patterns and, most importantly, a conceptual journey of where the business is now to where it needs to be, will drive the required technology, data and intelligent flows required for ambient computing systems.
Digital transformation is improving efficiencies and experiences across all industries — from consumer online shopping experiences and digital assistants to the efficiency and productivity of automated manufacturing plants using IoT technology. With greater digital design, wider access to data and a standardized understanding of its analysis, as well as, importantly, the buy-in of an organization's stakeholders, we will experience a new wave of value to consumers and enterprises alike that will have a positive effect on our daily lives.
All IoT Agenda network contributors are responsible for the content and accuracy of their posts. Opinions are of the writers and do not necessarily convey the thoughts of IoT Agenda.
---
September 11, 2018 3:05 PM
Bandwidth
,
cloud
,
Cloud connectivity
,
Connectivity
,
Data
,
Hybrid cloud
,
Internet of Things
,
iot
,
IoT applications
,
IoT data
,
Network connectivity
,
Private Cloud
,
Public Cloud
,
Resilience
The importance of connectivity to enterprise IoT applications has increased as application data and computation has shifted toward the cloud. For these cloud IoT applications, architects need to ensure high-quality connectivity as part of the end-to-end design. Fortunately, a wide range of new session-oriented techniques are now available to improve resiliency.
IoT context
Connected devices of all kinds are generating huge amounts of data. Gartner predicts in excess of 20 billion installed IoT units by 2020. While consumer devices, like smart TVs, are the most ubiquitous, business applications will employ 7 billion devices. These enterprise devices range from broadly applicable devices for security systems and building controls to vertical-specific devices, like actuators for manufacturing and sensors for oil wells. All of these devices create a huge amount of data, which has been estimated as high as 847 zettabytes per year by 2021.
Many enterprises associate IoT with broader, digital transformation initiatives. Often in response to threats from emerging competitors, companies are transforming their traditional business processes with digital technology. This can take the form of digital applications which might, for example, optimize asset utilization, reduce energy consumption or improve quality. For many of these use cases, the key elements are the IoT devices. A sensor might provide the data to determine whether an asset is being utilized, and actuators may be used to turn off elements of a plant which are not in use. IoT devices provide the key link to the physical world.
Connectivity importance
The services and applications processing the IoT data can operate anywhere from on site, directly connected to the IoT device, to around the globe, connected to the device over the internet. Certain use cases may require local compute such as latency-sensitive applications or when security concerns might limit the distribution of data beyond a locality. A local approach is often the simplest design which architects employ in the preliminary phase of a transformation initiative. However, many emerging applications are operating or storing data in the public, private or hybrid cloud. These cloud applications are driven by the general trend of IT shifting to cloud infrastructure because of benefits such as reduced cost, flexibility and disaster recovery. For transformation initiatives, especially, business processes often span the entire company, so companies prefer centralized data collection, processing and retrieval.
The importance of connectivity in an IoT application is related to the location of the application data and processing, as shown in the figure below. In the left "Device" extreme, if the data and compute for the application are located inside the device, connectivity is obviously not needed. For example, a traditional programmable, wall-mount thermostat includes a temperature sensor, control wires connected to the heating system and a microcontroller application which operates perfectly fine without internet connectivity. At the right "Cloud" extreme, a remote temperature sensor that streams all data to the cloud without a local interface is useless without a working network connection. As more IoT applications push data to or require compute in the cloud, the importance of connectivity to the remote location increases. If the network quality is poor in terms of bandwidth, packet loss, latency or jitter, then the IoT application can suffer. As enterprise architects develop transformative cloud IoT applications, they need to design for high-quality connectivity from the remote location.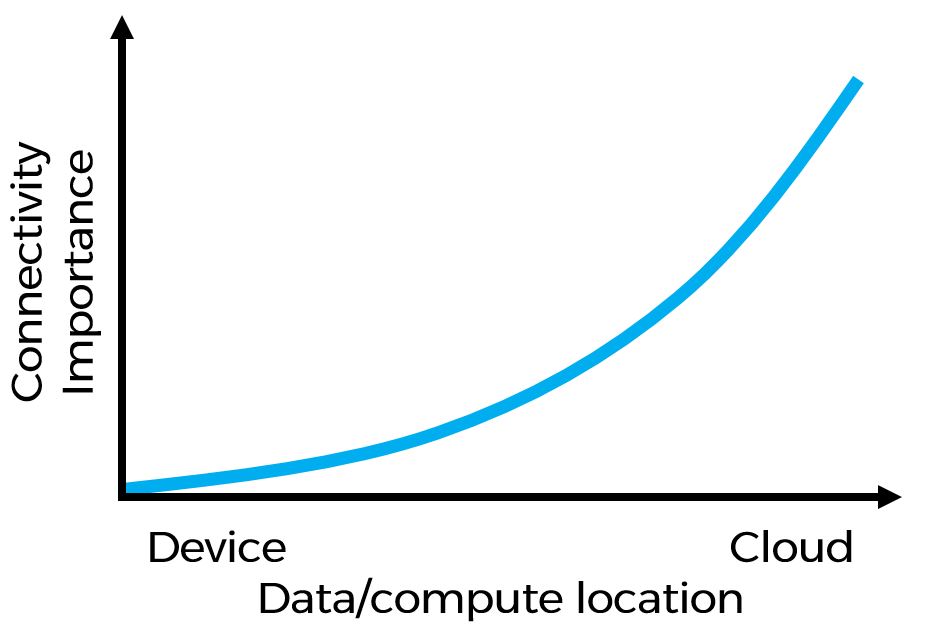 Connectivity resilience
Session-oriented technologies can improve the quality of network connectivity from remote sites or IoT devices to the cloud. Typically, connected devices send data across the internet using standard protocols, creating a session with the remote server. In cases with a single network path to the cloud, session remediation techniques compensate for packet loss and jitter on the intervening network. Session optimization can improve aggregate bandwidth on a high-latency or high-loss path by compensating for protocol inefficiencies. Connectivity quality can be dramatically improved in scenarios where multiple paths are available from the IoT device to the cloud application. Real-time path monitoring techniques measure the quality of all paths on very short time scales, and then multipath routing techniques select the best possible path for a particular application. Once a path has been selected, if a session begins to experience a problem in terms of loss, latency or jitter, session migration can move the active session from one path to another without disrupting the end-to-end application. Together these technologies can make IoT applications resilient.
Network connectivity has become critically important in many transformative IoT applications. Compared to traditional, local applications, the move of IoT application data and computation to the private, public or hybrid cloud makes connectivity far more important to application performance. Recently, vendors have introduced several new technologies which can improve the quality of network connectivity, providing IoT application architects with a powerful tool to ensure digital transformation.
All IoT Agenda network contributors are responsible for the content and accuracy of their posts. Opinions are of the writers and do not necessarily convey the thoughts of IoT Agenda.
---
September 11, 2018 11:53 AM
apps
,
Building
,
commerce
,
Consumer IoT
,
Internet of Things
,
iot
,
IoT applications
,
mobile apps
,
Mobile commerce
,
revenue
,
Smart Building
,
smart city
Anyone who has been to a sports or other entertainment venue recently knows that the trend in arenas and other venues is to move things to digital platforms. Some sports teams don't want fans to use paper tickets at all. And as consumers become more and more used to electronic ticketing, they are accepting other digital processes at these arenas, like mobile ordering and mobile wallets.
As a result of these consumer behaviors, arenas and other venues are using IoT technology to redefine themselves as smart spaces — and encourage frictionless commerce within their walls. What does this mean? And how will these developments drive mobile commerce?
Smart spaces engage guests in new and unique ways, allowing them to personalize and experience their surroundings on their own terms. Part of that experience is simplifying the way visitors order and pay for experiences within the space. For many brands, this might include special offers and incentives for using a mobile wallet within the venue app.
For one great example, we can turn to the Miami Dolphins, a worldwide brand that is using technology to personalize visits to Hard Rock Stadium and drive transactions in the space. During the 2017 – 2018 season, the Dolphins introduced a new feature that allows any fan attending a game to order tailgating supplies right from the team app. During the first season offering this new feature, mobile wallet usage increased 150%.
This approach has enormous benefits to both the consumer and the team. From the consumer perspective, the planning is done for them. They no longer need to run around in the days before the game, purchasing supplies and packing up their vehicle. The team and the venue also benefit by capturing the fans' behaviors and preferences, and encouraging transactions on their platform.
The District Detroit app is another great example of sports and entertainment brands turning venues into smart spaces via IoT and mobile engagement technologies. People visiting a game at Little Caesars Arena, or a performance at The Fox Theater, or just out for the night can find the closest parking lot, purchase their parking and get turn-by-turn directions to the lot and then from the lot to their final destination. A single unified mobile wallet also improves the consumer experience. Using The District Detroit app, visitors can use one mobile wallet to pay for purchases, gain loyalty points and get back rewards.
These brands are not only benefitting from upsell opportunities in the moment, but also gaining valuable insight into guests' behavior. This, in turn, allows them to stay engaged with visitors even when they are not in the venue, offer incentives to bring them back, and then serve up offers that drive additional commerce when they return. IoT and presence are now linked with predictive analytics to anticipate what guests might want to do, eat, drink or buy when they return.
Expect to see the use of IoT technologies continue to explode as entertainment brands see the value in both personalizing the guest experience and understanding what their guests like to do, when they do it, with who and how often, among other measures. The possibilities for engaging fans, guests and visitors with this knowledge are unlimited. And in turn, the opportunities for driving new revenue streams and commerce models look pretty exciting. We are only just getting started!
All IoT Agenda network contributors are responsible for the content and accuracy of their posts. Opinions are of the writers and do not necessarily convey the thoughts of IoT Agenda.
---
September 11, 2018 11:08 AM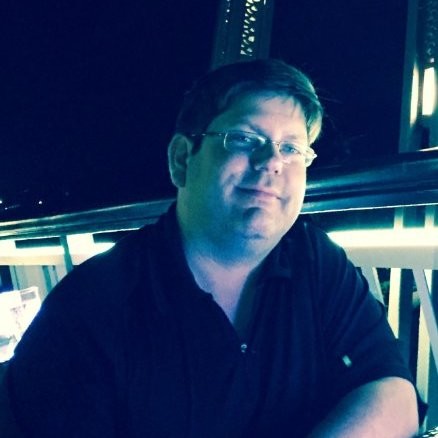 Profile: Tim Sherwood
Anything as a Service
,
Internet of Things
,
iot
,
IoT applications
,
IoT devices
,
MNO
,
MVNO
,
Network as a Service
,
service provider
,
Service providers
Times are changing.
New digital infrastructure and IoT platforms have made it possible for almost any organization to enter the market as an mobile virtual network operator, without crippling capital investments.
Take Philips, a company best known for making lightbulbs, as an example. The connected world enables Philips to combine its lighting expertise with ubiquitous connectivity, allowing customers to create long-term lighting plans, optimize performance and save on energy, maintenance and depreciation costs. By incorporating connectivity to shift from a product sales model to a services model, Philips has essentially become a mobile virtual network operator (MVNO) in its evolution to provide "lighting as a service."
Philips is a great example of the new generation of MVNOs — companies looking to launch and maintain value-added service capabilities that differentiate them in the market. Communications-platform-as-a-service providers have distinguished the new MVNOs from the traditional by offering their services via APIs, which developers use to create IP-based communications services.
The next step in becoming an MVNO is to implement mobile network as a service (MNaaS), which offers a platform for developing and managing cellular connectivity and mobile network policy applications via APIs. MNaaS is unique because it eliminates the need to build and maintain the mobile telecommunications infrastructure; instead, it is integrated with virtualized network capabilities to provide the consumer with greater levels of security, reliability and control.
The MNaaS model is a perfect fit for IoT providers who require embedded connectivity in their smart systems. This approach allows them to benefit from a software-based mobile virtual network enablement model — meaning they don't have to invest in telecommunications infrastructure. They can instead scale up or down as the situation dictates, creating the flexibility needed to serve millions of subscribers, who may be geographically distributed around the world, rather than just a few hundred in a specific location.
The "X as a service" model is in its infancy and its varied impacts on the internet of things could be huge, mainly due to the number of industries that are developing connected systems. With expanded access to connectivity, as well as lower-cost and higher-performance modems, a wide variety of assets can now be upgraded to collect and transmit data. Using AI and machine learning, this data can be turned into useful business insights, leading to more efficient operations and improved customer service. Overall this would give rise to new services, new businesses and new living standards.
In smart city deployments, sensors connected to central control systems allow businesses and municipalities to monitor and create improved access to parking for employees and citizens. Based on the data collected from the sensors, drivers can use mobile applications to access route mapping and real-time views of parking spaces, and use predictive analytics to see what parking spots will be available when they arrive at their destination. Managers can also use the application to manage parking employee assignments at a given location or project site. This type of improved parking situation can also help with traffic flow and reduce illegal parking. So, if you work at a site where parking is limited and you drive laps around your office parking lot or job site just to find a parking spot, this could solve your problems.
Meanwhile in healthcare, networks of connected devices would bring the treatment to the patients' doorstep, rather than making people travel distances to get information about their health. Patients can capture data about their own health via wearable devices and doctors can communicate with patients through a combination of online portals and other IoT devices, which could change the nature of the doctor-patient relationship and the way healthcare information is delivered.
For companies looking to launch an IoT "X as a service," the programmability of MNaaS, via API integration, makes it easier to develop new applications and customer portals. So as an MVNO, you're able to have improved visibility over your service in order to maintain control, enforce key business policies and ensure system security. The result is far greater operational efficiency — as in the case of the parking lot operator or building manager — and faster speed to market. In other words, you end up fitter, leaner and with a competitive edge.
The demand for companies to meet these expectations is only going to grow. A report by RnR Market Research indicates that global analysts expect the "X as a service" trend to grow at a compound annual growth rate of 38% by 2020. The proliferation of the trend opens up a world of new opportunities for businesses to enhance their services and develop new commercial models to boost value for customers.
But to do this, businesses across industries must stay nimble and capitalize on the many opportunities becoming available thanks to the digital platform economy.
All IoT Agenda network contributors are responsible for the content and accuracy of their posts. Opinions are of the writers and do not necessarily convey the thoughts of IoT Agenda.
---
September 10, 2018 2:33 PM
Internet of Things
,
iot
,
IoT applications
,
near field communication
,
NFC
,
UX
,
wireless communication
,
Wireless communications
At the NFC Forum, IoT and the innovation it enables using near field communication is an important focus. So much so that this year, in conjunction with our annual NFC Innovation Awards, we also held an event to highlight the progress of IoT in relation to NFC, the VISIONFC Simplifying IoT Summit.
The summit took a deep dive into the ways IoT is strengthening brands and delivering remarkable customer experiences with the help of NFC technology. With NFC, the integration of IoT for consumers and retailers is simplified. NFC provides an intuitive way for consumers to interact with objects connected to IoT simply by tapping a smartphone to an object, allowing the user to connect on their own terms. With a single tap, users will have access to an expected 36 billion IoT devices by 2020.
VISIONFC Simplifying IoT Summit: How NFC enables IoT
The highlights of the VISIONFC Simplifying IoT Summit were the presentations that described the ways NFC can help enable IoT. Speakers presented on topics from "The ways NFC can streamline the UX of connected objects" to "Smart packaging: Sensing, measuring, monitoring and informing" and everything in between, which gave our audience an understanding of how NFC combined with IoT benefits consumers and retailers. For all of the speakers and topics, view the VISIONFC Simplifying IoT Summit speaker presentations here.
NFC Innovation Award Winners featuring IoT
Following the summit, the NFC Forum hosted the second annual NFC Innovation Awards, where four winners were named in the categories best in-market implementation, best emerging concept, NFC for good" and people's choice. Each of the winners presented innovations that truly displayed the bright future of IoT and how it will be integrated into a variety of different industries to benefit business and consumers. Winners of the night were as follows:
Best in-market implementation — 1TrueID SRL provides anticounterfeiting and traceability technology with the aim to become the first internet book of things. Its offering is the first secure digital identity enabler distributed in a social blockchain environment using technologies like NFC to enable IoT. (Italy)
Best emerging concept — IoTize SAS's TapNLink Instant IoT for Embedded Systems uses NFC technology for on-site maintenance tasks, connecting equipment to smartphone-based user interfaces. IoTize's work enables IoT in all devices by adding NFC capability to any existing items and electronic systems. (France)
NFC for good and people's choice award — eWATERpay uses NFC technology to collect money and dispense water to create sustainable water systems in developing countries. By using NFC to enable an IoT dashboard, eWATERpay successfully provides live updates on usage and functionality of water sources. (UK)
IoT is undoubtedly becoming one of the most important technologies for manufacturers, retailers and consumers alike. With the abilities provided by NFC technology, IoT will be easily accessible for everyone and will redefine how users shop, travel, set up home environments, stay healthy and manage day-to-day life with just one tap.
All IoT Agenda network contributors are responsible for the content and accuracy of their posts. Opinions are of the writers and do not necessarily convey the thoughts of IoT Agenda.
---