Jul 18 2018 2:49PM GMT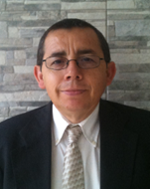 Profile: Francisco Maroto
Tags:
Have you ever thought about how you could make money with the internet of things or artificial intelligence? Or with blockchain? What would happen if you could use the three of them in a new business model? Apparently, success, success and success.
IoT business models
As IoT moves past its infancy, certain trends and economic realities are becoming clear. Perhaps the most significant of those is the realization that traditional hardware business models just don't work in IoT. Take a look at "The top five most successful IoT business models" that have emerged as particularly effective IoT applications.
And if any of you are building an IoT product, "IoT business models for monetizing your IoT product" shows how to make money with IoT.
Zack Supalla, founder and CEO of IoT startup Particle, suggests "Six ways to make money in IoT."
Finally, in "How IoT is spawning better business models," we can read three ways companies like Rolls-Royce, Peloton, MTailor and STYR Labs are rethinking their business models and creating a revolution in the marketplace.
Blockchain business models
It sounds repetitive, but yes, blockchain technology may disrupt existing business models. The authors' findings concerning the implications of blockchain technology for business models are summarized in the following Figure 2.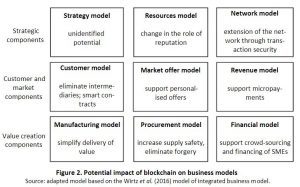 Do you think blockchain will to cut into big-players' revenues? Then "New blockchain-based business models set to disrupt Facebook and others" is for you.
If you are ambitious and planning to build a viable business on blockchain, then read "Building an international business model on blockchain."
I am also an advocate of the coming era of decentralization — at least in my most optimistic version — and blockchain is a step to create value when the "end of all corporate business models" arrives.
AI business models
Companies from all industries, of all shapes and sizes, are thus faced with an important set of questions:
Which AI business models and applications can I use?
What technologies and infrastructures are required?
It seems that we all are convinced that artificial intelligence is now the most important general-purpose technology in the world, and that it can drive changes to existing business models. Not surprising, then, that "AI is revolutionizing business models." The "data trap" strategy, in venture capitalist Matt Turck's words, consists of offering — often for free — products that can initialize a data network effect. In addition, user experience and design are becoming tangibly relevant for AI, and this creates friction in early stage companies with limited resources to be allocated between engineers, business and design.
This article introduces some good examples of AI business models.
New business models with the intersection of IoT, AI and blockchain
With IoT, we are connecting the digital to the physical world. Connected objects offer a host of new opportunities for companies, especially in terms of creating new services. The amount of data generated by the billions of connected objects will be the perfect complementary feed to many AI applications. Finally, blockchain technology can be used to secure the internet of things and create smart contracts in a decentralized infrastructure that boost the democratization of technology and creation of sustainable communities.
You must remember that new business models that include IoT, AI and blockchain need, among other characteristics, volume and scalability. Volume of devices, volume of data, volume of customers, volume of developers and powerful ecosystems to escalate.
Good luck in your search and implementation of your new business model.
Thanks for your likes, comments and shares!
All IoT Agenda network contributors are responsible for the content and accuracy of their posts. Opinions are of the writers and do not necessarily convey the thoughts of IoT Agenda.