Oct 22 2009 10:50AM GMT
Tags: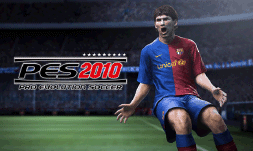 Over the past couple of years, Fifa has stolen a march on PES and in 2009 it looked to have completely overtaken them. But in 2010, Konami looked to have turned it around.
Menu
The menu has got a complete overhaul and needed some getting used to. It's a lot more creative than 2009 and really jumps out at you. It's edgy and clean. It's not extremely intuitive but not bad enough to put you off.
Playability
This is where the romance started. Slick, realistic and beautiful. I struggled with 2009 and it took a while for me to enjoy it properly but 2010 has got me jumping like mad when I score a goal. The realism is incredible and things like the intelligence of my full backs overlapping is a joy to behold. You can see attacks unfolding when you get possession.
I love the way the players seem to be proactive as well as reactive. You can see players anticipating what will happen before it happens.
I was playing with Arsenal and, it might not sound like a big deal but, the way the players broke when Liverpool's attack came apart was majestic.
Graphics
The graphics are much improved. Face detail and expressions are extremely accurate. On the whole, a lot better. On a huge HD TV it's a feast for the eyes.
Sound
The music is about a million miles better as they have finally got bands that we've actually heard of. This isn't such a big deal as I create playlists anyway but still good to have some names I recognise out of the box.
The crowd has also been improved vastly. The crowd reactions to the on-field action are now more varied, with new chants and cheers. They react spontaneously to specific situations in a game, showing their disdain or pleasure as fouls are committed and goals scored.
The commentary is a bit better but still not there. Don't get me wrong I like their choice of commentators but it's just a bit repetitive. This is something Fifa has mastered.
Animations
Animations now dovetail into each other seamlessly, with dribbling and shots on goals worked into dribbling animations. More individual skills are also on show, including new flicks and tricks that have a definite showing on the way a game flows. Several elements have been completely reworked, with the dribbling, turning and kicking animations greatly enhanced.
Verdict:
Pro Evo has built it's following on the gameplay. If you go down to your local park you'll see two types of players. One that is decked out in all the latest football gear, shin pads, most expensive football boots and the full Man Utd kit (brand new). He can do loads of kick ups but can't play football to save his life. That's FIFA.
Then there's another kid who looks like he's just crawled out of bed with a scruffy t-shirt, wrecked footy trainers and some jogging bottoms that look like he stole them from a tramp. But when he plays, the boy can play and is a match winner. That's Pro.
If you want flashy menus, nice music and all the glitz then by all means buy FIFA 10. But if you just want to play and marvel at the best football simulation game to date? Then Pro Evolution Soccer 2010 is what you've been looking for all your life.