Oct 15 2009 2:30PM GMT
Tags: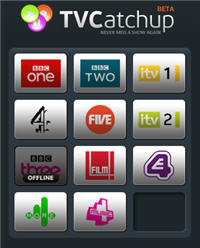 TVcatchup returns from the brink with an amazing service for the iPhone. It's legal, easy to use and doesn't require downloading any apps.
TVcatchup was created around a year ago as an online personal video recorder (PVR) but was soon kicked to the side as broadcasters feared for their analogue lives. The site has now had an overhaul and has been relaunched to be used on the iPhone through a website.
It was yesterday that the site came to my attention when our community editor ran across the office waving her iPhone at me in excitement. This is nothing new at all, but this time it wasn't an app, just a web page.
My first question was 'Is it legal?' and the answer is yes. On their FAQ page it says:
TVCatchup is completely legal, and the broadcasters were consulted and themselves participated in a thorough review of the services offered.
Next question is how good is the picture quality? It's almost perfect. Over wifi it's faultless but over 3g we found it struggled but was definitely watchable. It buffers one minute ahead of live TV allowing you to forward and rewind.
Why is this a good idea? Why am I so excited about it?
Well other than the fact that being able to watch TV in the toilet is a dream most men never manage, it's the potential interactivity that allows my mind to wonder.
Imagine being able to click on links in TV programmes that open your web browser or the ability to buy a product straight from an advertisement.
Can this be the start? I certainly hope so.