Oct 19 2010 9:35AM GMT
Tags: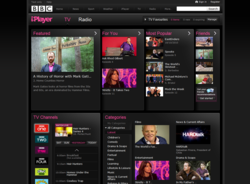 Here's our early prediction for 2011. The streaming TV market will go "boom".
Yeah. Pretty safe prediction considering the recent release of the new
Apple TV
,
Google TV's Sony backed launch
and even cheesy services like LoveFilm shifting inexorably towards streaming and download formats.
That's before we've even mentioned cable and satellite "on demand" services from Virgin and Sky.
But there's another model that has a head start over all the others. Browser based streaming. And in the UK the market leader isn't a private company. It's the good old BBC.
BBC iPlayer
is one of the corporation's undeniable success stories, averaging over a 100 million programme downloads every month. Available on a variety of platforms, desktop and mobile, and with a steady regime of innovation and careful response to user feedback, it's among the world's most popular online TV services.
At the Samsung Smart TV Conference in London this week, senior BBC dude Charles Tigges talked about future innovations to the popular service, including remote control apps for smartphones and TV on demand as a "red button" service within the next two years – for the next generation of "smart TVs".
The one bum note in all this is the idea that BBC games are set to be a more central offering in the future. When there are already established game delivery platforms in the cloud for XBox, PlayStation and even PC, is this really an area the BBC should be looking at?
Regardless, we love iPlayer – and we're pretty sure that it'll be leading the charge as TV on demand goes thoroughly mainstream over the coming months.
Also worth checking out:
SeeSaw
– A catch-up TV service with free content from all the big channels and TV series to rent or buy.
4OD
– Channel 4 has put a substantial amount of its back catalogue online for free viewing.
BlinkBox
– Fancy free films? BlinkBox has lots – and more than a few to rent or buy too.