May 27 2010 2:18PM GMT
Tags: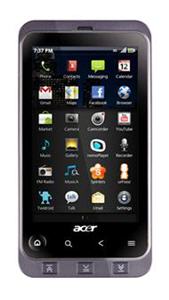 Acer have announced that they will release a smartphone called 'Stream' which will sport Android 2.1 with a new UI.
It'll be as powerful as the Nexus One with a 1GHz Snapdragon processor with 512MB RAM, and 2GB internal storage but it can be expanded via a MicroSD card (it comes with an 8GB card.
It has a 3.7-inch WVGA screen, GPS, Bluetooth, Wi-Fi, and the 5MP camera can shoot video in 720p.
It'll also have a mini-HDMI port so it can connect to your TV.