---
October 20, 2011 10:30 AM
Kodak
,
playsport
,
Video
Kodak describe the Playsport as, 'the perfect pocked-sized digital video camera to take to the slopes. It's rugged, waterproof, shock-absorbent casing lets you record all the tricks and sick runs you dare to try!"
I can tell you now I didn't take the Playsport...
---
April 21, 2011 11:06 AM
HP
,
Palm
,
Video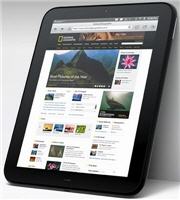 It's been a while since we first saw a Windows HP tablet in the arms of Steve Ballmer...
---
April 17, 2011 1:30 PM
Apple
,
funny
,
Video
This rather funny offering from College Humour is a short cartoon that takes you on a tour of the Apple factory and it is well worth the four minutes it takes to watch.
The rib-tickling Charlie and the Chocolate Factory parody stars Apple CEO Steve Jobs,...
---
January 10, 2011 2:00 PM
Video
Andre Agassi was auctioning an autographed dish when in a flash of sportsman-like genius, he decided to add a 'personal touch' to the auction by offering the winner the chance to see a picture of his wife, Steffi Graf, naked on his phone.

This is the guy's face having seen the...
---
November 26, 2010 10:12 AM
Apple
,
ipad
,
Music
,
Video
I get sent a bazillion iPad and iPhone app announcements every day. And I appreciate them (feel free to continue sending 'em to gadgetman (at) spodgod.com). But, to be honest, it's rare I get sent news of an app that's really worth...
---
---
October 20, 2010 1:54 PM
Android
,
Apple
,
Google
,
HP
,
Microsoft
,
Palm
,
Video
A few years ago, mobile phones differed massively. You chose a phone for it's size, functionality, camera and user interface. Then, on the 7th of January 2007, the iPhone was released and as Apple have told us repeatedly, it changed everything. Touchscreen devices became the norm and...
---
July 26, 2010 12:10 PM
Video
This video is something truly incredible. It's a video of lightning slowed down by 300 times and shows the birth and death of a lightning bolt.

I don't need to say much else, just watch the vid below:



---
July 6, 2010 11:24 AM
Video
I know it's hard to ignore the terrible accent and stereotype of us brits but the video below by Qualcomm demoing proximity-based peer-to-peer gaming is pretty cool.

(If you're using the inspectagadget app then you might need to hit the web link if you...
---