---
November 18, 2011 12:30 PM
Acer
,
Beats
,
BlackBerry
,
Ferrari
,
HTC
,
MOTOROLA
,
Playstation
,
Porsche
,
Xperia
News of the upcoming BlackBerry Porsche (or P'9981) has inspired me to create a list of other 'special' or limited edition phones.
It's going to be in two parts. First, this part will outline five of the best (for various reasons) smartphone collaborations and...
November 16, 2011 2:12 PM
iPhone
,
Lumia
,
Microsoft
,
nokia
The biggest question that should follow the release of the Nokia Lumia 800 is, could this be the phone that douses the flames which currently engulf the Finnish giant's platform?
Stephen Elop seems to think so and, before I even picked up the Lumia 800, it is...
---
November 7, 2011 12:35 PM
Android
,
HTC
,
iPhone
,
MOTOROLA
,
samsung
,
Sony
I am ashamed to say that, because I've only ever had iPhone handsets since their release in 2007 (go ahead and call me an 'Apple Fanboy'), I hadn't seen Swype or any other gesture input up until a month or so ago.
Of...
---
October 31, 2011 9:29 AM
nokia
,
samsung
Soooooooooooo, this is awkward.
I know in the
last post
I said that, despite a lot of work and research, neither Samsung nor Nokia looked like it...
---
October 24, 2011 10:38 AM
Android
,
Google
,
HTC
,
MOTOROLA
,
samsung
This is the story of a man named Google and three women named HTC, Samsung and Motorola.

Originally, Google and HTC were just good friends as HTC moved into a big new city and wanted someone to show her around. Things were going well as she was finding her feet in the world of...
---
October 23, 2011 9:32 PM
Apple
,
iPad 2
,
iPhone 4
,
iPhone 4S
,
iPhone 5
---
October 21, 2011 11:04 AM
Android
,
smartphone
Got a box of Lego and a spare smartphone laying around? David Gilday and Mike Dobson did so they built the CubeStormer II.
The robot knocked 0.308 off the previous Guinness World Record for solving the Rubik's Cube, which was held by Australian Feliks...
---
October 19, 2011 1:12 PM
Apple
,
iPhone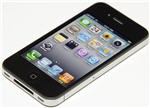 The iPhone 4S was launched last week and while there are many deals around it's hard to tell...
---
October 17, 2011 1:26 PM
Android
,
lg
The LG DoublePlay isn't just trying to bring any old keyboard back, it's rocking a split-keyboard!
If you look back through the archives at some of my other entries, I think you'll struggle to find more than one other exclamation mark. Basically what I'm saying is, I...
---
October 3, 2011 10:32 AM
Android
,
Xperia
The Xperia range seems to be expanding and evolving everyday, which is by no means a bad thing. What I have here is the latest Xperia Mini Pro, not to be confused with the Xperia Mini or the older Xperia Mini Pro. See what I mean, there's hundreds of them.
---